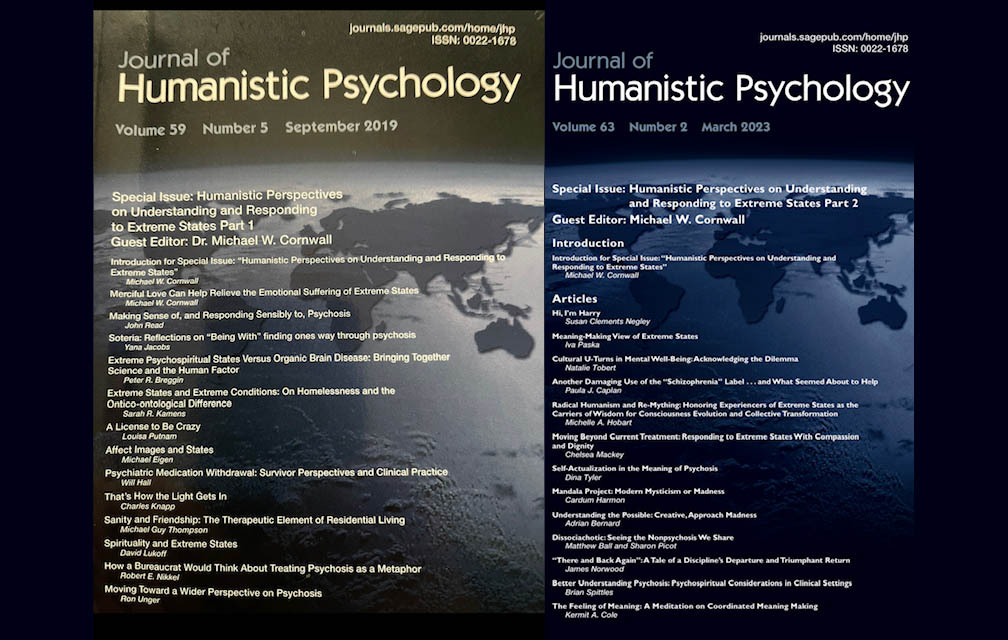 Humanistic Psychology. I'm going to tell you a little bit about what that means to me and what it meant to be asked to develop, design, and edit a new two-volume special issue on extreme states—inviting and editing the articles of 26 very diverse authors, 10 of whom (including myself) have lived experience of extreme states.
The first time I read the Journal of Humanistic Psychology (JHP), I was a young psychology undergraduate in the 1970s who was just barely back from my own harrowing, terror-filled, heart-of-darkness journey into un-medicated extreme states. To see those JHP journals sitting on the college library shelves, full of merciful caring about human suffering, was proof that the human heart and spirit could prevail over the human head and the dangerous objectification of the disease model of psychiatry.
The contrast was human-hearted compassion and potential for all, versus human-disordered abnormality/pathology and emotion-killing psych drugs for all.
It was JHP founder Abraham Maslow's revelatory hierarchy of human needs and Carl Roger's almost sacred text of modern humanism On Becoming a Person, versus psychiatry's human degradation-justifying Bible, the DSM.
The JHP was the venerable journal of a revolutionary movement began in the 1950s to provide a "third force" in the field, to counter the two dominant movements of Freud's psychoanalysis and B.F. Skinner's behaviorism.
Abraham Maslow became famous for his formulation of a very practical and common-sense hierarchy of human needs that pointed towards a human potential where peak experiences of spiritual- and life-enhancing transformation were held out to be part of our human birthright.
The early pioneers of Humanistic Psychology like Maslow and Rogers viewed the pessimistic and over-determined view of human nature held by Freudians, and the sterile behavior modification regimens of Skinner's laboratory style practices, as leaving out too much of what human beings can aspire to.
Roger's classic book, On Becoming a Person, offered an accessible and hope-filled vision of how any of us can partake in the discovery of becoming, as opposed to the fate of settling—of settling for a mostly resolved neurosis via psychoanalysis or settling for the "extinction" of unwanted behaviors via behaviorism.
Those two entrenched approaches were challenged by a potent third option becoming available, one that drew many people into the worldview and therapy modalities that delivered the goods of a heart-centered alternative that flourishes to this day.
Of course, these early pioneers like Rogers, Rollo May, Maslow, and many more would be heartbroken to see the imposition of a worldview settling for a life of emotion-killing medication contaminating the lives of countless toddlers, children, teens, adults, and seniors. They would be against it, and aghast at the wholesale labelling and pathologizing carried out in the name of monolithic psychiatry via the DSM.
It is consistent with the 60-year enduring vision of Humanistic Psychology for a two-volume special issue on helping people through extreme states to emerge now.
When JHP editor Shawn Rubin attended a workshop I did at an American Psychological Association Division 32 conference a few years ago, he recognized the value of what I shared about my 40 years of compassionately doing therapy with folks in extreme states. The experiential exercise I led that focuses on the subjective physical, cognitive, and emotional state of a caregiver while sitting face-to-face with a person going through extreme states, shows how an intentional commitment to be open hearted, grounded, and not distracted by ideas of problem solving and analyzing is a proven approach of "being with" a person that offers the tangible benefit of caring, both given and received. He gave me free rein to develop the special issue that I titled, "Humanistic perspectives on understanding and responding to extreme states."
As I invited the 26 authors for this peer-reviewed special issue, I posed two questions for them to hold as the backdrop to whatever article they wanted to write.
The first question was simply, "If extreme states aren't what psychiatry says they are, then what are they?"
That first question was easily followed by, "If extreme states aren't what psychiatry says they are, then how should care-givers best respond?"
I attempted to answer both of those questions myself, based on my extreme states experience and as a dissident Jungian therapist for over 40 years, I was grateful to contribute an article to the JHP Special Issue titled, "Merciful love can help relieve the emotional suffering of extreme states."
As you'll see by the included tables of contents, the authors were a wonderful mix of family member caregivers, peers counselors and peer program directors, a medical anthropologist, two Jungians, two psychoanalysts, psychiatric survivors, transpersonal therapists, an existential therapist, a practitioner of Buddhist psychology, two mental health administrators, a psychiatrist, psychiatric nurses, several psychologists, some family therapists, and a clinical social worker.
Many of the authors, like myself, have published articles here on MIA over the years. That speaks well for Bob Whitaker's bold vision and support of the diverse authorship on MIA that's now reflected in this new two-part JHP Special Issue.
Sarah Kamens, who wrote a very moving and groundbreaking article in part one of this special issue, took over the helm as Editor-in-Chief of the JHP from Shawn Rubin's brilliant tenure. I'm very grateful to both of them, to all the brave and forthcoming authors, and to the huge-hearted David Lukoff, who contributed greatly in assisting me.
In closing, those of us who have been through the often waking nightmare of extreme states, and those of us who have been held against our will, been victims of forced meds, ECT, lobotomies, restraints and the medical curse of a DSM label, surely will be grateful that the humanistic psychology movement brought hope and mercy where none was given, by those who should have not harmed us in the name of the deadly practices of psychiatry.
Those practices cause victim/patients to die 25 years earlier than the natural average.
May the powerful beacon of hope and human caring brought by humanistic psychology finally make the inhumane practices of psychiatry be outlawed and replaced with human-hearted caring.
***
Mad in America hosts blogs by a diverse group of writers. These posts are designed to serve as a public forum for a discussion—broadly speaking—of psychiatry and its treatments. The opinions expressed are the writers' own.
***
Mad in America has made some changes to the commenting process. You no longer need to login or create an account on our site to comment. The only information needed is your name, email and comment text. Comments made with an account prior to this change will remain visible on the site.