Heavy metal music comes with a bit of a reputation.  In the '80s and '90s, there were many media reports that teenagers who listened to metal music might turn to devil worship, drugs, crime and suicide.  There were also a number of court cases brought in the USA regarding subliminal messaging in heavy metal, based on the idea that if you played it backwards there were satanic and anti-social slogans, and that these could be subliminally implanted into vulnerable young minds even by playing the records forwards.  Bands and record companies defended suits related to young people who had taken their own lives, and heavy metal was also implicated as influential in crimes against others.
Therefore, historically, psychologists and therapists have spoken, testified even, against heavy metal music and its influence on mental health and behaviour.  Some of the empirical research on metal goes back to this time in our culture, with a number of correlational studies pointing out links between listening to heavy metal, suicide and 'delinquency'.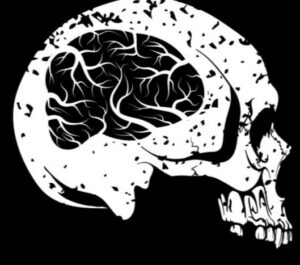 The Devil in the Details (or Correlation and Causation)
The cultural landscape may have changed somewhat since the '80s and '90s regarding how society views extreme music.  Some of the proposed links and mechanisms related to metal music/satanism/'problem' behaviours were never shown to have much substance.  For example, around subliminal messaging and causal links to suicide and crime.  Indeed, in some cases the opposite has been true, with metalheads perhaps being vulnerable to being victims of crime.  For example, hate crimes against visibly 'alternative' people (many of whom identify with the heavy metal scene), such as the murder of Sophie Lancaster in 2007.  This resulted in the Sophie Lancaster Foundation campaigning to have alternative subcultures included within identified groups who face hate crime, and, in doing so, they have received multiple reports from people who have experienced bullying, harassment and violence due to their subcultural identity.
However, there is some evidence that people who listen to metal are more likely to experience mental health problems.  This may not be quite as it seems in a number of ways.  For example, there is a potential issue of direction of relationship in the link with metal and mental health; it may be that people with 'emotional vulnerabilities' (aka at risk of mental health problems) are more attracted to extreme music.
For example, I recently chatted with a doom metal band from Rotherham in Yorkshire, UK, Swamp Coffin, as part of a podcast.  We were talking about teenage life growing up in Rotherham and early musical influences.  Evidently, in the '90s, the parental concerns about teenagers and heavy metal crossed the pond. Jon told us:
"My mum used to say 'why are you listening to that music, it will make you depressed', and I used to respond 'no, I like it because I am already depressed and it makes me feel better'".
What if Metal Is Actually Helpful?
Many enthusiasts of heavy metal will say things like 'heavy metal saved my life', and there is a fairly established narrative amongst fans of the wellbeing benefits.  There is some evidence to back this up, such as that listening to extreme music can help people with emotional processing, particularly with anger.  The other thing that consistently comes up, in research and anecdotally, is that the metal community can be a supportive and helpful space for people in terms of a sense of belonging and non-judgement.
Matt shares:
As someone that never felt quite like they fit in to normal society, heavy music is a godsend for me. Gives me a healthy safe outlet for emotions and feelings that could be deemed out of the ordinary, like anger and aggression. When feeling that way, it can be beneficial for me to use a song to lean into and work through it, helping to process it and move forward. At times when I have struggled, I'll turn to a band like Bleed From Within and spend some time listening to the song, paying attention to every word, using it to relate to what I'm feeling. When I am at my loneliest, angriest or even most depressive, heavy music has helped—not to pull me out from the abyss, but acting as a torch to shine the way through.
When I felt at my lowest moments, even coming to consider taking my own life, heavy music acted as an escape for me. While on the surface, the songs sound dangerous, aggressive and even at times insightful of negative or unhelpful thoughts, under the surface, the lyrics often contain wonderful messages of hope. Their own stories of dark times. A lot of the time, heavy and extreme music worked as a soundtrack, helping me through times where my life didn't feel like it mattered all that much to me. Even feeling like a burden to those around me in my support network. Four minutes of a song later, some of that weight had been lifted, made me stop and think to see that I mattered.
Heavy music played an active role in helping me get sober and stay sober. When I woke up with one of the worst hangovers in my life, I played the song "Not For Me" by Slash Ft Myles Kennedy & The Conspirators (SMKC), as I had done on occasion before. Using it as a sort of battle cry to kick myself into gear and realise something had to give, something had to change. That time it stuck and made me want to be sober, make a positive change out of a not so positive situation I'd found myself in.
While I didn't and still don't consider myself an alcoholic, I identified a problem I had with alcohol, said enough was enough and made a change to begin my sober life. That song by SMKC played a pivotal role in the beginning of that journey, making a major impact on that decision. As I sat and listened to the song, like I have many times before, I made a promise to myself to cut it out until the end of October, which gave me two months, a trial period if you will. At the end, I decided I liked not waking up with a hangover, not having that guilt the morning after, not needing alcohol to be the real me anymore. One of the best and hardest things I've ever chosen to do for myself.
Heavy Metal Therapy
Heavy Metal Therapy is a community psychology project that focusses on the therapeutic value of engagement with extreme music, for people who find this beneficial for wellbeing.  It is predominantly an online space based on resource and story sharing, with a peer-led element.  We started as mainly oriented to sharing recovery stories, influenced by approaches such as the hearing voices movement.
We have often said that it is not 'therapy' in the traditional sense, and yet there are a number of people who work as therapists within the community who are interested in using the ideas from Heavy Metal Therapy in their work.  This is allied to approaches which suggest that turning towards difficult feelings could be useful as part of a therapy process.  In that sense, there is an overlap between the therapeutic ideas identified by the community and the work that therapists might do.
We have never attempted a more interventive individual approach for Heavy Metal Therapy, partly as some of the ideas behind it, like peer support, do not seem to fit well with that sort of work.  However, we also do not want to limit the potential for heavy music fans to utilise their love of this music to support a therapy process, or ignore the feedback that we consistently receive about the therapeutic value of extreme music.
We used to strongly resist the idea of people equating our project to 'real therapy'–because we worried this would take something away from proper therapy, or worse, be somehow suggested as an alternative in the age of cuts and neoliberal ideas about recovery.  However, as the project has expanded there have been useful accounts of how therapists have integrated metal into their therapy work, and a number of therapists contacted us about how they could do the similar work (to the extent that we now support a peer supervision group).
We would describe this not as a unique therapy model called 'Heavy Metal Therapy', but an integration of some of these ideas into the existing work of therapists.   Examples have included things like using metal music as an engagement tool, as a way of communicating feelings through sharing of songs/playlists, and discussion/expansion of the role of community and identity.
Matt shares:
As someone that has used therapy, music can be used as a wonderful tool and coping mechanism. Using a song, an album or even just a line to lean into how you may be feeling, or to channel the emotions in a way words may not be able to. Putting on a song for 5 minutes and moshing it out in the living room, not caring who's watching. Being in that moment and allowing yourself to feel.
Being a fan of heavy and or extreme music offers a sense of therapeutic value. Similar to going to therapy for 45 minutes and spilling your guts out to a stranger. An album can act as a vehicle to navigate the muddy waters of poor mental health. Offering a sense of comfort and belonging to something. Music can go hand in hand with therapy also, using an album to potentially lean into some emotions considered taboo like sadness, anger, grief, anger, depression and aggression.
Metalcore as a subgenre, in particular, tends to feature themes of mental health heavily in the lyrics of the songs. Times the members have struggled, how they got through it. Offering a sense of hope and getting through the dark times to a listener, while also offering a sense of not being alone going through troubles. One song in particular, as an example, that helped me through a more difficult time is a song called Peacekeeper by U.K metalcore band Confessions of a Traitor. The theme behind the song being 'if you feel like you are going through hell, keep going and don't give up. If you feel like you're in a living hell, why stop there? Keep going things can get better. It can be hard, also very rewarding to be on the other side of that'.
Heavy metal culture could be described as a collection of 'outsiders together', in that the scene seems to attract people who feel marginalised in some way, and are arguably also (or maybe further) marginalised by their identity as metal fans.  There have been observations that the heavy metal community seem to talk about mental health difficulties in a different way from other cultures; indeed it has been thought to be almost 'fetishized' at times.  Discussion of mental health themes and extreme states in lyrics is common.
Given the research already discussed on emotional processing and community support, it follows that many members of the metal community, some of whom might not have access to formal therapy, access some kind of 'therapeutic' support through engagement with heavy music. Furthermore, music and the wider culture of music scenes are likely to be around in people's lives for a lot longer than any therapist will be.
From Matt:
From finding out about Heavy Metal Therapy, joining the Metal Health Moshpit Facebook group and talking to other like minds, it isn't traditional one-to-one therapy in the usual sense of sitting with a trained therapist or counsellor for a 45-minute slot. However, it is a community of metal heads of all kinds, all with different experiences. Through sharing and talking with each other we can help each other, finding a tribe of people that found heavy music helpful to their mental health. There is something on the other side of the pain and suffering worth fighting for.
When I was still drinking and going out enjoying myself, I occasionally went to nightclubs, trying to fit in. It was like putting a round peg in a square hole. I was looking for a sense of belonging and thought I may find it, trying to force myself to like things others did, eventually realising it wasn't for me. I almost felt like I was missing something, hearing friend's stories of the wild and fun nights. Then I found Heavy Metal Therapy and the Metal Health Moshpit with a group of people similar to me. Finally finding a community where I fit, just being myself.
At concerts, I'm not the type of person that uses it as an opportunity to network, being an introvert I usually tune in to the moment and the music of the performers, getting a form of catharsis using it to help me get through whatever may be going on at that given time. It can be an incredible experience to just allow myself to be in the moment surrounded by a crowd of other people that are there for the exact same reason as I, to let loose and enjoy the music of a band that could perhaps mean just as much to them as it does to me, if not more. The interesting thing about metal shows is the wide range of people from many different places that come to the shows who you may not have ever expected to be metalheads. I've learned fans of metal are everywhere, especially in the places you'd least expect them to be. The experiences I have had interacting with fans at shows have been for the most part incredible.
Is It Therapy?
'Therapy' for many people is more than (or at least different from) sitting in a room 1:1 with a therapist and talking.  Engagement with music and membership of music communities can offer therapeutic support and even be integrated into more formal therapy, but, potentially, requires that we expand to be more inclusive of how 'proper therapy' is defined.  This flexibility may allow groups of people who have had difficult experiences or been marginalised by more formal therapy to access helpful and meaningful support.  Therapists who identify as members of, or at least work with people in music communities, and extreme music fans can come together to legitimise and reclaim these wider definitions of therapy, balancing this with consideration of how to maintain the professional standards that ensure the safety of the work and the client.
***
Mad in America hosts blogs by a diverse group of writers. These posts are designed to serve as a public forum for a discussion—broadly speaking—of psychiatry and its treatments. The opinions expressed are the writers' own.
***
Mad in America has made some changes to the commenting process. You no longer need to login or create an account on our site to comment. The only information needed is your name, email and comment text. Comments made with an account prior to this change will remain visible on the site.