"Everyone should be in therapy."
It's a sentiment I heard just about every day when I was in graduate school to become a therapist. But it's also something I hear now from friends, acquaintances—even stand-up comics.
Should everyone be in therapy?
It's a difficult proposition to test. Those who don't think they need therapy, or who don't think therapy is useful, are not particularly likely to go to therapy. Any study of therapy's usefulness, therefore, contains only people who need therapy (or think they do) and who already think therapy is helpful—the very people for whom therapy is probably useful (or for whom the placebo effect is largest, since they expect to improve in therapy). Existing studies generally focus on people with specific psychiatric diagnoses, and usually those who have pretty severe symptoms.
"Everyone should be in therapy" is a statement that assumes a lot. First, there's the neoliberal assumption that no matter how good you're doing, no matter how content or even happy you are, there's always something you should be working on. And then, even if there is perhaps something you could work on, the assumption that therapy can help. For instance, there's a meme floating around the internet that "men will do anything but go to therapy." But has there ever been even a single study testing whether therapy can reduce toxic masculinity or promote healthy masculinity? (Answer: Not that I could find.)
There's really no evidence base for the idea that "everyone should be in therapy." But proponents will also tell you that there's no real downside. Therapy can only help, so why not give it a try?
But is that so? There are some obvious harms: wasting your time and money, of course. But researchers since the '60s have noted that therapy can also cause psychological distress, problems with existing relationships, and even relaxation-induced anxiety and panic. Even our current darlings, like mindfulness, can lead to increased anxiety, pain, and dissociative states like depersonalization and derealization.
Proponents of therapy argue that many of these effects are transient and that the positive effects of therapy overshadow these potential harms. And some of these issues may even be positive, like conflict in relationships because those undergoing therapy have grown in self-confidence and gained a clearer picture of what they want from life.
Ultimately, though, we have been in desperate need of better data. Do the benefits outweigh the harms? And is there a difference in the risk/benefit ratio for those with severe mental health difficulties versus those without?
Now, we're lucky enough to have gleaned some new evidence to address this very question. The only problem? It doesn't bode very well for the proposition that "everyone should be in therapy."
Better Access
Beginning in 2006, Australia implemented a program called the Better Access to Psychiatrists, Psychologists and General Practitioners through the Medicare Benefits Schedule initiative (Better Access). The program was designed to enable more people to use mental health services, particularly psychotherapy, by making these services more affordable through the use of rebates. (Notably, users still paid over $70 per session as a co-pay, on average, so it is unclear how well this strategy worked.) Other parts of the initiative were designed to increase therapy use in rural areas, for instance through the use of telehealth services.
A new report, led by researchers Jane Pirkis, Dianne Currier, Meredith Harris, and Cathy Mihalopoulos, provides the data from 10 interconnected studies of Better Access. It's designed to allow us to see how well this initiative has served the public.
They write that in 2021, 10% of Australians interacted with mental health services through Better Access, and half of those received psychotherapy. On average, those that received treatment went to more than five sessions of therapy.
Younger people, women (about two-thirds of the patients were women), those living in cities, and those who were at least middle class or wealthier were far more likely to receive Better Access services. This means that, as with most psychotherapy research, participants were those most likely to believe in psychotherapy and believe that they need psychotherapy.
However, one of the strengths of the Better Access studies is that there were many people with no psychiatric diagnosis or with mild symptoms who did access care. Thus, we can see how people with few mental health problems fared when compared with those who had significant mental health problems.
There are also two limitations, though, to keep in mind with the data collected from the Better Access studies: We still don't have any information about people who would choose not to pursue psychotherapy on their own (for instance, most men). If urged to engage in therapy, would this group gain any benefit? Based on this data, we can't tell. The other limitation is that there is not a comparison group who did not receive treatment, such as a placebo or wait list control group. So, any improvement that we do see in this study could just as easily be due to the placebo effect or other factors.
Better Access—Better Results?
Although there were 10 interrelated studies conducted using the data from Better Access and presented in the report, most of that data doesn't tell us much about actual outcomes. For instance, the first two studies were meant to assess how many people used Better Access and what traits those might have (including the demographic information mentioned above).
Several studies, which focused on interviews and survey data, found that people who volunteered to talk about their experiences with Better Access described themselves as having good outcomes—which is not surprising, given the self-selecting nature of these surveys (those who answered the questions might be those with the most positive experiences) and the potential for bias (in which respondents answer the way they think the researchers want them to respond). Other "studies" included meetings about what to do next and an interview on what providers and referrers thought about Better Access.
However, some of the studies did provide more objective data. The study listed as "Study 2" (the third study in the packet) provides the clearest picture of the outcomes of the intervention. It included 83,346 "episodes of care" (slightly later in the study, they refer to 86,121 episodes of care; it is also unclear if this means separate individuals or not).
This study included data on 11 different commonly-used outcome measures. On all the measures used, baseline severity was the best predictor of success. Those who came into therapy with severe psychiatric symptoms tended to improve, while those who came in with no or mild symptoms were more likely to get worse after treatment.
"Irrespective of the measure used," the researchers write, "those with more severe baseline scores had a greater probability of showing improvement over the course of the episode. Conversely, those with the least severe baseline scores were the most likely to deteriorate over the course of the episode."
This is told quite clearly in the graphs that accompany the report. Take, for example, this graph of PHQ-9 scores, one of the most commonly-used measures of depression severity: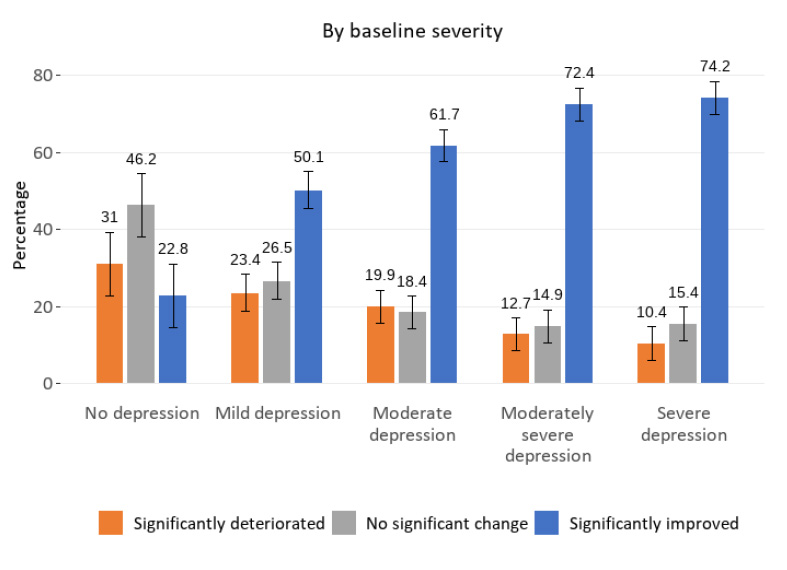 About a third of those that came in to a therapist without depression "significantly deteriorated" compared to the average (or, one might say, "developed depression after getting therapy"). Less than a quarter improved. Then, in a pretty linear way, the scores align themselves more toward expectations as the severity of scores on the PHQ-9 increases, until, for moderately severe and severe depression, the vast majority of patients—about three-quarters—improve after therapy, and relatively few deteriorate.
However, we should remember that a lot of this improvement after therapy could be due to the placebo effect. In a recent Cochrane review that mostly focused on severe depression, the placebo effect was 42%. That is, almost half of people with severe depression got better without receiving any actual treatment.
Pirkis and her colleagues conclude that most people benefit from therapy—but that those with no or mild symptoms are at higher risk of deteriorating in therapy than improving. If you don't already have depression, you're more likely to develop it in therapy than you are to receive some benefit.
"It is worrying that consumers experience deterioration in their mental health in not insignificant numbers of episodes, and that some show no change. These consumers are most likely to be people who began their episode with relatively mild symptoms or high levels of functioning or satisfaction with life," the researchers write.
Finally, take a look at this graph of the K10, measuring overall psychological distress:
You can see that people with low distress are about three times more likely to be harmed than to improve in therapy. Even for moderate distress, outcomes are evenly distributed between deteriorating, staying the same, and improving.
If three people with moderate distress go to therapy, they're rolling the dice: One will feel worse after therapy, the second will be wasting time and money for no result, and the third will feel better.
In an analysis of the report published in Australasian Psychiatry, researchers led by Stephen Allison write:
"The mass rollout of brief psychotherapies for milder conditions does not appear to reduce population distress or suicide rates, and a considerable proportion of these patients experience deterioration."
They add,
"Instead of the mass rollout of brief psychotherapies for milder conditions, prioritising longer courses of psychotherapy for more severe conditions may minimise risk and maximise the potential benefits of the Better Access initiative."
Conclusion
In the end, the average improvement and deterioration doesn't tell us much because of the lack of a placebo control group. I think it's likely that the placebo effect can account for at least some of the differences in improvement seen here, but that's up for debate. Without a control group, we can't be sure.
It would be reasonable to assume that a combination of these explanations is at play here: Therapy can cause some people to deteriorate. Sometimes people just have a poor therapist, or aren't a good fit. Moreover, therapy might bring up anxieties, trauma, stresses that the person already had under control, and might interfere with the ways the person was already dealing with those issues.
As Stephen Allison and his colleagues write, "Offering treatment for milder symptoms might undermine personal coping abilities and social support networks."
For other people, therapy may be very helpful. Certainly, many people feel that therapy has been helpful for them. This may be especially true for those who have specific diagnoses or severe distress.
Yet, at the same time, therapy may not be as powerful as we think, and much of the improvement we see could be due to the placebo effect.
Ultimately, even if we take this data at face value, the story this data tells is that those with low distress—those who are relatively happy and content—are more likely to deteriorate than improve when given psychotherapy. Even those with moderate distress (as shown in the K10 graph) are about equally likely to improve, deteriorate, or stay at the same level of distress.
Thus, this data answers one specific question pretty clearly: No, not everyone should be in therapy.
****
MIA Reports are supported, in part, by a grant from The Thomas Jobe Fund.