A new study published in Clinical Nutrition links the consumption of nuts to a decreased risk of depression in middle-aged to older adults. The study, conducted using the UK Biobank resource, found that daily consumption of up to 30 grams of nuts is associated with a 17% lower risk of developing depression in adults over a 5.3-year follow-up period.
This large-scale study was conducted on 13,504 middle-aged and older adults in the UK, with researchers from various institutions such as Universidad de Castilla-La Mancha, Universidad de la República, Universidad Autónoma de Chile, and Universidade Estadual de Londrina.
The authors write:
"Depression is among the most common mental disorders… complementary lifestyle-oriented approaches have shown promising effects in preventing depression and alleviating depressive symptoms. Therefore, it is recommended that mental health systems emphasize a multidimensional framework focused on lifestyle strategies to prevent depression."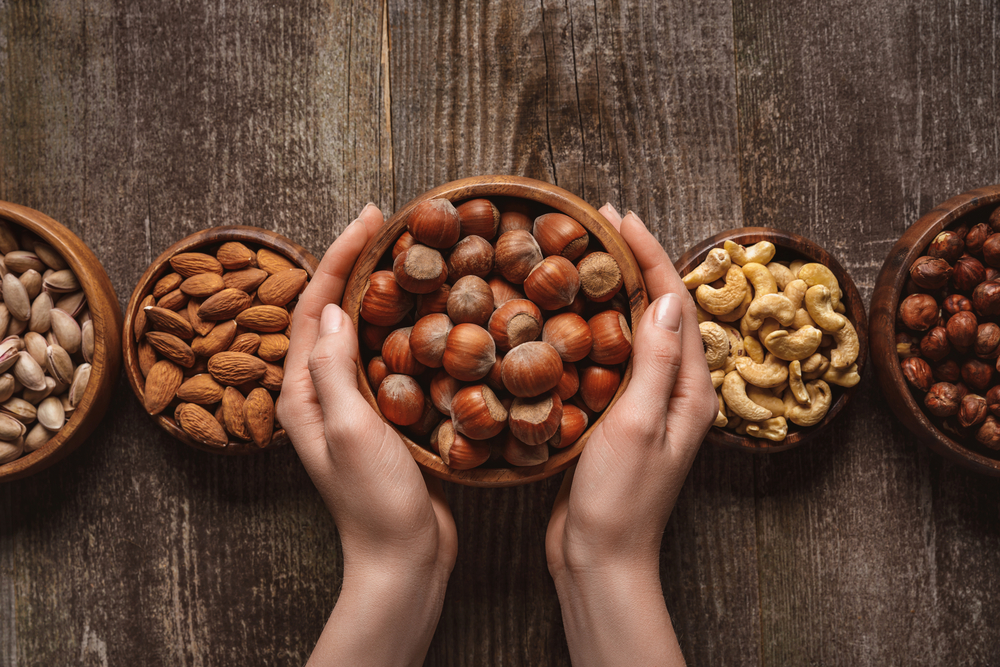 The authors begin from a conception of depression as arising from a wide variety of interconnected causes in all realms of life, including emotion, behavior, and cognition — while the brain may be implicated, neurotransmitters do not exist in a vacuum. As a result, depression is intertwined with personal experiences and daily routines. Mental health can also be impacted by lifestyle and dietary changes.
Researchers used data from UK adults participating in the UK Biobank cohort between 2007–2012 (baseline) and 2013–2020 (follow-up). A biobank is an archive of biological collections from humans, including DNA and tissue samples. It also serves as a library of information volunteered by participants and can be used for healthcare and medical research. In this case, the UK Biobank is one of the largest biobanks on earth and yielded more than 13,000 participants for this longitudinal study.
Information about nut consumption was gathered using the Oxford WebQ 24-hour questionnaire, while depression was identified through self-reported physician diagnosis or antidepressant use.
Participants' data could fall into three categories: no nut consumption, moderate consumption (a partial serving or one serving), and high consumption (more than one serving). These classifications were created based on the number of servings consumed daily, where one serving was ~30g of any nut.
Participants were considered depressed based on whether or not they self-reported depression to a physician or if they were prescribed antidepressants. Covariates were also considered in the data analysis, so age, BMI, smoking habits, loneliness, and comorbidities were all accounted for in the results.
After a mean follow-up of 5.3 years, out of 13,504 participants, 1,122 (8.3%) incident cases of depression were identified. Daily consumption of up to one serving (30 grams) of nuts, such as walnuts, almonds, Brazil nuts, cashews, hazelnuts, and pistachios, was associated with a reduced risk of depression. This association was consistent, regardless of all potential confounders considered, such as BMI status, lifestyle behaviors, and health factors.
Participants who moderately consumed nuts (a serving or less than one serving each day) were 17% less likely to have depression when compared to participants who did not consume nuts whatsoever.
"Since diet is a modifiable lifestyle factor," the authors write, "future long-term clinical trials should evaluate whether nut consumption is an effective strategy to prevent depression in adults. Specifically, understanding the optimal dose and mode of preparation of nuts to promote the greatest mental health benefits will guide the development of more specific dietary recommendations for reducing the risk of depression."
The study is part of the "Nuts4Brain Project" and is funded by the Ministry of Science and Innovation of Spain, the European Union NextGenerationEU program, the Instituto de Salud Carlos III in Spain, and the FEDER Funds. Bruno Bizzozero-Peroni was supported by a grant from the University of Castilla-La Mancha, Spain, co-financed by the European Social Fund.
While the study provides valuable insights into the potential protective effects of nut consumption on depression, it has some limitations. The findings are based on self-reported data for depression, for instance. Moreover, the study primarily focuses on middle-aged and older UK adults, and the results may not be generalizable to other age groups or populations.
This research comes off the heels of other studies that highlight how similar dietary changes can improve mental health, such as the popular "Mediterranean diet." What makes this study so different is that it is supported by robust data from the UK Biobank, and its tremendous sample size combined with its consideration for confounding variables makes its results that much more worthwhile.
This study adds to the growing body of evidence suggesting that dietary changes, such as nut consumption, may play a role in preventing or mitigating depression. However, more research, including long-term clinical trials, is needed to understand the optimal dose and preparation methods for maximizing mental health benefits. By recognizing the multifaceted nature of depression, including psychosocial, behavioral, and environmental factors, a holistic approach that emphasizes lifestyle strategies can be an essential part of mental health care.
****
Bizzozero-Peroni, B., Fernández-Rodríguez, R., Martínez-Vizcaíno, V., Garrido-Miguel, M., Medrano, M., Jiménez-López, E., & Mesas, A. E. (2023). Nut consumption is associated with a lower risk of depression in adults: A prospective analysis with data from the UK Biobank cohort. Clinical Nutrition, 42(9), 1728–1736. https://doi.org/10.1016/j.clnu.2023.07.020 (Link)