Over at Greater Good Magazine, Maryam Abdullah has this interview with author Jennifer Breheny Wallace on the pressure to perform, its effects on kids' mental and emotional wellbeing, and the need to help them find a sense of meaning and mattering:
"Every fall, many teens beginning their senior year of high school embark upon the fraught ritual of submitting their college applications.
But the preparation for this often-distressing rite of passage starts long before that. Throughout childhood, children and their parents soak up a sense of pressure from American culture that they must be constantly focused on academic achievement and long-term professional success in a world with few opportunities. With this mindset, many children grow up to measure their self-worth with their number of accomplishments in school or accolades from extracurricular activities.
In her new book, Never Enough: When Achievement Culture Becomes Toxic—And What We Can Do About It, award-winning journalist Jennifer Breheny Wallace explores how the incessant push to perform takes a toll on children's mental health. . . . 

Maryam Abdullah: What evidence do we have that achievement culture is a problem?

Jennifer Breheny Wallace: For decades now, researchers have been studying how adverse childhood experiences, such as living in poverty or amid community violence, increase risks to a child's health and well-being. In recent years, two national policy reports made headlines for locating a group of "at-risk" children at the other end of the economic spectrum.
A 2019 report published by some of the country's top developmental scientists at the National Academies of Sciences, Engineering, and Medicine added youth in "high-achieving schools" to their list of at-risk groups, along with kids living in poverty and foster care, recent immigrants, and those with incarcerated parents. The report noted 'relatively high levels of adjustment problems, likely linked with long-standing, ubiquitous pressures to excel at academics and extracurriculars.'
A 2018 report by the influential public health and policy experts at the Robert Wood Johnson Foundation (RWJF) had come to a similar conclusion when it named the top four environmental conditions negatively impacting adolescent wellness. Among them were poverty, trauma, discrimination, and 'excessive pressure to excel.' According to the RWJF report, a 'family and/or school environment characterized by extreme pressure to succeed or to outdo everyone else—often, but not exclusively, occurring in especially affluent communities—can affect youth in significantly deleterious ways, including causing high levels of stress and anxiety or alcohol and drug use and dependence.'"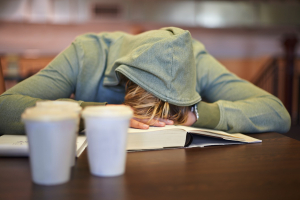 ***
More from Around the Web