Editor's Note: Sera Davidow is executive director of Wildflower Alliance, which opened a peer-run respite center, Afiya House, in 2012. The Wildflower Alliance wrote a letter of support for Stabbin Wagon's application for a grant from the Oregon Health Authority to create a peer-run center in Southern Oregon. Stabbin Wagon's proposed budget included $7500 for a 24-hour training of peer workers by the Wildflower Alliance. She writes about Stabbin Wagon in this blog.
***
Peer respite has gained a fair amount of ground since its start. With now over three dozen peer respites across the country, the numbers still fall far short of where they should be, but are nonetheless headed in a promising direction… if the integrity of the model has and can be maintained. But, that's a big 'if,' and recent bumps in Connecticut and other states serve to reveal just how challenging keeping an alternative approach actually alternative can be. Oregon is one prominent example of how things can go awry, even when they seem to start off on the right foot.
Who Are Our Lions?
The mission of a peer respite is to provide a non-clinical, alternative to landing on an inpatient psychiatric unit or other more invasive and harmful environment when someone is in emotional distress or otherwise perceived to be at risk due to extreme mental states and similar. These spaces provide a homelike place to stay (typically somewhere between five nights and two weeks depending on the particular respite) where everyone there (both working and staying) has faced life-interrupting challenges of a similar nature. The opportunities to rest, be heard, build community, make meaning, and turn "crisis" into a learning opportunity are all consistently available.
In 1978, Jennie Fulgham dreamed into existence a place called the Zuni Federation for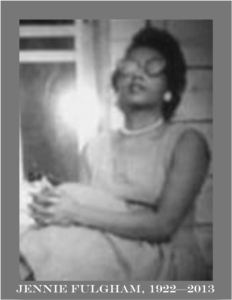 Mental Health in Virginia. As a former "mental patient" who had been negatively impacted by her experience in the psychiatric system, she wanted to offer something different. So, she took some property she had, and built a sort of retreat for other folks with psychiatric histories. It was an alternative to landing on an inpatient unit, and an early start of sorts to the peer respite model. Jennie not only had a psychiatric history herself, but she was also a Black woman in a nation where Black people had gained the right to vote barely a decade earlier, and women had been afforded the right to have a loan in their own names only four years before. Her accomplishment was impressive, yet her story is barely known, lifted up primarily by Vanessa Jackson's "In Our Own Voice," and more recently, the Black Movement Leaders project. There are likely lots of lost stories of marginalized people creating their own supports much like Jennie, but as Chinua Achebe wrote, "Until the lions have their own historians, the history of the hunt will always glorify the hunter."
If we look at the more official history of peer respite, the model didn't really get rolling until the late 1990s with Stepping Stone as developed by Shery Mead and company, and informed by the research of Jeanne Dumont and the not-quite-peer-respite Crisis Hostel in Ithaca, New York. Further steam was gained as supporting research from movement leaders such as Laysha Ostrow began to accumulate. Governmental systems (for better or worse) like the Substance Abuse and Mental Health Services Administration (SAMHSA) began to take notice in the 2000s (even lending some research-motivated funding). And, in 2021, the World Health Organization (WHO) recognized Afiya Peer Respite (Massachusetts) as one of about two dozen international exemplary rights-based alternative crisis response models.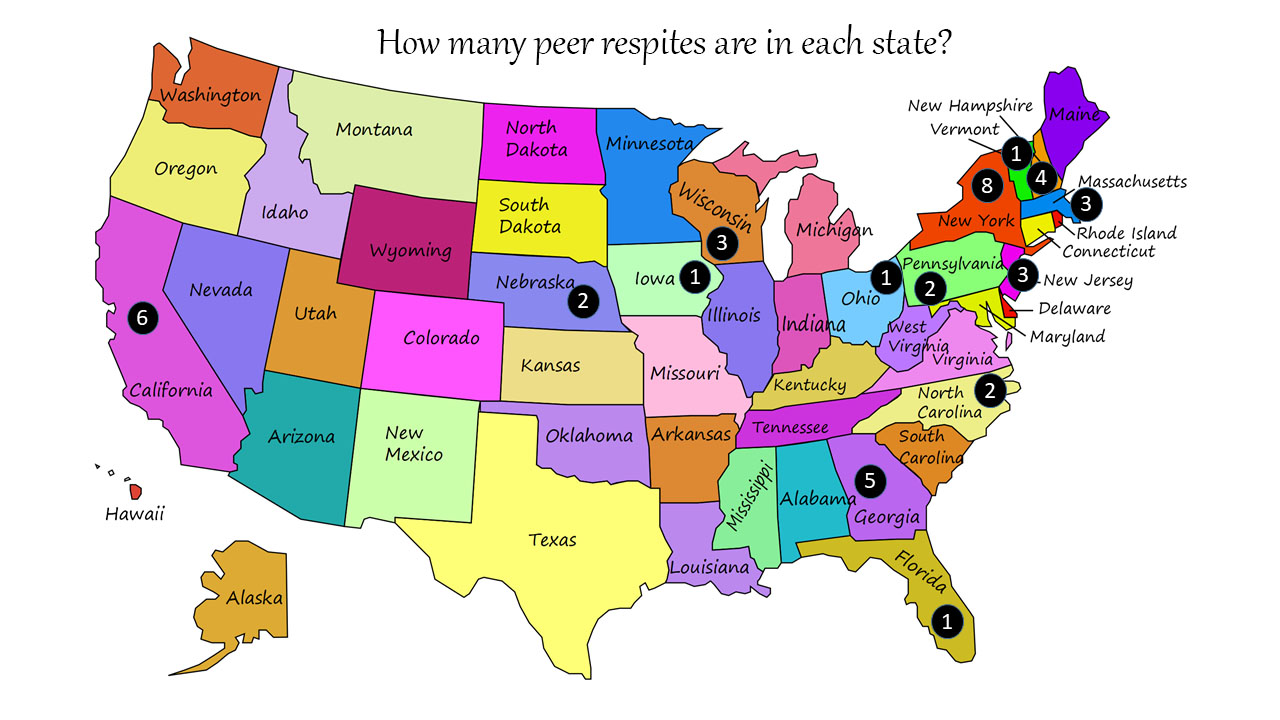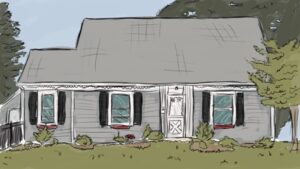 Not long before that point, it was also folks working with Afiya and the organization to which it is connected (the Wildflower Alliance [formerly known as the Western Mass Recovery Learning Community]) who produced one of the first short films that sought to define what peer respite is, along with the first comprehensive Peer Respite Handbook (in collaboration with Intentional Peer Support Central) that centered the values and integrity of the model. And it was that same handbook that the Oregon Health Authority (OHA) wrote into their Request for Proposals (RFP) as an essential guide to implementation when they geared up to fund four peer respites in their state.
Off to an Impressive Start
Only about a dozen states have peer respite at all, and most that do started small. But, community advocates in Oregon got off to an impressive start, and state officials more or less followed suit at various advocates' persistent urging. In both parallel and intersecting processes, they each consulted with other regions, collected sample documents, and made big plans for how to move forward. Ultimately, the intent would be to fund four peer respites across the state, including the first culturally specific peer respite in the nation.
Perhaps what is most unusual and most admirable about how this all played out is that OHA not only wrote their RFP with apparent intention to support the integrity of the peer respite model, but also appeared to 'walk the walk' of all their talk, and actually awarded the grants to smaller, more radical, grassroots, peer-led initiatives.
Most notably, they successfully awarded three of four intended contracts, with one going to Black Mental Health Oregon (also to fill the "culturally specific" slot) and another to Stabbin' Wagon, a harm-reduction group based in the Southern part of the state. (Project ABLE—a more established, well-funded, and conventional peer-to-peer training and support organization—was the third grant recipient, and a fourth grant recipient has also just recently been added.) Black Mental Health offers the following statement about their mission:
Black Mental Health Oregon is a non-profit organization whose mission is to be a mental health resource for our African American or of African descent communities. We aim to be a liaison between the consumer and the provider and to provide ethnocultural effective services, such as educational training and community classes. Our mission is to give our community and our families the much needed mental health support they deserve in order to create wellness. We are devoted to building morale in communities of color and to no longer just survive, but thrive.
Meanwhile, Stabbin' Wagon is described as follows:
Stabbin' Wagon operates under ethical best practices for harm reduction, and uses evidence-based solutions to reduce the transmission of disease, prevent overdose deaths, and improve the health & well-being of the community we serve. Our values are rooted in abolition, autonomy and self-determination. We are committed to fighting stigma, and ending the racist and classist war on drugs.
Both appear to be exactly the sort of organization who should have their hands deep in the creation of community-based crisis alternatives. It's also worth noting that they each have further demonstrated their commitment to doing this right by reaching out to the National Empowerment Center's (NEC) peer-led technical assistance support and/or to Wildflower Alliance to establish relationships for future guidance. Meanwhile, Stabbin' Wagon employs a former employee of Afiya Peer Respite and received the highest ratings of all peer respite proposals received by the state. Who could be more ready to go, at least from a philosophical standpoint?
Oregon's willingness to take risks on smaller organizations who were able to submit highly rated proposals demonstrating deep understanding of and commitment to the model was exactly what they should have done. In fact, they were off to a better start than almost every other state that has ventured down this road so far.
But, things began to backslide from there…
Ready, Set… HOLD UP!
Supporting small and historically under-resourced organizations run by people from marginalized communities is the right thing to do. In fact, doing so is a critical anti-oppressive step that challenges systems otherwise set up to privilege the already privileged. When it comes to peer respite work that so clearly centers seeking to heal the harmful impacts of oppressive systems on the people it supports, the importance of a move like this is even greater.
However, simply offering such groups a contract without also considering how to properly support them to grow can be a setup for failure that has the converse effect of making the already more established spots seem like the only viable option. Robust technical support should have been a part of the design in Oregon, but it was not. Patience for organizations to move a bit more slowly (if needed) to get things on track should have been a given, especially when lifting up a respite plan for people who've faced compounded oppressions (both psychiatric and race-related).
In a society where rushing is a well-known maintainer of white supremacist systems (for all the marginalized voices that the rush leaves out or incapacitates), Oregon's peer respite rollout has seemed destined for problems. This was only reinforced by the fact that the state itself was given the luxury of delays its well-established systems shouldn't have needed, sometimes forcing invested parties on the grant recipient end to need to move on to other pursuits for their own financial survival.
Indeed, as time has passed, paperwork inconsistencies, struggles with overall administrative organization, and even radical groups continuing to be radical (as if they're supposed to suddenly take it down a few notches and change who they are in the name of retaining a state contract) have been allowed to rise to the surface as reasons to put the whole thing on pause. Meanwhile, the focus of questions to the OHA has been on who they decided to fund rather than how they have supported them to get up and running.
What has transpired in Oregon is not necessarily because the people or groups involved are in any way less capable, creative, intelligent, or able to pull the vision off. With marginalization comes less resources, less prior access to leadership and other development opportunities, less ability to shuffle funds around and retain good people while waiting out contract delays, and a much higher degree of scrutiny and onlookers waiting for signs of failure upon which they can pounce. In the absence of support, many grassroots start-ups just won't be able to survive all that is stacked against them. And, funders headed down the path of supporting the "little guy" with integrity will themselves need some bolstering in order to tolerate community pushback and some of the messiness that will inevitably ensue. As much as this sort of change is needed, it doesn't come easy or without real discomfort along the way.
Unfortunately, it would seem that OHA either didn't consider these points, or romanticized what the process might be like and the tenacity that would be needed to navigate challenges and still push through to a fully realized vision. Maybe they thought they'd be congratulated for their progressive decisions (as they do actually deserve to be) without having fully thought out all that would be involved in making it actually work. Whatever the case may be, at least one contract (Black Mental Health) is now on hold with hints that it might be at risk for being pulled altogether, and another (Stabbin' Wagon) appears at risk, too.
The Lund Report: So Much for the Underdog
Media coverage can sometimes make or break a group like Black Mental Health or Stabbin' Wagon that doesn't yet have a widespread, well-established, and balanced identity in the public eye. They can be responsible for building a place up or tearing it down, motivated by any number of interests. Even the outlets that claim to have the most admirable values and steadfast integrity can behave in oppressive ways and do damage they might not even understand. Enter the Lund Report.
The Lund Report was founded in 2008 by Diane Lund-Muzikant. As a small, non-profit, Oregon-based media source, they make claims such as not being "intimidated by powerful special interest groups" and producing stories that reveal "profit-driven practices among nonprofit health care entities, corporate fraud, the checkered pasts of bureaucrats, and bloated bonuses and salaries." They're a very small outfit professing only a little over $100,000 in assets according to Guidestar, and a relatively small audience with only about 1400 followers on Facebook, and around 2700 on (what at least used to be) Twitter. Yet, they nonetheless seem to be a powerful influence in Oregon healthcare, claiming such victories as prompting the state to rescind its policy to deny medical coverage for certain procedures for children, among other successes.
Over the last few years, they've turned their attention to peer respite. And particularly in the last two months, they've written stories contributing heavily to negative views of both Black Mental Health and Stabbin' Wagon, particularly in relationship to the contracts that they were awarded (including one piece specifically on the contract that now seems to be on hold). So much for pointing the public gaze toward corrupt systems rooted in capitalistic interests.
In 2002, the Boston Globe's Spotlight team worked to expose corruption and sexual abuse in the Catholic church. They were responsible for challenging the very powerful church system in the name of protecting vulnerable kids, all leading to the issue of sexual abuse of children by members of the Catholic clergy landing squarely in the public eye. Yet, in 2016, the very same team failed dramatically at putting even a modicum of effort into uncovering the truths of the mental health system in their oppressive "Spotlight on Mental Health Series," instead zeroing in on another vulnerable community—those with psychiatric histories—as the ones to be exposed. The Lund Report has apparently followed suit by focusing on these organizations as "the problem" and further questioning their role as grant recipients, rather than centering scrutiny on the lack of support offered by historically oppressive systems and why that sort of support is necessary to achieve equity. These actions are in direct contradiction to their stated mission and aims.
Another compelling twist in this story and Lund's coverage of it is that the media group has spent a much more in-line-with-their-mission bunch of time exposing problems at OHA itself. They've published articles quoting former OHA Director James Schroeder (who resigned his post not long after taking it on earlier this year) referring to OHA as a "toxic place," as well as another piece on the resignation of an OHA Program Manager, Angela Carter, who referred to OHA as "maliciously negligent" on their way out the door.
Yet, the underlying read-between-the-lines message of the two separate-but-connected-narratives at least appears to be that OHA needs to make some serious changes to how they do business, while Black Mental Health and Stabbin' Wagon should simply be disappeared. This disparity in assumptions about how each situation should be handled (the well-established, well-funded one should make changes while the grassroots "new kid on the block" should be excluded) is precisely what keeps us locked into corrupt systems with leaders too often driven by motives other than the actual mission of the work.
The problem doesn't stop with the slant of Lund's coverage. Lund is one of those organizations that stakes their reputation on their integrity. They also make various claims about transparency related to conflicts of interest on their About Us page, and much of that seems historically valid. However, some of the most damning quotes in their peer respite articles come from one particular source that is especially problematic for a few different reasons.
These comments are particularly damning because that source is a relatively prominent member of the peer support community who was instrumental in advocating for peer respites in Oregon in the first place. Yet here he is in Lund, questioning the competency of the aforementioned organizations to carry out their contracts. This sort of infighting and accusations within the confines of a marginalized community is not exactly unusual, but most know it is especially bad practice to do this in a way that contributes to continued marginalization in public view (that is, essentially making the oppressor's argument for them). Responsibility for this piece of the problem is on that individual more than Lund, but what does fall on Lund's head is that they fail to mention that this particular source is also a member of their four-person Editorial Advisory Board. In fact, a quick search reveals that same individual has been quoted in over 30 Lund Report articles.
When it comes to common components of systemic oppression, it would seem that Lund is guilty of perpetuating at least two:
Blaming marginalized groups for the problems created by oppressive systems; and
Behaving as if one member of a marginalized group (especially one that has interests in the publication that's quoiting them) is able to appropriately represent that entire community's voice
Trying and Backing Down Is Worse Than Not Having Tried in the First Place
Fair or not, every time a disruption of this nature happens with an alternative model that is inherently fragile for the fact that it runs counter to the status quo, the implications of how things play out bear relevance to far more than just the local or statewide community in which the controversy is taking place.
Increasingly, people from around the country are already taking notice. When asked for comment about the situation in Oregon, Oryx Cohen, Chief Executive Officer of the NEC, had this to say:
"As an organization that has supported the development of Peer Respites for years, we at the NEC are watching from a national level at what is happening in Oregon with keen interest and honestly disappointment. Given the opportunity we would love to do more than watch, we would love be able to be an organization that joins others in supporting these grassroots, underserved community organizations to be successful and to provide these much needed supports in the community. Instead of attacking these already oppressed organizations and communities, we should be lending a hand."
Oryx speaks not only from an organizational perspective, but also his own. Approximately 10 years ago during a particularly difficult time, he himself stayed at Afiya Peer Respite (an experience he shared in the award-winning documentary, Healing Voices).
If Oregon backs down from supporting either Black Mental Health or Stabbin' Wagon to carry these contracts forward (and especially if they back down from both), it could do serious damage to the future of peer respite contracting both within Oregon's borders and beyond. Most public systems are well known for their reactivity, and creating new policies or practices based on "what went wrong that one time way back when." Worse, states looking to newly dip their toes into the peer respite waters are also quite likely to survey how things have played out in other regions, and look to Oregon for insight. For some, that might just be one story to consider among several. However, in instances where those others are inclined to take steps to appear progressive without truly understanding or being invested in what that means (which is more often the case than not), a story like this might be just the back-up they need to justify starting at conservative and failing to hold fidelity to the model at all.
That said, this shouldn't be heard as a message to just not bother trying. Rather, it's a plea to those in power to more fully consider the gravity and far-reaching nature of their decisions. If they're so shortsighted or invested in other interests as to not care about that, then nothing that can be said will change them, but some just don't seem to realize the far reach of the choices they make.
The Bottom Line
Peer respites aren't the "end-all be-all." Dropping a peer respite into an area with otherwise mostly conventional clinical options won't solve any of the vast problems that currently exist within the mental health system. They are but only one thread in a tapestry of alternatives that are needed.
However, they are an important thread that has made real difference in the lives of many people. Peer respites are a precious resource that deserve protection, and implementation that prioritizes the full vision of the model and prevents co-optation (taking something real and mimicking it in name and languaging without carrying forward its core parts). That means taking risks on groups that make people uncomfortable with their "radical" ideas, or tolerating the very real fact that being underfunded and stretched too thin (as is the norm among small organizations trying to gain traction) leads to administrative weaknesses that might not be present in places that have whole departments to manage (or cover up) what's going on.
It also means having tolerance for when things don't work out without scrapping the whole plan or writing off the places that need extra support to navigate real growing pains in order to be ready. It even means that should it come to the point of it truly not working out for one organization, that no assumptions are made about a whole category of people, and that we don't automatically revert to preferencing the big box shops.
Undoubtedly, it is foolish to expect conventional organizations and the systems that keep their cogs turning to care about anti-oppression principles. But foolish dreaming sometimes forms the underpinnings of real change, and so it's further worth naming or reiterating the following points, too:
Change doesn't happen without real risk. Change doesn't happen smoothly or without tolerance for mess. Blaming groups with the least power for the problems created by those with the most power only further entrenches the problems at hand. Choosing grassroots organizations made up of people with under- and unrepresented voices who really "get it" is the right move to make. And most importantly, communities who've experienced compounded oppressions may need compounded supports to have an equitable opportunity for success.
Oregon, the national peer respite scene is watching. Please hold steady on the path upon which you first set foot, adjust what truly needs adjusting, and do right by us all.
***
Mad in America hosts blogs by a diverse group of writers. These posts are designed to serve as a public forum for a discussion—broadly speaking—of psychiatry and its treatments. The opinions expressed are the writers' own.
***
Mad in America has made some changes to the commenting process. You no longer need to login or create an account on our site to comment. The only information needed is your name, email and comment text. Comments made with an account prior to this change will remain visible on the site.