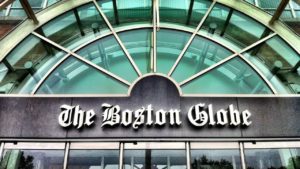 Dear Boston Globe,
I learned something interesting about you and your ilk the other day when discussing that terrible 'Spotlight' article you published on June 23. Not something I kind of didn't already know, exactly. But a different way of framing it, I guess. I hope you'll take the time to read.
Historically, there has always been some disagreement about the role of journalists in democratic society. The crux of the divergence has centered around just how much credence (read: power) was to be given to the 'experts,' and whether or not the reporter's role was simply to feed such opinions to the public in palatable bites, or to create a community forum wherein such opinions could be thoroughly explored and (in some cases) deconstructed.
Although surely, neither perspective would lead a journalist with any integrity at all to intentionally spread mistruths, those who took to the latter approach always regarded reporting opportunities with an air of skepticism, and an eye for uncovering the facts. They happily earned the titled of 'muckraker' as they dug insatiably for the truth. They served (at least in theory) the public, and their own passion for the job above special interests and the powers that were. And, even as that has shifted and become corrupt over the years, most journalists have still generally held (at least outwardly) that their role has been to discover what was real among all the political and business marketing schemes. Yes, news in its various mainstream realms is now (and perhaps has always been) incredibly biased, but there has nonetheless generally been at least an operational theory that business types were selling their businesses and politicians were selling themselves, and it was up to the reporter to get underneath all that.
Not so with anything deemed 'medicine,' as it turns out. No, when it's come to those seen as wearing the crown of 'science,' journalists have apparently been instructed (or so I'm told) to simply act as 'translator.' That is to say, they're expected to speak to doctors and scientists, take their words as unquestionable truth and then translate them into layperson's language so that we may all be so well informed. In other words, there has never been even the illusion of playing at the role of 'truth finder.' Because – unlike with politicians and business types – the assumption is that one is already starting with the truth. Therefore, to question becomes sacrilege, or the act of one who must be 'crazy' (or at least hell bent on destroying their journalistic career) themselves.
Where does that leave us with this latest piece? Perhaps the one thing I can say that you Globe folks got right in your aforementioned 'terrible article' (you know, the one where you claim over 10% of murders in the last 10 years in Massachusetts have been committed by people with psychiatric diagnoses) is one hell of a sensationalized presentation.
"The Desperate and the Dead: Families in Fear." That title sure is something. I bet it will attract almost as many readers as all the pictures of the 'desperate' and the 'dead' that you go on to embed in the piece itself. I mean, really, it's all kind of a disgusting circus sideshow trick, but no one could say you don't know how to pull your audience in. So, kudos to you on that point!
The rest is a cruel joke; Erroneous claims mixed with misdirection and a little bit of fraudulent marketing tactic thrown in for good measure. I'd like to go step by step here, but let's start with the last point. Not unlike that 'free trial' schtick I got sucked in by last month while watching an early Saturday morning infomercial, your 'terms and conditions' are all the way down at the end of the page where (nearly) no one will ever read them. Let's take a moment to raise them up:
"The Globe compiled its list of killings by people with signs of mental illness from news clippings, court records, and interviews with families, prosecutors, and defense attorneys. The Globe included cases where reporters found that the accused had some indication of mental illness, such as being diagnosed with a mental disorder, spending time in a psychiatric hospital, taking psychiatric medication, acting suicidal, or being found unfit for trial or not guilty by reason of insanity.
However, defendants' full medical records are typically confidential and experts sometimes offered conflicting opinions about whether they thought the suspects were mentally ill. In addition, the presence of a mental illness does not necessarily mean a defendant could not tell right from wrong. In many cases, courts found that people were still guilty of murder, even when there were indications they were suffering from a mental illness. In addition to these cases, there are almost certainly others in which mental illness went undiagnosed or an assailant's mental health history was not publicized or known."
What you, my dear Globe staff, are essentially saying here is, "Uh, there was no way to know, but we really wanted to write this story… so we guessed!" Or, perhaps a tad more fairly put: "We poked around a bunch of inconclusive evidence, made our best guestimation of something approximating what some people might at least mistake for the truth, and presented it in the most dramatic fashion possible under the cloak of factual reporting." You've already manipulated the 'net' to somehow more than double the national 4% figure, but apparently that wasn't enough. Just in case, anyone bothered to read your 'disclaimer,' its final sentence alludes to an assertion that it could have been much worse if only you had access to all the sordid details. Oooo. If you can't scare them with what you supposedly do know, terrify them with the looming unknown! Yeah, that's how it's done!
Okay, sorry. I don't mean to get carried away here. Really, there's so much wrong with this article, it's hard to know where to go next, but how about this:
(Once again) Correlation is NOT Causation (Say it with me now!):
I think this point can be confusing for some (and apparently especially for journalists who are angling to manipulate emotions), so I'm really going to try and spell it out as carefully as I can.
Correlations (at least from a statistical perspective) occur when two potentially independent characteristics appear to 'vary together.' In other words, when one characteristic shifts to the left, the other characteristic appears to have a tendency to follow, and thus a relationship of some sort is assumed. However, the meaningfulness of such correlations exists on a vast spectrum with more than a few variances. Here's just a small handful of examples:
Correlation with no actual meaningful relationship: A high number of people who commit murders are wearing jeans. What does this correlation represent? It seems likely that all it means is that jeans are one of the most popular versions of pants in our country at this time (for both people who murder and people who do not). Does wearing jeans lead people into murderous rages? I suspect not. Is it indicative of anything else? Perhaps only a vague sense of the era during which the murder occurred.
Correlation with shared root causes: A high number of people who commit murders also seem to be concentrated in certain geographical areas. Does that literally mean that if you live in a city where the murder rate is high, that the city made you do it? No, but it could be that people who live in certain areas end up there due to lack of resources, and living in poverty (for example) might be a shared factor for a number of things including where a particular person resides and violence they come to perpetrate.
Correlation with potentially causal properties: A high number of people who commit murders are using drugs or alcohol at the time of the violent act. In other words, did drinking or using drugs lead some people to commit violent acts? Yes, in some instances, it would appear (at the very least) to be a directly contributing factor. (It seems worth noting here that research does not suggest any greater likelihood of violence among those with psychiatric diagnosis when drugs and alcohol are introduced than among those who have not been diagnosed and who become similarly intoxicated.)
All too often, people rest on the argument that if someone is deemed 'mentally ill,' and they do something bad then it must be that they did something bad because of that so-called 'mental illness.' However, there simply is no well-done research that suggests any real validity to such claims. At least in some instances, circumstances may seem to land a particular situation in the second grouping ('Correlation with shared root causes') where we might say that the traumatic conditions that led someone to develop ways of being in the world that brought on psychiatric diagnosis are also those circumstances that led them to be violent, but that's quite different than saying one caused the other, and some of the time, there is no apparent connection at all.
Yet, in spite of all that, you Globe folks takes it even one step further. You include in your counts (announced in large bold fonts splayed across the page for dramatic effect) not just those who had actual diagnoses on the books, but also, those who were merely suspected of qualifying due to supposedly "strong indications" (noting in your end-placed disclaimer that there was disagreement on some of that among the 'professionals').
That's quite a leap when making such all-consuming proclamations, especially in the face of contradictory research. It seems like the facts not supporting this claim should be enough to stop people from going down this path with such regularity, but it's clearly not. So, how about this: Research (and the basic ability to see) *does* support (pretty conclusively) that mass shooters in this country are most commonly young, male and white. Who wants to talk about that? Are any of you ready to pen a Globe article called, 'Desperate, white and male,' and examine those correlations?
I'm not about to start writing any articles entitled, "He did it because he was 25," or "He did it because he was he," but given the headlines of the death tolls I could claim, perhaps we should at least begin to explore the underlying issues.
And, by the way, in what other situation would so many people be so quick to go along with focusing in on 10% of the (supposed) reason something terrible is happening while letting the other 90% skate on by? Oh, wait. That kind of happens all the time, right? Like, when we focus in on the alleged system abuses of people who are destitute and phenomena like the mythical 'welfare mom,' while mostly ignoring the enormity of corporate fraud.
It's kind of the norm in our culture to scapegoat the historically powerless. My bad. I forgot.
Death Tolls: Who's getting counted? (And who's not?)
Yes, if we truly value human life, then every untimely death is a tragedy. (Please, let's save the death penalty debate for another time.) You, my Globe friends, claim that 139 people have been killed by individuals diagnosed (or suspected of being diagnosable) with some sort of 'mental illness.' You claim to have dug through countless articles and records to create your database detailing those numbers.
But, who is keeping the database of people in the psychiatric system who have been killed themselves? They have died at the hands of the police and in restraints at hospitals. They have died on the streets because others saw them as unworthy, a joke, or an easy target. They have died by the chemicals forced into their bodies and called 'medication,' at the hands of the doctors who diagnosed them, lied to them about their 'chemical imbalances,' and said it was their only path to 'well.'
I know of no such database, and any one that were to be created would be hopelessly skewed by all the falsified records of those in denial who checked boxes signifying 'natural causes.' Yet, I can say with confidence that the numbers would be higher than 139.
Does that mean the 139 does not matter? Of course not. But where are the articles about all those other untold deaths? I suspect it won't ever happen because it would mean moving from 'translator' back to investigator, and challenging those who are seen as untouchable 'expert.' It would mean not seeing a distinct separation between those who are diagnosed and those who are not, and valuing them all the same. It would mean getting okay with projecting out suspected numbers not just in favor of those already in power. (Somehow, even wild projections are accepted freely when coming from those with mainstream credibility, while even far more well-founded estimates become conspiracy theory when less accepted voices speak up.)
The Proposed Solution is a Known Problem (Congratulations, team Globe. You're making things worse.)
Sometimes I start to feel a little silly relying on actual evidence, when those with all the power scream about the importance of 'evidence-based treatment' that is anything but. I'm not sure how many times more we can tolerate being ignored while we keep citing research that points out that forced treatment doesn't seem to be helping, that psychiatric drugs may actually be making things worse, that outpatient forced commitment is a failure, that more of the same treatment is not the answer, or that this very concept of 'mental illness' and all its related diagnoses is off base at its very core.
It all seems like so much wasted breath. Even worse, it would appear that stating any actual facts not only renders one invisible, but lands one painted as a heretic who must be summarily discredited and silenced because what they're saying doesn't fit with the current agenda. We're all terribly inconvenient, aren't we? (Are you making jokes about how I must be some sort of Scientologist even as you read?)
Am I in some alternate universe? Are we using different definitions of the words 'evidence' and 'research'? How does one even talk back to people who are only pretending to care about 'the facts'? Clearly we must change our strategy.
But, while we're still grappling with the details on where to go from here, consider this: As opposed to the majority of actual medical illnesses (heart disease, cancer, etc.), outcomes for psychiatric diagnosis have not gotten better over the years, and have – in many instances – gotten worse. Unlike with physical disease, research does not suggest that the standard treatments you seem to promote lead to improvements over the long-term. In fact, research like Martin Harrow's look into neuroleptics, suggests that long-term treatment of that nature can make things worse at every level for the majority. Oh, and by the way, you sometimes neglected to emphasize that some of the examples of murder by psychiatric diagnosis that you're including were committed by people who were under treatment. Apparently, none of it matters. Or did that part of your Globe diatribe just get edited out for length?
Why doesn't anyone care that what you're recommending with such fervor (under threat of more murderous mayhem should we not act) is actually causing more harm than good? If psychiatric drugs are 'just like insulin for diabetics,' what would the reaction be if insulin started killing diabetics on a semi-regular basis? What if, instead of helping to eradicate a cancerous tumor, chemotherapy simply held its growth somewhat steady, while the individual being treated was sentenced to feeling sick and unable to function for the rest of their lives? What if blood pressure medicines led to permanent impotence, and the occasional violent rage?
I realize that there are a whole host of issues with medicines in every medical field. However, psychiatry seems to be the only arena in which chemically zombifying someone is considered a success, and the 'best practice' includes treatments that are often no better (or worse) than nothing.
Tell me, dear Globe, is there any other realm in which you could foresee yourself recommending forced 'treatments' that are known to be such a failure and regularly do harm?
Okay, But What About That 10%
Sometimes the critical world in which I walk gets chastised for acting as if no one who's ever received a psychiatric diagnosis has ever been or would be violent. That would be just plain silly, especially since diagnosis lies in the fate of about one in four state residents (and is plainly applied with greatest frequency to those who do things people in power don't like). Yes, people with psychiatric diagnoses have the potential to be violent, just like anyone else on the planet. The question isn't whether or not that's true. It's why, and what to do about it.
You, my dear friends at the Globe, would have us believe there's no more to the 'why' then 'mentally ill,' but we've already discovered that you're off base on many points, and that particular circular argument is old and tired. So, let's say that we somehow weeded out everyone among your 139 who we could easily identify as having some other possible motive or reason for having acted out so violently. I'm talking about weeding out people who were perhaps severely abused by those relatives that the Globe is so quick to sanctify and label as 'beloved,' or who were high on mind-altering street drugs.
I'm also talking about weeding out those who were sent into altered states due to the use of or quick withdrawal from psychiatric drugs, both of which are now becoming quite well known for putting people into mind states where they can become uncharacteristically violent (toward themselves or others) not because of an underlying tendency to hurt people but because of the impact of such foreign chemicals on the way we think and feel as humans.
I'd also want to be sure to weed out those who were violent in situations of force (like in restraint or threat of restraint in a hospital) during which people who are never otherwise so rageful have sometimes quite reasonably moved into hyper-aware states of self-defense.
After weeding out all of those people, I'm not sure how many of the Globe's 139 would be left, but there'd probably be some. Inevitably less, but still some. People who were violent for reasons we can't identify other than – at least in the moment – they seem to have gone mad. Maybe it was due to past trauma or some other unexplained and perhaps even biological cause, and in most instances the answer will be complex. (None of us are omniscient, so in many situations, we'll never know for sure.)
Yes, let's say this quite small percentage of the total number of people who committed murders in Massachusetts in the last 10 years now stands before us. Then what? Could we ever have predicted who most of those people were in any other than a retrospective sort of way, and without sweeping so many others along in the guesswork undertow? How many more would have been killed, or imprisoned or had their children taken away while we tried to figure out who the truly dangerous ones were? Moving forward, what sort of discriminatory practices would we need to get okay with in order to predictively start placing restrictions on people's freedoms just because we're afraid of what they might do?
Yes, the mental health system is failing us. On that point, we can all agree. Its hospitals bring more trauma in place of the healing and compassion that is so desperately needed. Even in the most progressive places, there's a dearth of alternatives available, leaving people who feel alienated or unhelped by the mainstream with nothing and nowhere to turn. Meanwhile, articles like the Globe's have nothing better to offer than wistful memories of the days when people could be indiscriminately "locked away in one of the public psychiatric hospitals that once dotted Massachusetts."
You, dear Globe, seem to long for the very forced treatments known to shave years off lives while also often worsening those very 'symptoms' they're meant to cure. I also wonder if you know (in a bit of a different twist on discrimination) that people who are actually committing violent acts are being excused and sent back out into the public precisely because they are deemed 'mentally ill,' rather than being held accountable for their acts. (This in spite of the fact that one clear predictor of future violence is violence in the past!) And, basic needs like housing, food and all those elements needed to find and sustain emotional balance are consistently neglected or quite literally seen as 'not our responsibility.'
At some point, you may want to ask your Globe-reading public why it's easier to sensationalize the few than address the many. You may want to puzzle on why you're so willing to be just another cog in the machine that perpetuates the violence you pretend to lament (because anything that serves to push for more force and strengthens the same old lines does little more than that).
And we all may want to take a great deal more time to wonder why we're so damn invested in identifying those who are 'mad' enough to be violent in the moment, without ever really being willing to understand the path and societal ills that may have led them there. No one starts with violence. Unless chemically induced, it generally takes time to build up.
You walk in blindness, claiming to see without ever having truly looked, and yet you ask us all to follow. At some point, dear Globe, I wonder if anyone among your ranks will stumble across their lost journalistic integrity. Perhaps they'll find it, stuffed in a corner, covered in dust bunnies, rolling around under that broken stool over there. I sure hope, if that happens, that they'll grab ahold of it and begin asking the hard questions once again.
Until then, dear Globe, you are the failure you describe.
***
Mad in America hosts blogs by a diverse group of writers. These posts are designed to serve as a public forum for a discussion—broadly speaking—of psychiatry and its treatments. The opinions expressed are the writers' own.
***
Mad in America has made some changes to the commenting process. You no longer need to login or create an account on our site to comment. The only information needed is your name, email and comment text. Comments made with an account prior to this change will remain visible on the site.