Reality According to Whom? Listening to My Wife—and The Problems with 'Psychosis'
The following is an adapted excerpt from Healing Companions, a book by the MIA author Sam Ruck (his pen name) that describes his life with, and love for, his wife and her "alters." 
My wife and I had been married for 20 years when she started to experience some extreme stuff, to put it mildly: panic attacks, flashbacks, comatose episodes, extreme dissociation, hearing voices, mini-seizures, and more. And beyond that, seven dissociated parts of my wife, often called 'alters,' slowly began to join our relationship and family over the next six years.
At first, each one was completely separated from the others, and this exponentially complicated the healing journey for us—because I initially had to help them feel safe, and then I had to help them reconnect to the others so they could begin to work toward a healthy life of wholeness.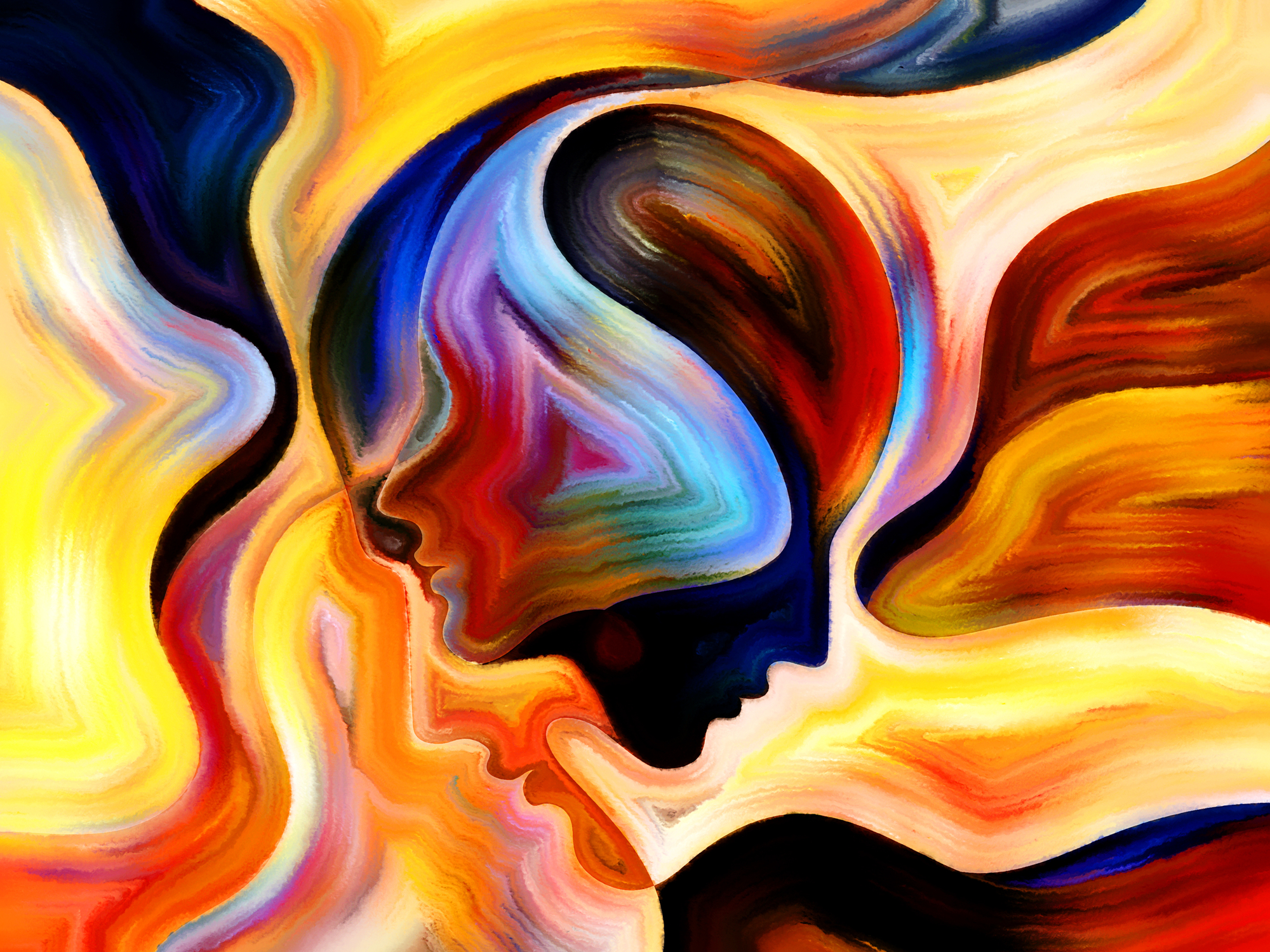 But those things didn't change my opinion of my wife: she wasn't "crazy" or "mad" as those terms are used in reference to this subject. And, so, what about "psychosis?" I hear that word thrown all around. It was ignorantly thrown at my wife by a pastor with whom I shared just a little of our situation at the beginning of our journey. But until I began to frequent the Mad in America website, I didn't realize just how big of a concern psychosis is to most people.
Again, what is "psychosis," and why do I object to it so casually being used to describe people experiencing various mental health struggles? (Caveat: I'm not talking about physiologically or chemically induced psychosis, but that which is associated with mental trauma and dissociation.) If you do a quick search on the internet, it becomes readily apparent that the most basic understanding is that psychosis is when people lose some contact with reality.
My first issue with the relative ease with which "psychosis" is used and thrown around is: losing contact with reality according to whom? Who gets to decide what is real and what isn't? Often perspective is a key ingredient to this question that is ignored. Our entire culture is wrapped up in a culture war that breaks my heart as I see both sides ripping our nation apart. Accusations by one side about the other side spewing misinformation and disinformation and believing conspiracy theories about COVID, the elections, BLM, critical race theory, this, that and the other abound. And yet as I watch this war, it is apparent that so few people really quiet their internal arguments long enough to hear what the other side is saying and experiencing. 
Instead, we judge what another is saying according to our perspective and diminish their take on "reality." We are right back to the analogy of the six blind men and the elephant as each of us fights and argues about our perception of reality and disputes with anyone who would disagree.
Fortunately, I was so desperate not to abandon the one and only woman I ever have loved and to keep our marriage intact that I listened to her! And as I did, all those things she was saying and experiencing slowly began to make sense to me. It was a matter of perspective and of my learning to see things from her perspective and not judge them according to my own.
Let's begin with a few basics. For a start, trauma: my wife's was extreme, rooted in her early childhood. It occurred when she was barely 2 years old at the hands of a neighborhood boy. Sadly, her own parents were also trauma victims, and so, they not only didn't protect their daughter, but they exacerbated the problem because her mom was emotionally abusive and her dad was emotionally distant. Thus, her parents never had the personal resources to help their daughter heal from that early abuse. Even decades later, when I asked them to help my wife—their daughter—at the start of our healing journey, they were at a loss how to help as they had never healed from their own trauma.
Now, any trauma that causes significant fear or pain is sequestered (i.e., dissociated, like an infectious COVID patient) by the human mind, whether its source is physical, emotional, mental, or otherwise. If the person has the ability to self-heal and cope with the associated pain and/or fear from that trauma, then the sequester ends. 
But if the trauma and subsequent fear and pain is of such magnitude that outside help is required for healing to occur, the sequester will continue until such help is attained. A broken limb usually requires a doctor to set it and then physical therapy to restore full use of the limb once the break itself has healed. If the trauma includes severe mental or emotional fear/pain associated with it, then attachment theory suggests that the person best equipped to help the victim is a stable and secure attachment figure using the tools of proximity maintenance, safe haven, and affect regulation to help the person through the pain and fear.
If that is not done, the sequester (i.e., dissociation) will continue indefinitely as the human system tries to continue functioning as normally as possible. Unfortunately, each time a sequester occurs, personality traits and mental abilities seem to get scooped up in that sequestration as well. And thus, the person is left with diminishing capacity to deal with any future trauma.
Now, all that is to say, as my wife began to heal, the various mental sequestrations she had experienced during her childhood were slowly lifted. But it was a process. And it took time, as I had to work with each of her parts one by one with compassion to help each one feel the safety and love she had never known.
The Rip Van Winkle Effect
For example: A couple years into our healing journey,  I was engaged with Shellie, one part of my wife, while we were out on our weekly errands. Shellie is an utterly delightful part who presents as a 5-year old with zero self-confidence and blames herself for every ill that befalls the family, and yet I always think of her as a magical zephyr that can instantly calm me and our son if we are agitated. 
On our errand run, I had found her hidden under a clothing rack at our local Macy's because she had become overwhelmed by her new surroundings. She remarked how different everything looked than the last time she had been out. 
See, from her perspective, she was like Rip VanWinkle. When the trauma happened during her early childhood, she was put into a deep sleep (sequestered to minimize the pain and terror to the rest of my wife). And when she awoke, it was 40 years later! A lot had happened and changed in America from the late 1960's/early 1970's, when this part of my wife had been put to "sleep," until she awoke in the 2010's.
She was disoriented! And it was scary to her, as she had lost everything familiar to her: her house, her parents, her toys, and now she was living with some strange man (me!). So, she hadn't lost touch with reality. Her reality had completely changed according to her perspective, and nothing looked familiar to her. She wasn't the only part of my wife to describe the dissociation in a similar manner. Once I proved myself to be a safe person for her and willing to respond to the needs she expressed, then I was positioned to help her reorient to the current circumstances in which she found herself.
As my wife and I continued on the journey, I realized that other things she experienced also fell into this category that I call the Rip Van Winkle effect: the natural disorientation that occurs after decades of deep sleep because of the dissociation various parts of my wife had experienced. Flashbacks seemed to be her mind's attempt to bring these long-dissociated memories of pain and fear back "online," so to speak. But the process is messy at best. It is disorienting to the person as past trauma memories flood the overall person and overwhelm the current experiences.
Again, my wife wasn't psychotic per se. These other parts of her were in a time warp, essentially, so it was always a little bit confusing. And then to make it worse, when she experienced flashbacks and other "extreme states," her past memories and present circumstances were mixing and clashing and overwhelming her. But as I learned to apply the attachment concepts I mentioned above, I could help her and calm her and sometimes literally carry her through the chaos until her mind could make sense of these renewed memories and put them in an acceptable position within her current, personal narrative.
My second issue with us using the term "psychosis" is it makes us lazy. If I say that my wife is psychotic, i.e. she isn't living in commonly-accepted reality, then what would be the point of making any attempt at understanding what she is experiencing? I can guilt-free call her crazy, mad, or "reality challenged" if I want to be charitable. If she's psychotic, I don't have to do any of the hard work to get inside her experience and figure out what's going on internally so that I can help her calm the chaos. It pains me anytime I hear someone use the term. I know most of us family, spouses and significant others aren't trying to be mean or cruel. We are just parroting our culture and the experts who ought to know better.
I'm not going to whitewash this. Walking with my wife on this healing journey is the most exhausting thing I have ever done. I don't consider myself a saint or "wonderful," as some have suggested. Part of me wants to quit! Part of me wants to be lazy! Part of me just wants to go and have a normal, healthy, easy relationship! I hate Valentine's Day and all the damn cards which speak of an easy, satisfying love that I've never known! But as I desperately wrote in my daily journal, 10,000 pages later, I know that the only way I can live with myself and be true to myself is to walk with the only woman I still love toward our happily-ever-after ending…no matter how hard it is.
So, I truly do understand why we choose the easy path. I long for it myself. I have found so few companions to walk the one I'm on with me. It's lonely, and I'm treated like an ignorant buffoon everywhere I go, but I try to be true to myself no matter how much it hurts.
But lastly, lest I end this on a down note, it's not all bad. No, I don't find the term "psychosis" to be very helpful. I know my wife isn't crazy or mad. She never had a "break from reality." More correctly, I believe she was experiencing a reality caused by the messy chaos of integrating her past dissociated trauma into her personal narrative today. And because I chose to walk with her through the exhaustion of constant extreme states those first five years of our journey, we got to see some amazing things happen. I got to witness parts of her wake from their deep, forced sleep to a new life. I got to be there with each of them and help breathe life and stability into them. 
Despite the fear and trauma many of them had been forced to hold all those decades, they still had a magical perspective, a childlike innocence toward life. As I helped each one release the fear and pain she had held for decades, I got to see each grow and connect to the others and lend the traits and abilities she controlled to my greater wife's personality as she became enriched and whole in a way neither of us had witnessed before.
And I learned about myself along the way, too. Her experience taught me how to become healthier and integrated, as well.
A complete copy of  Healing Companions can be downloaded from Ruck's website.
***
Mad in America hosts blogs by a diverse group of writers. These posts are designed to serve as a public forum for a discussion—broadly speaking—of psychiatry and its treatments. The opinions expressed are the writers' own.
***
Mad in America has made some changes to the commenting process. You no longer need to login or create an account on our site to comment. The only information needed is your name, email and comment text. Comments made with an account prior to this change will remain visible on the site.