The Mental Health Crisis of Today's Youth—The Hidden Culprit Every Parent and Therapist Should Know About
Eyes blurry and staring at his class notes, he was frozen. Fleeting thoughts of not wanting to live darted across his mind.
Patrick couldn't stop obsessing about the test a week away. He had been an honor student throughout high school, but the pressure of college triggered his panic—which he described to me, afterward, during a therapy session.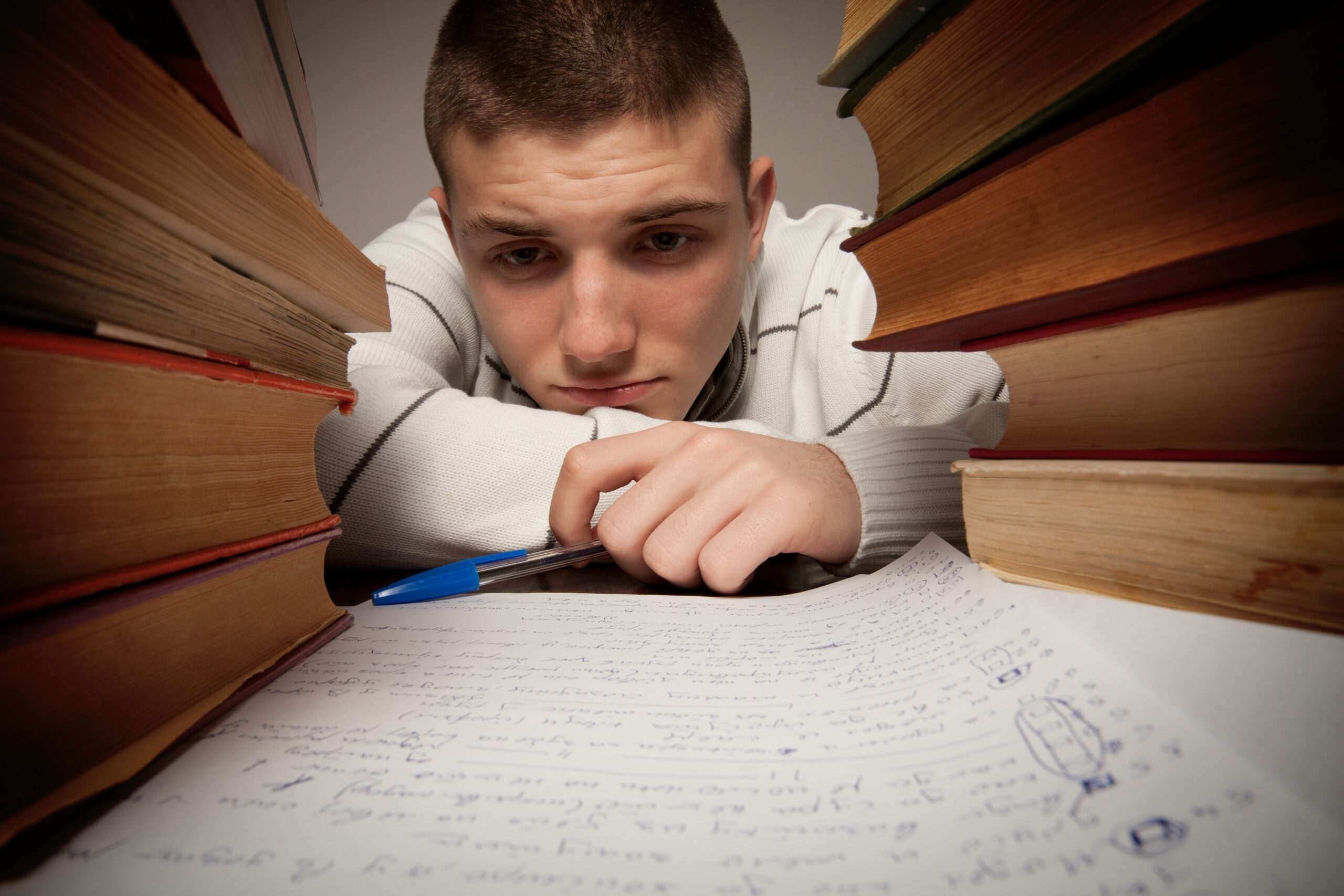 In my practice, this is a situation I have seen many times. Young people seem to be able to "handle" the pressure of performing until it reaches a certain level. In high school, Patrick's parents wanted him to see a therapist because he often felt anxious. We had worked together for six months prior to him graduating and going out of state.  Although he felt less anxiety because of therapy, it all came back when he attended the university.
I received a call from his mom. It seemed like she was more concerned about Patrick's being able to focus in order to get good grades than his emotional well-being. For the most part, parents put pressure on their children to succeed academically because they understand that education equals opportunity, and they want their children to have a better life. I don't doubt that mom cares about her son's mental health, but her emphasis on achievement tells a larger story.
This young man's story is unfortunately quite common.  In the past decade there has been increased attention given to the connection between academic achievement focus and mental health symptoms in young people. Academic stress has been directly linked to depression, anxiety, and suicidal ideation rates among today's youth, and grades are a major source of this kind of stress.
In 2019, the Pew Research Center revealed that "Most U.S. Teens see Anxiety and Depression as a Major Problem Among Their Peers," and academics are at the forefront of the pressures that young people face.
Most teens (61%) say they personally feel a lot of pressure to get good grades, and another 27% say they feel some pressure to do so.  Compared with getting good grades, about half as many say they feel a lot of pressure to look good (29%) and to fit in socially (28%). Roughly one in five say they face a lot of pressure to be involved in extracurricular activities and to be good at sports (21% each), while smaller shares say they feel a lot of pressure to help their family financially (13%), to participate in religious activities (8%), to be sexually active (8%), to drink alcohol (6%), or to use drugs (4%).
Boys and girls, as well as teens across income groups, generally feel similar levels of pressure in each of these realms, but girls are more likely than boys to say they feel a lot of pressure to look good (35% vs. 23%). And teens in the lower- and middle-income groups are more likely than those in higher-income households to say they feel at least some pressure to help their family financially (42% and 38%, respectively, vs. 28%).
In her recent book, Erasing the Finish Line: The New Blueprint for Success Beyond Grades and College Admission, Ana Homayoun questions the way we think about education, and invites us to re-examine our ideas about success as well as the important skills that are needed to navigate and thrive in today's world.
Homayoun writes: "For years, we've been led to believe that great grades, high test scores, and college acceptance are key to a successful life. Yet our laser focus on these achievements leaves students feeling anxious, demoralized, and unprepared."
The problem that underlies the symptom
There are several factors that contribute to declining mental health of today's youth. However, the pressure, and over-emphasis, that many parents place on achievement feeds into, and intensifies, a larger societal problem that is unfortunately overlooked.
While today's youth experience increasing societal pressures and social influences to achieve and compete, the culture teaches them to measure their self-worth and identity based on what they do rather than their intrinsic qualities such as resourcefulness, sense of humor, sincerity, intelligence. There is nothing wrong with striving to better oneself, but it becomes problematic when it is linked to self-worth. The irony is that the very qualities that have contributed to their success also perpetuate their emotional suffering.     
This pervasive cultural mindset encourages young people to be outer-directed, putting a lot of pressure on themselves to be the best. Today's youth feel tremendous pressure to go "above and beyond" what's expected, and feel deficient when they don't measure up to unrelenting standards. Because they also have little tolerance for their own shortcomings, failing becomes synonymous with being a failure as person.
In a November 2011 article, University of Rochester psychologist Andrew Elliot pointed out how overachievers have an underlying fear of failure or a self-worth contingent upon competence. He found that rather than setting and striving for goals based on a pure desire to achieve, the underlying motivation is often to avoid failure."
Seeking validation from outside, they attempt to feel adequate and accepted by performing well, conforming to societal norms, and reading what others want in order to mold themselves to fit expectations.
Their strong need to be seen as competent conceals the sad truth that they can look well-adjusted and successful on the outside, but inside they suffer silently. Internal struggles often escalate later in life when thrown into a competitive college environment or workplace, which include eating disorders and addictive behaviors.
So, what can be done to counteract this disturbing trend?
The tendency is for parents to repeat the same parenting styles that shaped their own upbringing. In addition to refraining from pressuring children to excel and get excellent grades, parents can counteract rather than reinforce the peer pressure and societal messages that perpetuate this toxic external orientation.
They can begin by finding ways to convey to their child that they are valued, loved and worthwhile regardless of their achievements and successes. Going back to that concerned mother who I spoke about in the beginning of this article, I am interested in to what degree she is able to recognize and validate her child's "inner person" (their intrinsic qualities)?  
So many children and teens grow up never being seen for who they really are. Parents often tell me that they consider their child's intrinsic qualities to be important, but when I dig deeper these qualities matter only when tied to an outcome, and are not the primary markers of their self-worth. For example, how many creative and artistic people have you known who can only recognize their creativity if they had a painting hanging up in a gallery?
Since having an outward focus causes young people to define their worth according to their accomplishments, and how others perceive them, parents can encourage them to become the arbiter of their worth. If their value is based on who they are rather than what they do, then they won't need to achieve or please to feel adequate.
Children can learn to turn inward for answers, which is not about rejecting outside influence or becoming hyper-self-reliant. They can recognize the little voice inside that knows what is best. Because they don't know how to access their inner wisdom, they allow outside forces to define their true value.
Parents can help their children cultivate an inward orientation by teaching them to trust and become attune to their intuitions and emotions. Through stories, and skillful questions, they can help them to look inside in order to discover what is most true in their experience, rather than relying solely on the outside world.
An added complication
Another factor that reinforces excelling being the centerpiece of a child's self-concept is when they form an identity based on emotional survival growing up. Children learn to act in certain ways around peers, teachers and family that increase their chances of getting acknowledged, praised, and valued. 
They also figure out that particular behaviors can help minimize feelings of worthlessness, shame, or lessened the likelihood of punishment, criticism, or rejection. For example, if there is a lot of arguing and conflict in the family, being compliant or a perfect helper can de-escalate tension. This can be a winning strategy when young, but often create problems as they reach adulthood. In these situations, psychotherapy can be very helpful.
Patrick looked like the perfect image of success on the outside, but inside he felt inadequate. Excelling in school earned him acceptance, and helped ward off feeling that he was "not enough." As he got older the pressure to be exceptional continued and became the hallmark of his identity. Throughout his life he strived to be the best in order to maintain his self-image and esteem.
When I asked him to tell me what he believed made him a worthwhile human being, but to omit anything that had to do with achievement or the good he does for others. Patrick was totally stumped by my question, and could not come up with anything.
Over time, Patrick became much less anxious as he gradually realized that his worth was based on who he is, rather than on what he does. As a society we need to start focusing more on psychological solutions, and question taken-for-granted dysfunctional cultural norms, when tackling the enormous task of young people's declining mental health. Clinicians have not looked deeply at this dysfunctional cultural norm, and its impact on the psyche.
The task is not simply to increase self-esteem, but to understand the primary ways that young people define themselves and measure their self-worth. Helping a child connect their worth with their inner qualities is significantly enhanced when parents, therapists and educators believe this about themselves.
***
Mad in America hosts blogs by a diverse group of writers. These posts are designed to serve as a public forum for a discussion—broadly speaking—of psychiatry and its treatments. The opinions expressed are the writers' own.
***
Mad in America has made some changes to the commenting process. You no longer need to login or create an account on our site to comment. The only information needed is your name, email and comment text. Comments made with an account prior to this change will remain visible on the site.