We've been discussing a potential role for psychiatrists on this site, and I wanted some of the doctors to understand why many mental health escapees or graduates may know more about the mental health outcomes literature than doctors. One previous blogger pointed out that wearing a white coat and taking the Hippocratic Oath gave them some kind of expertise, but now the question is, "Who really is the expert?" Here are 10 reasons why it may not be the person with the degree and all the training.
This is an update of a post that appeared a month ago on Wellness Wordworks' blog. 
1) It's life and death for us. That's a pretty good motivator to learn new things.
2) Free time:  Most Medical literature and medical education has been heavily influenced by the pharmacuetical industry. Most doctors have no formal exposure to mental health outcomes literature challenging the disease model of emotional suffering.  My favorite blogger, 1boringoldman.com does an excellent job of explaining this. Doctors can only find truth through their own off the clock efforts, and 80 hours a week of med school and residency training doesn't leave much off the clock time. Many mental health professionals also work a lot more than 40 hours a week, so even after their training they don't have time. In contrary, many of us survivors have been fired repeatedly due to the labels we have been given, so we are a bit more likely to have time available.
3) Risk: Many people in recovery are often at the bottom of many pits before we start looking for new ideas. We have nothing to lose.  Yet for professionals, it's practically career suicide for them to question whether people can completely recover by exiting the mental health system and coming off medications if meds aren't helping. Maria Bradshaw pointed out in a comment on this blog: Many doctors support struggling parent privately, but few of them are willing to risk supporting us publicly.
4) Public relations. Many people have never even heard that there might be another way to look at things, that we can improve mental health outcomes for practically free, practically overnight. We need to tell a story that we know how to help people recover, that we have a better way to do things than using labels and medications first, for everyone and forever. If we want people to leave the APA's storytelling and tell ours, it has to be palatable. Linda Andre wrote an excellent book called, Doctors of Deception that outlined how a masterfully crafted public relations campaign has been able to show ECT as safe and effective when it's neither.
5) Emotional toll: It's tough to read that you've been harming people you wanted to help. Many more people in recovery know the true story on mental health outcomes because it's a good news story to us, so it's much easier to read and keep reading on our free time. It tells us we can be free again. It takes a lot of digging to come a place of intellectual honesty about deciding what is true. I read about 150 research articles, 15 books, and went to two conferences before I was sure that Whitaker was right. This is especially hard to follow through on when it means you have been hurting people your whole career. If survivors like me keep throwing up things like my 7 ECT's, loss of grad school, loss of a chance to have kids, and loss of 10 years of my career in their face, they aren't willing to pay that price.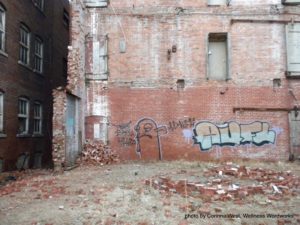 6) An honorable way out: People might need a way out without admitting they have been wrong. Maybe we can figure out some way to show that life situations do intead cause our chemical changes and not just some random genetic or physical defect. This scientific explanation could satisfy the disease model advocates – simply explaining how much of our distress is due to trauma.
7) Future career plans: Many professionals don't realize there's a booming career in helping people get off meds or publishing medical literature about this practice.
8) The wrath of peers:  Truamatized people hurt other people. This does not make hurting people right and honorable and just and excusable. Or productive. When we speak publicly in ways that scare off professionals, we get labeled with their N-word, which is the A-word in our field: antipsychiatrist. Yes, an antipsychiatrist is pretty much anyone saying anything they don't want to hear. But, it's also anyone who talks with emotion and anger and hurt. We need to figure out other ways to share our pain besides personal attacks on people who may or may not have caused it. This is very difficult, and I cannot always do it. Instead, I feel great respect for the advocates who snuck into the APA convention to present Max Fink with a platter of brains for his work promoting ECT.
9) Ego: To listen to survivors, you have to admit that our experience has meaning. This is contrary to the entire disease model paradigm, which says that our behavior is irrational, and not a normal response to our life situations.
10) Fear of other professionals: psychiatrists are already stigmatized compared to other medical specialties, and probably thus less likely to be able to admit they are wrong.
Related Item:
Anti-Authoritarians and Schizophrenia: Do Rebels Who Defy Treatment Do Better?