There are two main problems with the term "medical model." First, it automatically frames the debate in the terms of the oppressor, and secondly, it's confusing. Many people in our community say "medical model" when we mean, "The idea that something wrong in my brain caused my emotional suffering." So why not just use a term that says this? When we say "Disease Model" we can clarify exactly what we are against. With just one word  changed we can say we do not believe that a mental "disease" came from nowhere to put us out of action.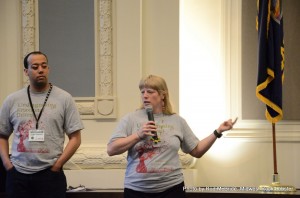 What really causes emotional distress? Bad situations in our lives, trauma, nutritional imbalances, head injuries, poor job fits, family dynamics, not enough exercise, or some other kind of overwhelming of our internal self-support strategies.  (And you can get the T-shirt here to wear this statement proudly.)
I've outlined on my personal blog the scientific and biochemical cascade of events that shows that emotional distress causes psychosis, not the other way around.  Life situations cause chemical changes all the time or else you're dead. Everyone's brain reacts to what is happening in their life with chemical shifts and adjustments. Scientists look at these chemical shifts and adjustments and come up with all kinds of theories. The question is, "Do folks who end up with mental health labels have different patterns of chemical responses to events?" OR "Is the disease model accurate?"
Most of the science that we look at on this blog says, "NO, there is no difference in brain chemisty between people who get labeled or those who don't."  Most of the differences found are artifacts of the extreme emotional state. For instance, I've seen those big bold brain scan pics that show huge shifts in people labeled with "schizophrenia." They say folks who are currently symptomatic have different brain activity than people who never were symptomatic. But this just shows that psychosis is a powerful emotional and mental state, and lots of stuff is happening in the brain.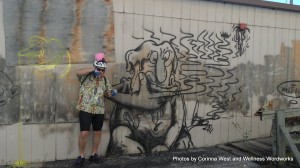 The real question would be, "Do people labeled with schizophrenia who are NOT symptomatic at the time show any diifferences in brain activity than people without the label?"  And the answer is no. Ron Unger had to explain this to me with an email exchange.  I heard it as well from a bunch of brain scan research folks at a Translational Medicine conference that I'll report on soon for this blog. The importance of this is that both ways to frame this question are medical. Both questions ask about what the science says about the brain, but only one talks about a "disease."
If we are going to criticize the "medical model" as shorthand for saying, "I don't think emotional distress is caused by a disease," then we just need to use our own terminology that says this. I always replace "Medical Model" with "Disease Model," and in every situation that I've done this, the meaning is much more clear. It 's just a one word shift, but very powerful.
My friend Ken Braiterman wrote a blog about how using an opponent's language to frame an argument will almost always lose the argument. He pointed out that one of the reasons that Democrats lose many public policy debates is that they use Republican terms to form the arguments. For instance, he says that the battle was lost when "Health Insurance Reform" became "Health Care Reform" because people like their health care. He also says that criticizing "tax cuts for rich" fails. People like tax cuts in general, and also hope to be rich someday. They should have called for "balanced contributions from all," or "fair tax policy" or something like that.
In a similar way, I suggest we reframe mental health debates to have a disease model vs. a distress model of "mental illness". This is a framing that puts blame for spreading the disease myth squarely on the people who benefitted financially for it.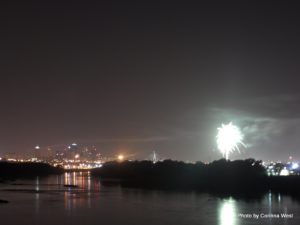 Each way of looking at the debate or using language determines how the debate will proceed. When we say, "The medical model is wrong, but I believe in recovery," we have framed the debate in their terms. Because recovery IS evidence based. It IS science based. It IS a medical model, in fact the only accurate medical model. So whenever we criticize the "medical model" we run ourselves into a factual circle which a previous blogger on this site got stuck in when he tried to explain why it's hard to make the medical model go away. Because science isn't going away.
However, it will be a lot easier to make the "Disease Model" of emotional distress go away.  David Oaks wrote an essay called, "Let's Stop Saying 'Mental Illness.'" where he explained why and how it was important to make inaccurate words go away. This essay helped me realize how much I was using the terms of the oppressor. We don't have to do this. We can build our own language, we can choose how we want to label our emotional experiences. We can choose to share our stories and our alternatives at the same time. No one will be able to hear our criticisms when they think what they have to offer is the only thing available for our brothers and sisters in crisis. Using accurate language neatly describes both the problem and the solution. It shines a beacon of hope.
"Distress model" says that strong emotional experiences are a normal response to abnormal events. All people can equally experience these states given enough emotional distress and not enough supports or resilience. This language allows us to maintain control of the science that is increasingly on our side. It helps us be "for something," not just against something. But most importantly, looking at things from a distress perspective rather than a disease perspective shows immediate solutions. It shows a much more hopeful message about complete recovery. It shows both how and why we have been able to walk through the fire and come out stronger people. And this is a message we want to share.
***
Mad in America hosts blogs by a diverse group of writers. These posts are designed to serve as a public forum for a discussion—broadly speaking—of psychiatry and its treatments. The opinions expressed are the writers' own.
***
Mad in America has made some changes to the commenting process. You no longer need to login or create an account on our site to comment. The only information needed is your name, email and comment text. Comments made with an account prior to this change will remain visible on the site.