Friday's sudden loss of 20 young lives along with six of their caregivers was beyond horrific. It was not, unfortunately, without precedent.
Sandy Hook's precious children and teachers are the most recent casualties in a long line of school shootings.
As a society, we are a forgetful bunch. We seem to be able to ignore the suffering in our communities until the suffering hits home—many homes at once—in the form of unspeakable losses that we can no longer ignore.
Then we grieve. And we discuss. Except for those of us who are struck dumb by the devastating losses of loved ones who will never speak again.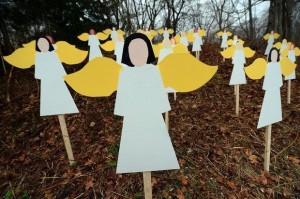 But the rest of us have conversations. About violence. About gun control. About mental illness. About mental health care (and/or the lack thereof). About the causes of violence. About the victims of violence. About the perpetrators of violence.
We make a lot of noise. Almost enough noise to drown out the deafening silence of all those empty desks.
In times like these, when the grief and horror are fresh, we have so many conversations. Except for some of the most important ones: the ones about what it means to suffer. And how we perpetuate suffering. And what it takes to truly heal.
No one wants to see his or her child suffer. It is unbearable. It often hard to tell who is suffering more: the parent or child. This is an important question to ask. And to answer.
But sometimes, in our effort to stop the suffering, we inadvertently create more of it. In an effort to prevent violence to self and others, we perpetuate it.
We are talking a lot right now, but we don't seem to be talking about that.
I do not understand how we can continue to avoid the conversation about psychiatric medications and their role in the violence that is affecting far too many of our children, whether Seung-Hui Cho, Eric Harris, Kip Kinkel, or Jeff Weise (all of whom were either taking or withdrawing from psychotropic medications) or the scores of children and adults they have killed and harmed.
It is not clear what role medications played in the Newtown tragedy, though news reports are now suggesting there is one.
Once again, we find ourselves having a national conversation about why this keeps happening.
As a mother of two adolescent children, in the light of these and other tragedies, when we talk about "mental health," I want to be sure this conversation includes a discussion of whether or not it is safe to use psychiatric medications – including stimulants, SSRIs, mood stabilizers and antipsychotics – with children.
If we don't have this conversation, then we are all Adam Lanza's mother.
To my knowledge, very few of these medications have been tested or proven safe for use in children, particularly in the combinations and dosages in which they are often prescribed.
And what should we make of the FDA-mandated labels and warp-speed disclaimers on TV commercials that note increased risks of suicidality, aggression and psychosis among a long, long list of other potential side effects?
That might be something to talk about.
Why aren't these disturbing side effects part of the current national conversation about violence and gun control and mental illness? And where is the conversation about mental health, healing and hope? About finding our way home?
There is so much we don't know about our children's emotional growth and brain development and the impact of labeling and medicating our children's suffering.
Perhaps It bears repeating:
No one wants to see his or her child suffer. It is unbearable. It often hard to tell who is suffering more: the parent or child. This is an important question to ask. And to answer.
More than a year ago, I read Robert Whitaker's book, Anatomy of an Epidemic, and the body of research that throws into question the validity of biochemical imbalance theories and the safety and efficacy of our current medication-focused, disease-based approach to treating emotional distress.
Shortly after reading this disturbing book, I attended a Foundation for Excellence in Mental Health Care symposium on children's mental health and was fortunate to be able to join and help lead the development of the Mother Bear Family Mental Health Network.
Mother Bear is a family-led organization that educates and supports families about the many causes of emotional distress, the many pathways to recovery, and the need to make informed, careful decisions about medications, particularly with regard to children.
Over this past year, I have had numerous opportunities to work with recovery-oriented providers and organizations, mental health advocates and reformers, and families. Families who are crying out for help and don't know where to turn.
Which brings us back to the things we're not talking about.
Why do our families and relatives keep suffering in such profound and life-altering ways? What is the nature of this suffering? And how do we truly heal?
There are no easy answers and no quick fixes. But there is tremendous potential for healing and transformation when we stop looking for magic pills and potions and start looking for meaning and purpose, community, compassion and connection.
Healing is hard work. It is rarely accomplished alone.
In nature, mother bears are known for fiercely protecting their children from harm and for raising fiercely independent children. And while mother bears do this work alone, we humans cannot. There is too much suffering in silence. Too many cries for help. Too few resources. And too much work to be done.
We are all Adam Lanza's mother. We are all Sandy Hook's parents. We are all hurting. And it is going to take all of us, working together, to heal.
That is the real conversation we should be having.
A conversation that is unflinching in its demand for healing solutions that are better, safer, more compassionate and more effective for our children and our families.
Solutions that don't fit neatly inside a bottle.