I am appalled to read a press release by the National Coalition for Mental Health Recovery that lauds the proposals emerging from the Vice President's Task Force and accepts in principle a national database of individuals with mental health diagnoses that is "limited to those with a known history of violence."
The headline reads "National Coalition Representing Individuals with Psychiatric Diagnoses  Lauds President Obama's Recommendations to Contain Gun Violence."
The Coalition notes that "several of the recommendations will increase the fear of, and discrimination against, individuals with mental health conditions," including expanded reporting by mental health professionals to local authorities, but does not suggest that the President reconsider and revoke those recommendations.  Instead, the Coalition makes a number of suggestions for development/application of the President's executive actions, of which six deal with preferred approaches in mental health, and number 7, the only one to address civil liberties issues, reads:
"Limiting a national database of persons labeled with mental health diagnoses to those with a known history of violence."
It astounds me that the Coalition accepts in principle a national database of persons labeled with mental health diagnoses that have also committed acts of violence.
How will it be determined that an individual has a "known" history of violence?  Will hearsay accusations by family members and mental health system workers, routinely included in mental health records, be used to deem an individual to be violent, just as it is used and accepted in civil commitment hearings?
And why stop there?  Why limit a database only to people with a "known history of violence" who also have mental health diagnoses?  Mental health diagnoses have nothing to do with violence, so why not go right to the heart of the matter?  Again, what would count as evidence of a "known history of violence"?
Such profiling would certainly be used against anyone and everyone who is out of favor with local authorities for whatever reason.  And it would almost certainly involve the "expertise" of mental health professionals.  Remember the racist "Violence Initiative," which Peter Breggin helped to expose – a series of initiatives by the federal government to fix the blame for violence in genetic predisposition?
Profiling is always wrong.  Scapegoating is always wrong.  Our community is alarmed that it hasn't even mattered to our President and Vice President that we are no more violent than anyone else; that really if society wanted to profile anyone as violent, it should be males from particular states.  Profiling that is not only stereotyped but flies in the face of all rational evidence can only mean that there is an intentional policy to create an enemy that the rest of society can unite against.  We have seen this so many times, in the anti-Muslim profiling after 9/11, and so much more.  Now we are the ones targeted, and NCMHR by supporting the President's policies and endorsing in principle a "limited" database will allow the Administration to claim that it has the approval of our community.
I call on NCMHR to reconsider and revoke its support for the President's recommendations on gun violence and in particular to oppose any database of persons labeled with mental health diagnoses.  If NCMHR truly is in favor of those recommendations, including a "limited" database, I call on them to make known the votes of its membership on these policies, so we know whom to hold accountable.
Day of Action to Stop Psychiatric Profiling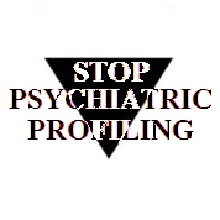 ***
Mad in America hosts blogs by a diverse group of writers. These posts are designed to serve as a public forum for a discussion—broadly speaking—of psychiatry and its treatments. The opinions expressed are the writers' own.
***
Mad in America has made some changes to the commenting process. You no longer need to login or create an account on our site to comment. The only information needed is your name, email and comment text. Comments made with an account prior to this change will remain visible on the site.