Many of us in the consumer/survivor movement have begun to worry that recovery is being co-opted. That it is being used too easily, and has lost its meaning. I think we live in bubble. Outside our world, the larger society has not even heard that recovery is possible. In fact, society hears a constant litany, through major media, that emotional distress is due to chemical imbalance. Today young people are told they will never recover, and should accept that they have a life long illness.
I have been alerted to a recent situation illustrating such a prophesy of doom for a young person, which I will share in more detail soon. I told her I was one of many people who have recovered from schizophrenia. I said I had difficulties like hers but I don't see them now as an illness. I told her I learned from my challenges to follow my dreams and gain meaning in my life. She thanked me for giving her hope.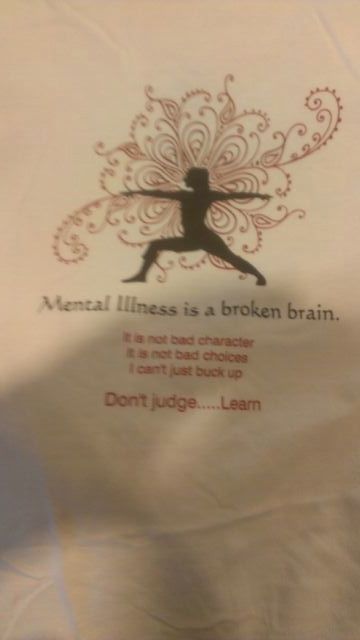 When a psychiatrist tells a young adult that they have a life-long mental illness, hope crumbles. They are often told that their mental illness is like diabetes. This is not a fair comparison. Diabetes is due to a defect in a body part, the pancreas. It is understood, however, in diabetes, that the person can continue to play an active role in their life with diabetes. They can work on their diet, exercise, stress, connectedness, as well as medication.
On the other hand, mental illness literally means that your mind is sick. It is as if your very personhood is declared sick. Your mind, unlike your pancreas, is not just a body part. Your mind is the whole of who you are. Your mind is an expression of your whole self, which enables you to run your life. Your mind enables you to relate, set goals, dream, and have hope. If you and the people around you believe that your mind will be defective and sick for the rest of your life, you are left without hope of ever having the agency to build a life. This dire prediction can become a self-fulfilling prophesy.
The importance of hope and of feeling that deep down I am still whole was brought out in a dream I had during my recovery. Here it is in the words I used to describe it 39 years ago:
"I went to a castle and found that a colonel had two young men imprisoned in the dungeon against their will. Whenever the young men, who were corporals, complained about their imprisonment, the colonel would give them a lecture on how crazy they were. At one point he brought out the drawing of a gargoyle on yellowing map like material. He said they could not leave because their brains were deformed and looked like the gargoyle. But the colonel's main weapon was the men's own ignorance of how they were originally imprisoned.
"I then came into the dream as a lieutenant and was shocked by the imprisonment of these two normally appearing young men. I did some research and discovered that several years ago they had been doing laboratory research and had looked through a microscope too long. This caused a blind spot to develop in their brains. This blind spot had caused them to do scary, crazy things for which they had been imprisoned in the castle. Now they were no longer locked in the castle, but the colonel, who was an old man stood guard over them.
"The colonel's frequent lectures on their craziness prevented them from leaving the castle because they were assured by him and their ignorance that their condition was permanent-that they would always be crazy. I learned that in fact the men's blind spot had long ago healed without any scarring and they were healthy. They were no longer crazy. So I went to the colonel with the young men and presented the evidence I had uncovered. He got very excited and said it was nonsense. We just started to walk out of the castle. When the old man tried to stop us, we brushed him aside and walked out into the sunlight."
Several months after that I traveled to those realms of mind that only I have access to, and was hospitalized. During my hospitalization, I started to lose hope that I would ever recover. I asked my doctor if my brain was permanently broken. He said "no". He believed that deep down I was still whole and that I could recover. I felt a tremendous surge of hope and freedom when he expressed how much he believed in me.
Years later, as I was meditating on this striking dream, I connected my experience of psychosis with earlier trauma. In my meditation, I focused my attention on the picture of the gargoyle. The paper was old and yellow. The edges of the picture were frayed. I knew I had seen that paper before. It reminded me of a map in my 6th grade room. It was a yellowed map of Europe. It suddenly occurred to me that was the same year I was sexually abused by a 6th grade teacher. In fact, the basement that he took me and many other young children to was called the dungeon. Also I recalled that I used to wear a khaki shirt with a corporal stripe sewed on the sleeve. In fact, another teacher used to call me corporal. The fear those experiences had etched in my soul burned on until they were freed by my breakdown, breakthrough and dream. I was whole not broken in my 'Castle Dream'. The dream, as in other times, seemed to lead me to a critical life event. It seemed that I had to live out the dream in my conscious waking life.
I recently recalled a story illustrating the negative effects of such a prophesy of doom, as Pat Deegan eloquently calls it. In January, in the aftermath of the tragic shooting at Sandy Hook School, I was asked to testify before the Biden Commission on Gun Violence. By then the media was already generalizing that all people with mental health conditions are more violent than the rest of society. We were being described in terrible stigmatizing terms. I started my testimony by citing research such as the MacArthur study, showing that persons with mental health conditions were no more violent than the general population. I then told the story of a young man from a west coast state. I gave a talk about my own experience of recovery.
During my talk I noticed a young man near the front squirming around. At lunch time his mother sought me out. I asked her if her son had gotten anything from my talk, because he was younger than most of the audience. She said she thinks I may have saved his life. She said when he was 10 he had been diagnosed with schizophrenia and told that he would never recover. He was told he would have to take medication for the rest of his life and always be under professional care. She said he had been suicidal for last 3 years as a result of that prophesy. She said today was the first time he felt some hope. He told her that after he heard me describe my recovery he no longer feels suicidal.
I just learned, last week that my testimony had some impact. Apparently they felt that my testimony highlighted the importance of hearing stories of recovery. SAMHSA as a result wants to make available a large number of recovery stories to kick off a "National Dialogue about Recovery and Hope."  The National Coalition for Mental Health Recovery is collaborating with SAMHSA in this National Dialogue.  There will be town hall meetings in a number of cities across the US.  Some may piggy-back on existing statewide consumer conferences.  The administration wants to outreach to media, campuses, high schools, and others to spread stories of hope and mental health recovery.
The videos will each be 6-8 minutes from varied points of view, and serve as an invitation for other people to submit videos of their own recovery to start creating buzz around this National Dialogue. This initiative will educate and enlighten the public that recovery is real, that there is hope for everyone to recover a full life in the community, that it helps to hear positive, not negative stories about recovery, and that peers often can be uniquely helpful in inspiring others. This goal is in keeping with the vision statement of the President's New Freedom Commission for Mental Health, "We see a future where everyone with a mental illness will recover." We might add that we see a future in which extreme emotional states will be understood to be part of the healing response from trauma and pain, rather than mental illness.
***
Mad in America hosts blogs by a diverse group of writers. These posts are designed to serve as a public forum for a discussion—broadly speaking—of psychiatry and its treatments. The opinions expressed are the writers' own.
***
Mad in America has made some changes to the commenting process. You no longer need to login or create an account on our site to comment. The only information needed is your name, email and comment text. Comments made with an account prior to this change will remain visible on the site.