On Sunday, September 21, 2014, here in Eugene Oregon, I participated, with my wonderful wife Debra, in a local rally to support the major march in New York City for climate justice.
Everyone and every group working for mental health justice ought to make fighting global warming a priority right now. Of course, the whole disability movement, and in fact all sentient beings should be concerned about climate crisis, but those of us working for human rights and more choices for mental wellness have special reasons to make this planetary catastrophe a unifying theme for all of us.
Martin Luther King frequently talked about the importance of creative maladjustment as an answer to oppression, and many environmentalists are wondering where humanity's creativity and maladjustment are right about now. The Mad Movement knows that the psychiatric industry has ground down the human spirit for centuries, but we never ever give up! MLK resisted the war in Vietnam toward the end of his life, and some civil rights activists were mystified that he seemed to be off topic. However, MLK knew that we are all in one big movement for the "beloved community," as he put it.
But if you need something very specific to connect the Mad Movement to global warming, here it is: Those of us called psychotic are often coerced to take neuroleptic drugs (sometimes called antipsychotics), and these drugs are well known to suppress the temperature-regulatory part of the brain. During a heat wave, prison reformers have been talking about how horrible it is that those in non-air-conditioned prisons where people are forced to take these drugs often die. Well, most USA states have laws allowing citizens to be forcibly court-ordered to take these drugs while living at home out in the community.
In fact, Rep. Tim Murphy (R-PA) has a bill to expand this outpatient forced drugging to many other Americans, ask him how many. People who are forcibly drugged tend to be poor and often do not have air conditioning, so coerced psychiatric pharmaceuticals can be a death sentence. The media have tended to avoid this topic, maybe because they are afraid that we will quit our drugs, as I did back in 1977.
I have always felt that we are in one big movement for a peaceful revolution, including about the environment.
Here is something I have been taking action against for a few years: one of the worst defenders of climate crisis is the huge US Chamber of Commerce based in Washington, DC. The US Chamber was taken over a number of years ago by a few big corporations that promote the current economic system.
Here in Eugene, Oregon, and in almost every medium and large city in the USA, there is a local Chamber of Commerce. It may surprise you to hear that your local chamber tends to be fairly independent from the big US Chamber. There is a campaign to have some of the locally-based chambers speak out that the US Chamber of Commerce is all wrong about global warming.
For years, the leading climate crisis group, 350, has had a campaign to ask each chamber of commerce to say "The US Chamber does not speak for us!" This campaign has only been able to convince 56 of the chambers to speak out. But we psychiatric survivors tend to not give up. I have helped mobilize several actions requesting that the Eugene Area Chamber of Commerce make a statement of concern about human-caused global warming. I have organized several public events, street theater, protests, and lots of communication by email and even letters to the editor.
Unfortunately, the Eugene Area Chamber has refused to speak up about this disaster that may become one of the worst catastrophes in the history of planet Earth. Scientists know for certain that global warming is horrible. And there is a risk of run-away climate crisis that threatens life on Earth. I call this danger Normalgeddon. Here is where we stand:
Our local chamber has decided that the executive committee for their elected board of directors should be in charge of any statements about global warming. The elected leader of this board is attorney Sheryl Balthrop. For the past nine months, Ms. Balthrop has refused to make any statement about the climate, and refused to say if or when she will make such a statement. Ms. Balthrop is also the volunteer lawyer for the large human services agency ShelterCare, which is relevant, because poor people are especially vulnerable during environmental disasters. ShelterCare is one of our largest local mental health agencies. Adding to the role of ShelterCare, their director Susan Ban serves on the chamber's board, and ShelterCare's Consumer Council unanimously asked that Ms. Balthrop meet and speak up about this issue. Ms. Balthrop flatly refused.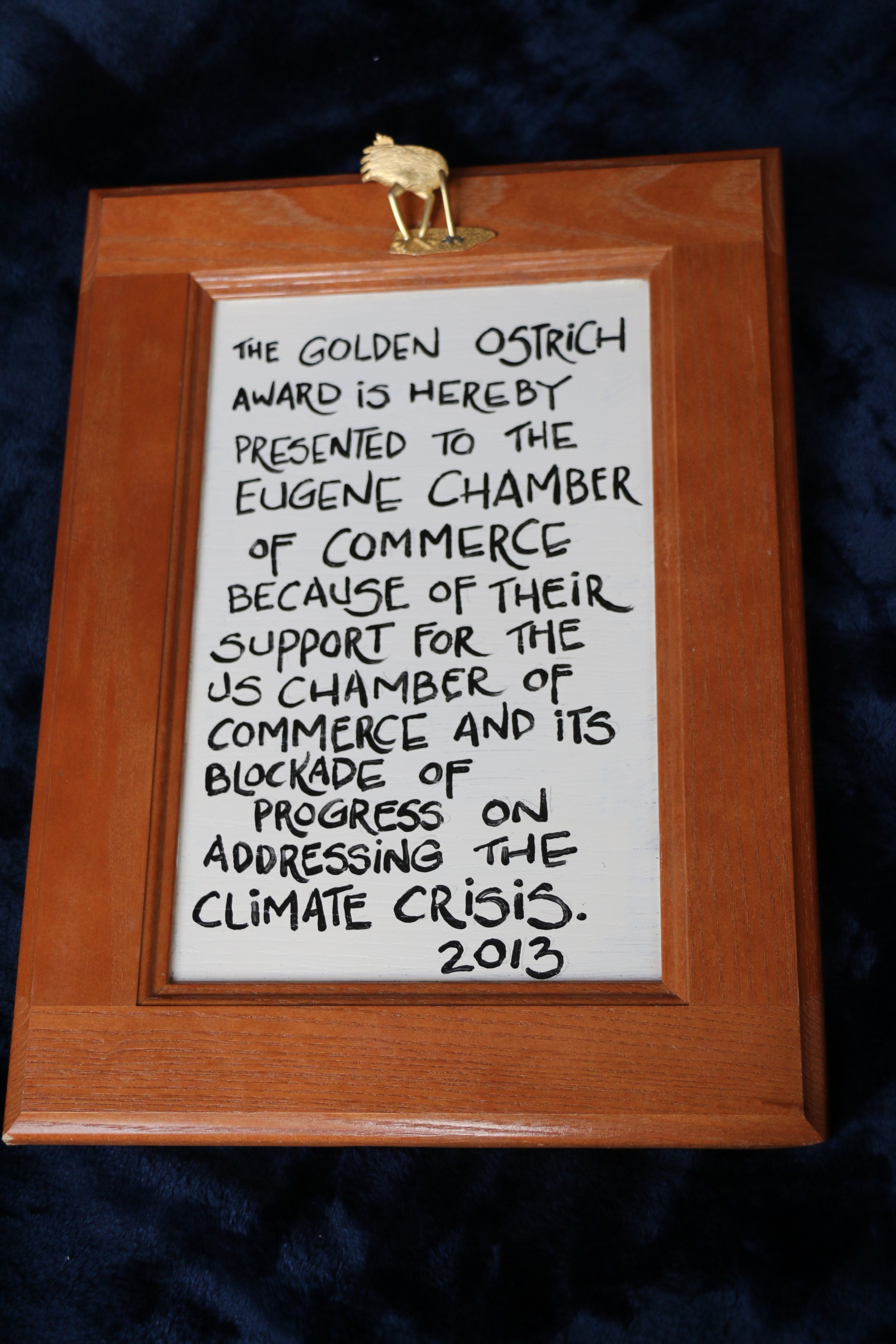 You may watch three videos about activities we have done that are fun and peaceful, to encourage the Eugene area chamber to do the right thing:
Youtube: Boycott Normal Eugene Area Chamber
Vimeo: Our Golden Ostrich
We are the 100%!
According to polls, Americans who believe in small government often are skeptical of global warming. Lately, I am realizing that this position is extremely idealistic, even more idealistic than me! If there was no more crime, we would not need police or jails. If we all shared everything, we would not need money. But to accomplish something like a D-Day for Earth, we need government. Without government a D-Day would look like a bunch of individuals in canoes.
The real choice is between elected government or non-elected government. Corporations hurting the planet are the most authoritarian non-elected government, ever! And you know who is real good at skepticism? Scientists. If someone could come up with a good experiment to disprove global warming, please do so.
What I have learned in my four decades of activism in the Mad Movement is this: We are the one 100%, that is, every single person, 24 hours per day, from womb to tomb, has a major mental disability. But that idea is not a dead end, and our social change movement is here to say there is hope despite extreme problems in the mind. Global warming is slowly awakening humanity into the common humble realization that we all, 100%, are in the Mad Movement, and we need each other to survive.
After my fall that broke my neck 19 months ago, many people who knew me are still unaware of how much I am disabled. Because of a pre-existing condition, my surgery was delayed and during that time my voice was disabled and my fingers became inoperative. So I am kind of like a stripped down version of human, but I am still human, and my human spirit says we all must act now. Hey, if I as PsychoQuad can do this, then can't other people?
We here in Eugene can use the support of people everywhere to help our campaign. Yes, if you are local there is more for you to do. But where ever you live, your help is appreciated. Show there is global attention to our local efforts!
An easy action you can take:
Please contact the board secretary and staff for ShelterCare via these two e-mail addresses:
Sample message (your own peaceful words are best):
Please speak out about global warming! Marginalized people are especially vulnerable to climate crises. ShelterCare is very much connected to the Eugene Area Chamber of Commerce because ShelterCare's director, Susan Ban, is on the board, and its lawyer, Sheryl Balthrop, is the chamber's elected leader. Find out about the campaign here: http://chamber.350.org/
More actions that you can take to help this campaign:
* Please link to this blog, and like/share this blog on social media.
* Please try to communicate with the elected leader of the Eugene Area Chamber, Sheryl Balthrop. You may find her law office by searching for: Gaydos, Churnside, and Balthrop.
* You may read several blog entries I have done related to the climate crisis, here: http://www.davidwoaks.com/category/eco
* You may download and print out a brief version of this blog here: David-Oaks-Eugene-Area-Chamber
* Here is another photo of Eugenians speaking up about global warming, maybe you can spot PsychoQuad. By clicking on the photo, you can enlarge it.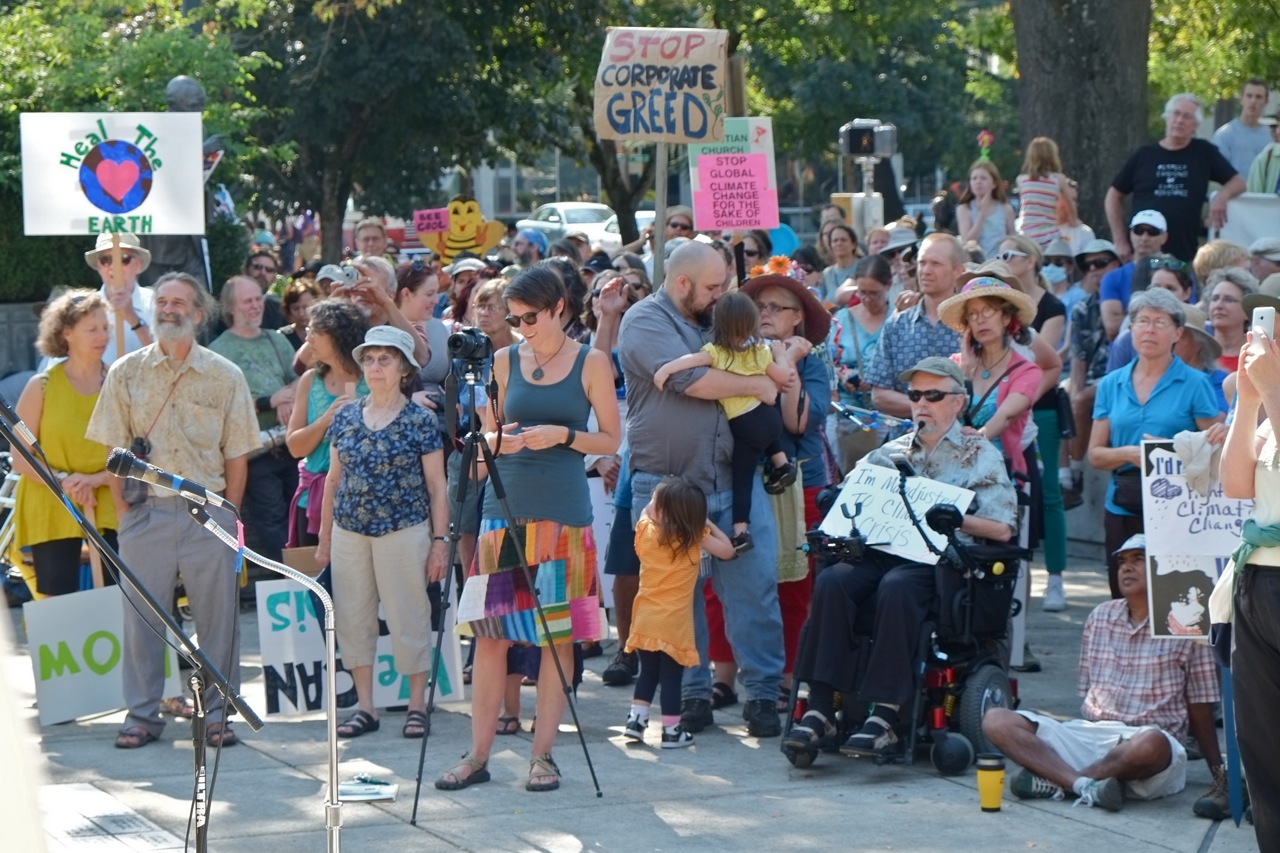 ***
Mad in America hosts blogs by a diverse group of writers. These posts are designed to serve as a public forum for a discussion—broadly speaking—of psychiatry and its treatments. The opinions expressed are the writers' own.
***
Mad in America has made some changes to the commenting process. You no longer need to login or create an account on our site to comment. The only information needed is your name, email and comment text. Comments made with an account prior to this change will remain visible on the site.