A new study tracks the approval of the latest antidepressant, vortioxetine, by the Federal Drug Administration (FDA) and the European Medicines Agency (EMA). The analysis demonstrates how current regulations fail to protect the public from unsafe drugs and how "economies of influence" conspire to "produce evidence-biased—rather than evidence-based—medicine."
"How could the FDA and EMA approve a new drug that appears to be less effective than other available antidepressants, and which failed to be more effective than placebo in a substantial subset of trials?" the study authors, led by Lisa Cosgrove, write in Accountability in Research.
"The short answer is that regulatory standards for efficacy are not as strong as prescribers, or the public may think…"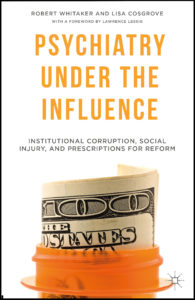 Cosgrove and her colleagues lay out a process of "ghost management" whereby industry-funded drug trials are written up by medical communication companies, endorsed by academic psychiatrists, and then published in highly regarded journals. The industry-funded trials are more likely to report positive findings than independent trials and academic physicians with financial conflicts of interest are more likely to offer favorable opinions.
This process, according to the new analysis, results in biased research findings and the "marketing of expensive new drugs with questionable risk/benefit profiles" to the public. This problem has been increasingly evident in studies of antidepressants. As we reported at Mad in America, a recent reanalysis of industry trials found that the antidepressant paroxetine (Paxil/Seroxat) is more dangerous for adolescents than previously reported.
"The relationships among academe, publishing, and industry can facilitate commercial bias in how drug efficacy and safety data are obtained, interpreted, and presented to regulatory bodies and prescribers," they write.
To illustrate how this research bias occurs, Cosgrove et al. use the newly approved antidepressant vortioxetine (Brintellix™) as a case study. The analysis identifies several problems leading to this particular form of research bias. These include weak regulatory standards requiring only statistical and not clinical significance, design flaws limiting adverse reaction data, and a lack of comparisons to current treatments.
"Our analysis suggests that there is a complex interplay among three institutions: the pharmaceutical industry, the medical publishing industry, and the bodies that regulate medical commerce. The legal, accepted, and normative processes used by these societal agencies, when brought together, result in a perturbation that allows a product of questionable benefit to be marketed in several countries."
Lundbeck/Takeda, the manufacturer of vortioxetine, submitted ten short-term randomized control trials and one long-term trial to the FDA and EMA in an attempt to establish the efficacy of the drug for major depression (MDD). After a review, the FDA found that only six of the short-term trials showed a positive result and then based its efficacy assessment on these six studies.
Cosgrove et al. point out that focusing on the subset of positive trials can inaccurately increase the perceived benefit of the drug and that this inflation of efficacy can be enough to "tip the balance" in the favor of the drug. Neither the FDA nor EMA required that the trials show clinical significance or improvements on functional outcomes, such as returning the work. They also failed to include any comparisons between the new drug and existing options, many of which are available as generics at a much lower cost to consumers.
The analysis is also critical of the methods used in the vortioxetine studies to assess the safety and tolerability of the new drug. Most of the adverse events (AEs) reported in the FDA and EMA reviews were assessed based on spontaneous reports, where patients would be asked "how do you feel?" rather than questioning participants about specific side-effects known to be associated with antidepressants.
For example, sexual dysfunction is frequently associated with antidepressant use and, as the researchers point out, "relying on spontaneous reporting of sexual difficulties is a good way to ensure that the number of AEs related to sexual dysfunction is low." In the trials that did attempt to assess sexual dysfunction, the studies used a tool (the Arizona Sexual Experiences [ASEX] scale) that had questionable validity and yielded data from which it is "impossible to draw any valid conclusions about treatment-emergent sexual side-effects."
All of the trials for vortioxetine were sponsored by the manufacturer, as is typical for new drugs, but, what is even more problematic, is that "every author in all of the published short-term RCTs, as well as one longer term randomized drug withdrawal study, had significant commercial ties to the manufacturer, well beyond research funding."
According to Cosgrove and her colleagues, vortioxetine offers a case study that shows how "the design choices, interpretive strategies, and rhetorical devices employed by researchers with industry ties and published in journals with commercial ties give the reader the impression that a 'new' antidepressant is safe and well tolerated, when in fact the data were not collected or analyzed in a way that provides sound empirical support for this conclusion."
*
Cosgrove, L., Vannoy, S., Mintzes, B., & Shaughnessy, A. F. (2016). Under the Influence: the Interplay among Industry, Publishing, and Drug Regulation. Accountability in Research, (just-accepted).
Disclosure: Justin Karter is a volunteer researcher in psychological ethics with Lisa Cosgrove at UMass Boston. His involvement in the research being summarized here was limited to citation management and manuscript preparation.