A new study out of Kings College London found that twelve sessions of a group mindfulness-based therapy relieved distress associated with hearing voices while reducing depression over the long-term. The person-based cognitive therapy (PBCT) intervention had significant effects on depression, voice distress, voice controllability and overall recovery.
"Overall when delivered over 12 weeks, group PBCT for distressing voices shows promise as an intervention to reduce the distress and disturbance associated with voice hearing experiences in the context of psychosis," the researchers, led by psychologist Paul Chadwick, conclude.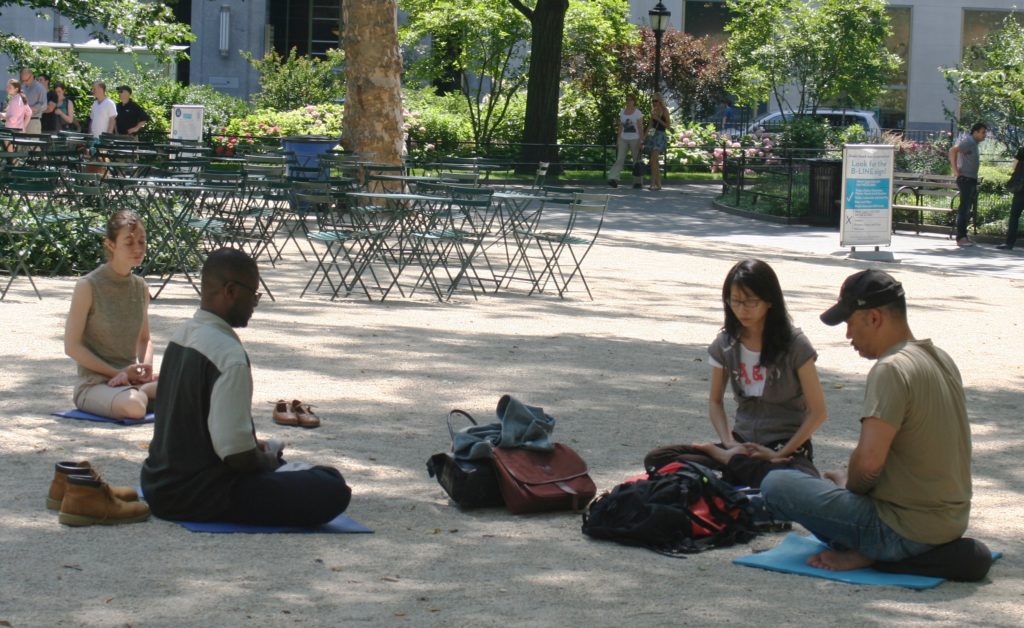 While individual therapy is recommended in both the US and the UK for the treatment of symptoms associated with psychosis and schizophrenia, access to these treatments remains poor in both countries. Now, new evidence is emerging that group therapy and, specifically, group mindfulness-based interventions have benefits for people hearing voices and experiencing symptoms associated with psychosis.
Chadwick and his colleagues define mindfulness as "a state of non-judgemental and accepting awareness of present-moment experiences (such as thoughts, voices, and bodily sensations)" and they build on qualitative research suggesting that learning mindfulness techniques can reduce distress and facilitate increased acceptance of symptoms associated with psychosis.
This study is the first randomized control trial to compare the use of PBCT with treatment as usual (TAU) to TAU alone for the experience of distress associated with hearing voices. The researchers include the following description of the PBCT mindfulness practice as it was delivered to participants.
"Briefly: All sessions began with mindfulness practice and discussion. Mindfulness practice in PBCT is brief (10 min), focussed with frequent guidance that includes reference to psychotic experience, and focused attention on body and breath with open awareness. Sessions 1–3 socratically drew out participants' voice hearing experiences (onset, impact, meaning, distress and coping) and framed them using the ABC cognitive model. Sessions 4–6 explored personal control, socratically weakening voice omnipotence and enhancing autonomy. Sessions 7–12 added focus on identifying and decentring fromnegative schemata, and building positive schematic beliefs (including using experiential two chairwork) alongside recognition that the self is complex and changing. Participants were encouraged to practice mindfulness daily at home, using a supplied 10 min recording, and each week one further homework was set relating to work on voices or self (e.g. Session 6: keeping a record of times when I chose what to do in spite of the voices)."
Seventy-two percent (39) participants completed at least eight of the twelve PBCT sessions. Among those who completed at least eight sessions, the researchers found that they had less intense distress from voices and had a significant improvement in depression symptoms, a finding that remained significant at the six-month follow-up. The study also found that the intervention significantly reduced the extent to which the participants felt controlled by the voices and that participants also reported feeling that they had more choice and agency to make positive decisions.
*
Chadwick, P., Strauss, C., Jones, A.M., Kingdon, D., Ellett, L., Dannahy, L. and Hayward, M., 2016. Group mindfulness-based intervention for distressing voices: A pragmatic randomised controlled trial. Schizophrenia Research. (Abstract)