A new study, published in Annals of Emergency Medicine, examines how presenting issue and insurance status impact length of stay in the Emergency Department (ED). The results of the study, conducted in Massachusetts, demonstrate that patients with mental health emergencies wait in the ED 4-5 times as long as medical or surgical patients to be admitted or transferred to another hospital. Also, patients who have Medicaid or are uninsured are more than twice as likely to wait in the ER for over 24 hours relative to patients with private insurance.
"This suggests that although the notion of mental health parity has received greater attention in recent years, the inequity in care for this particularly vulnerable group of patients persists," write the authors, led by Mark Pearlmutter from the Department of Emergency Medicine at Steward St Elizabeth's Medical Center and Tufts University School of Medicine.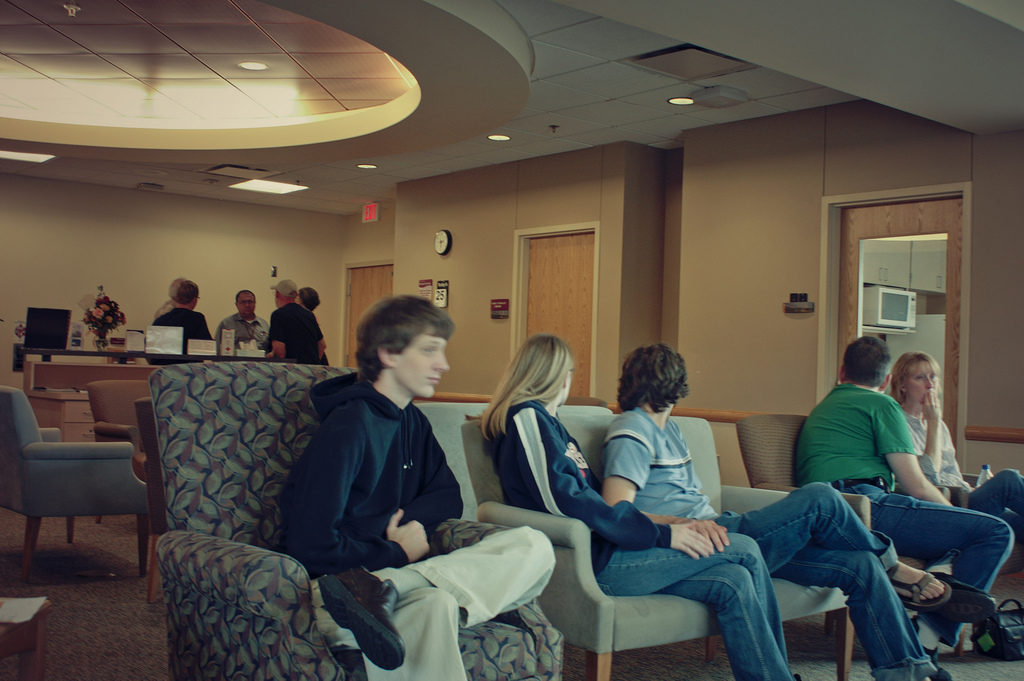 Boarding in EDs, or "the practice of prolonged waiting in the ED for an inpatient hospital bed or transfer to another inpatient facility," is a significant problem, write the authors. The issues of ED boarding have gained attention in recent years (see here and here).
One study found that patients experiencing mental health emergencies wait three times as long for inpatient beds than patients with physical health emergencies. ED patients presenting for mental health crises are 2.5 times more likely to need to be admitted. In addition, the proportion of ED visits that are due to mental health emergencies is steadily increasing, accounting for 12.5% of ED visits in the United States in 2007. Research also indicates that patient factors, such as insurance status, may impact boarding times.
In order to address this problem, the current study was designed "to quantify the burden of mental health boarding in EDs across Massachusetts and to assess for variation in ED length of stay for mental health patients by insurance type." The researchers conducted a cross-sectional observational study. They collected data from 10 Massachusetts hospitals over a two week period in 2012. Data from 871 patients who presented to the ED and needed a mental health evaluation were analyzed.
"In our study, the mean length of stay for medical or surgical admissions and transfers during the same 2-week period was 4.2 hours and 3.9 hours, respectively, compared with the mental health mean length of stay of 16.5 hours and 21.5 hours, respectively," report the researchers. The researchers find "that the burden of prolonged length of stay for mental health patients is due primarily to boarding in the ED for patients awaiting admission or transfer." Patients who were discharged had the shortest stays.
Results also show "that uninsured patients were 2.8 times more likely to have an ED stay greater than 24 hours… whereas patients with Medicaid were twice as likely to remain in the ED for greater than 24 hours compared with privately insured patients."
Pearlmutter and colleagues provide further evidence to support previous findings that patients presenting to the ED with mental health concerns have longer wait times than other patients. "It does suggest a disparity in timeliness of care for mental health care relative to other conditions," state the authors.
The authors argue against previous recommendations to attempt to reduce overall length of stay by reducing the time it takes to medically clear patients, stating "These findings suggest that policies to address prolonged ED length of stay will have the greatest influence if focused on the long waits to definitive treatment (boarding) rather than the comparably short medical clearance evaluation."
The researchers note, "although the causes are multifactorial, the lack of access to community mental health services is frequently beyond the control of individual hospitals and EDs." Therefore, they call for policy reform to address long boarding times and insurance disparities for individuals experiencing mental health crises.
****
Pearlmutter, M. D., Dwyer, K. H., Burke, L. G., Rathlev, N., Maranda, L., & Volturo, G. (2016). Analysis of emergency department length of stay for mental health patients at ten Massachusetts emergency departments. Annals of Emergency Medicine. Advance online publication. http://dx.doi.org/10.1016/j.annemergmed.2016.10.005 (Abstract)
***
Mad in America hosts blogs by a diverse group of writers. These posts are designed to serve as a public forum for a discussion—broadly speaking—of psychiatry and its treatments. The opinions expressed are the writers' own.
***
Mad in America has made some changes to the commenting process. You no longer need to login or create an account on our site to comment. The only information needed is your name, email and comment text. Comments made with an account prior to this change will remain visible on the site.