A new study, published in Psychology and Psychotherapy, investigates the effect of School-Based Humanistic Counselling (SBHC) for students aged 11-18. The results of the pilot randomized controlled trial, conducted in London inner-city schools, suggest that SBHC helps to reduce psychological distress while students are receiving counseling. The authors, led by Peter Pearce, faculty head and psychotherapist in the Person Centred Department at the Metanoia Institute in London, write:
"Participants in the SBHC condition, as compared with participants in the UC [usual care] condition, showed a greater reduction in psychological distress and emotional symptoms, and a greater improvement in self-esteem, over time."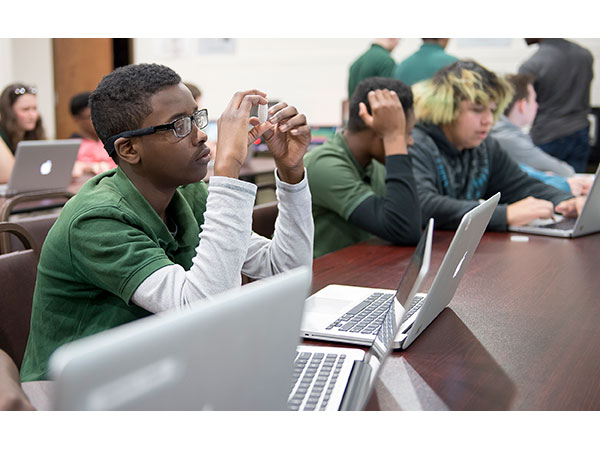 Recent data suggests that 1 in 10 young people in the UK experiences a mental health disorder and that 50% of lifelong mental health challenges start before age 14. Schools are being used as a place to intervene to reduce mental distress in children, as children are 10 times more likely to access mental health services provided through the school versus the community.
"As a community-wide resource, schools have the potential to maximize the extent to which mental health interventions are socially inclusive," the authors explain.
The researchers discuss "a need to develop and test non-CBT forms of therapy" since CBT (Cognitive Behavior Therapy) may not be effective for all students or for many of the life challenges that students experience. More attention has been given recently to studying the effectiveness of humanistic therapy, founded by Carl Rogers. The researchers suggest School-Based Humanistic Counselling (SBHC) as an alternative approach to CBT.
"The assumption underlying SBHC is that young people have the capacity to successfully address difficulties in their lives if they have an opportunity to talk through these problems with an empathic, supportive adult," write the authors.
Three pilot studies have investigated the effectiveness of SBHC for young people experiencing emotional distress and the results suggest that SBHC improves well-being. However, these studies did not include follow-up assessments and were done primarily with White students.
Therefore, the researchers aimed "to extend this line of research by piloting a randomized controlled trial of SBHC in a more ethnically diverse sample and with the follow-up measures at 6- and 9-month." In 2013, the authors conducted a randomized controlled trial where 64 students from 3 schools received either SBHC or a standard non-counseling alternative (i.e., usual care). Students were between the ages of 11-18 and "experiencing moderate or high levels of emotional distress" based on the SDQ-ES self-report questionnaire. Eighty-six percent of students were female. Seventy-eight percent of students identified as an ethnic minority.
The researchers used the Young Person's CORE self-report questionnaire to measure psychological distress. The authors report that this questionnaire has been widely tested with young people. However, the researchers do not provide information on whether it has been tested with ethnically diverse samples.
Students in the SBHC group received up to twelve 45-minute sessions of humanistic counseling which the authors describe, "uses a range of techniques to facilitate this process, including active listening, empathic reflections and helping clients to reflect on their emotions and behaviors." The researchers distinguish this approach from CBT as it is non-directive and counselors do not provide interpretations or advice. Four counselors trained in SBHC provided counseling to students. The ethnicity of the counselors was not provided. Students in the usual care group had access to standard supports provided by their schools, such as class teachers, the school nurse, and a Pastoral Care Team.
Results of the study suggest that SBHC helps reduce psychological distress and emotional symptoms, as well as improve self-esteem, at the end of 12 weeks. The researchers report, "SBHC brought about significant reductions in psychological and emotional distress, but had no significant impact in areas such as peer problems, conduct problems, and hyperactivity." However, at the 9-month follow-up, only emotional symptoms remained significantly reduced. The authors conclude they "found no evidence that SBHC had enduring effects after the end of therapy."
"Overall, the data suggest that the principal effects of SBHC are in the emotional and self-perceptual – rather than behavioural – domains, as would generally be predicted by humanistic theory," state the authors.
The authors reiterate that this is a pilot study with a small sample size. Therefore, the conclusions that can be drawn from it are limited. The authors report that the study demonstrates the feasibility of testing the effectiveness of SBHC for ethnically diverse, inner-city students.
Larger scale studies are needed to further assess the effectiveness of SBHC for students experiencing psychological distress, especially for students who identify as a racial minority or low socioeconomic status. However, this study is an important step toward providing more evidence for psychological treatments that are alternatives to CBT in school settings.
****
Pearce, P., Sewell, R., Cooper, M., Osman, S., Fugard, A. J. B., & Pybis, J. (2017). Effectiveness of school-based humanistic counselling for psychological distress in young people: Pilot randomized controlled trial with follow-up in an ethnically diverse sample. Psychology and Psychotherapy: Theory, Research and Practice, 90, 138-155. doi:10.1111/papt.12102 (Abstract)
***
Mad in America hosts blogs by a diverse group of writers. These posts are designed to serve as a public forum for a discussion—broadly speaking—of psychiatry and its treatments. The opinions expressed are the writers' own.
***
Mad in America has made some changes to the commenting process. You no longer need to login or create an account on our site to comment. The only information needed is your name, email and comment text. Comments made with an account prior to this change will remain visible on the site.