Researchers at the University of North Carolina's School of Global Health recently published a piece in the American Journal of Preventive Medicine exploring the connection between the minimum wage and suicide rates. While there is an established link between financial stress and suicide, the authors suggest that there has been minimal research on how economic policies can affect financial stress, and thereby impact suicide rates.
To eliminate this gap, the team conducted a retrospective panel data study with CDC data on death by suicide and Consumer Price Index data on state minimum wage. They found 432,000 deaths by suicide from 2006-2016 and showed that a one dollar increase in state minimum wage led to a 1.9 percent decrease in annual state suicide rates. This effect was found even as their data analysis model controlled for economic conditions, state investment in healthcare and improvement in health insurance coverage.
"… [R]ecent increases in suicides and drug-related deaths result from an inter-generational deterioration of economic and social conditions with roots in the labor market," write the authors.

"Addressing such a phenomenon requires a long-term policy approach with an appreciation for inter-generational effects. However, that approach does not preclude the possibility that contemporaneous improvements in income and financial security can meaningfully affect population health outcomes."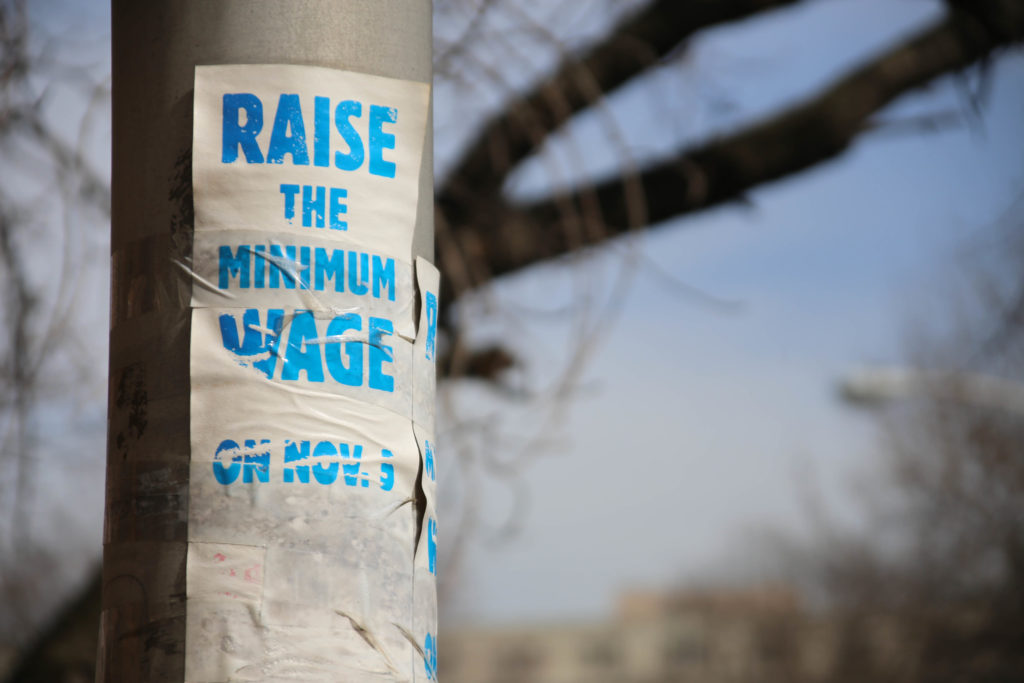 The US suicide rate has steadily risen over the last two decades, rising from 10.5 per 100,000 people in 1999 to 13.4 per 100,000 people in 2016. This effect is most pronounced in 25 states, which showed a more than 30 percent increase in suicide rates. Worsening economic conditions have long been hypothesized to contribute to suicide deaths by causing individual strain: approximately one in six people who died by suicide in several states experienced an occupational or financial problem before dying.
Increasing the minimum wage has been shown to increase income for low-income groups, a population that is at high risk for suicide, and can raise wages for workers who earn more than the minimum wage as well. Moreover, increasing the minimum wage has been associated with improved life satisfaction, reduced odds of reporting unmet medical needs, and a decrease in the probability of having poor mental health. While suicide rates have been increasing since 1999, the pace has quickened since 2006, a period in which there was a high degree of variability in minimum wages across states as compared to previous years.
To better understand the relationship between suicide and the minimum wage, the authors looked to CDC data from 2006-2016 to find their dependent variable (cause of death attributed to self-harm), and to Consumer Price Index data to find their independent variable (inflation-adjusted minimum wage). To control for economic conditions, the researchers included state unemployment rates and state GDP and controlled for state investment in health by including the percentage of total state budget spent on Medicaid.
The team found 432,000 suicides from 2006-2016 and found that suicide rates increased in all groups. Men and non-Hispanic whites experienced the largest absolute increases in suicide rates, while women and non-Hispanic whites experienced the largest relative increases. All 50 states experienced increases in nominal minimum wage, and of these, 16 states had minimum wages equivalent to the federal minimum wage.
"A one-dollar increase in the real minimum wage was associated on average with a 1.9% decrease in the annual age-adjusted state suicide rate," write the researchers.

"The estimated association between minimum wages and suicide rates among men and non-Hispanic whites were comparable with the estimate from the main analysis and statistically significant. The estimated association among women was also comparable but not statistically significant. The estimated association among non-Hispanic blacks was positive but smaller in magnitude than the main analysis and not statistically significant."
This 1.9% decrease, the authors note, would have resulted in 8,000 fewer deaths by suicide. Given that the model controlled for economic conditions, state investment in healthcare, and improvements in health insurance coverage, the authors argue that their analyses provide support for the idea that increases in minimum wage can help address increasing suicide rates in the US.
While an earlier study found a stronger association between income and mortality in non-Hispanic whites, this study did not find substantially different suicide rates by race or sex. After controlling for demographic changes by state, however, the researchers found that changes in state demographics may account for part of the association between minimum wage and suicide rates. The authors suggest several possible explanations for this phenomenon: increases in minimum wages may attract more women and Hispanic individuals, minimum wages may be increased during times of relative prosperity which may attract more women and Hispanic people, or women and Hispanic people may support political leaders who support a minimum wage increase.
Year-to-year, there is variation in the relationship between minimum wages and suicide; the negative association between the two seems to be driven by numbers from 2011-2016. Years that do not follow this relationship and instead show no or a slightly positive correlation huddle around the Great Recession and the recovery thereafter. This may be due to the fact that individuals who might have benefitted from a minimum wage increase were unemployed and as such did not see these benefits, because increases in the minimum wage may have had variable effects in different states in years, or perhaps because increases in minimum wages may decrease overall employment.
Unlike other comparable studies, this piece did not find an association between economic prosperity and suicide rates, perhaps because economic prosperity was not a major force behind suicide rates during the study, or perhaps because state unemployment levels and GDP are not adequate representations of the economic conditions of groups with higher suicide risk. Moreover, healthcare legislation such as the Affordable Care Act or the Mental Health Parity and Addiction Equity Act may have helped soften the effects of economic conditions on suicide rates.
The authors note several limitations of their study, including that their results should not be interpreted as causal, that there may be unobserved factors or controls they did not account for, or that studying specific localities or further demographic characteristics may shed additional light on the association between minimum wage and suicide.
"This study suggests that increasing the minimum wage could represent a strategy for addressing worsening trends in suicide rates," conclude the authors.

"Despite the potential role of economic factors in contributing to suicide deaths, this is the first study the authors are aware of examining the effect of minimum wage changes on suicide rates. Additional studies of specific localities and making use of individual-level data may provide greater insight into the nature of the association between suicides and minimum wages."
****
Gertner, A. K., Rotter, J. S., & Shafer, P. R., (2019). Association Between State Minimum Wages and Suicide Rates in the U.S. American Journal of Preventative Medicine, 1-7. doi: https://doi.org/10.1016/j.amepre.2018.12.008 (Link)