A new special issue of Transcultural Psychiatry featured an interdisciplinary collection of scholarship that explores ongoing challenges and developments shaping Global Mental Health (GMH) today. From historical, colonial legacies that have shaped the movement to modern-day implications of climate injustice and digital technologies, the papers included reflect upon and grapple with the movement's complex unfolding and implications for power-sharing and collaboration.
Special issue editors Dörte Bemme and Laurence Kirmayer introduce the themes within:
"Over the past decade, efforts in Global Mental Health (GMH) have significantly evolved in parallel with critical commentary on its claims and interventions. The initial debate between global and local, universalist and culturalist, emic and etic perspectives on mental health has given way to more collaborative conversations and complex interventions that consider issues of cultural and epistemological diversity in many ways."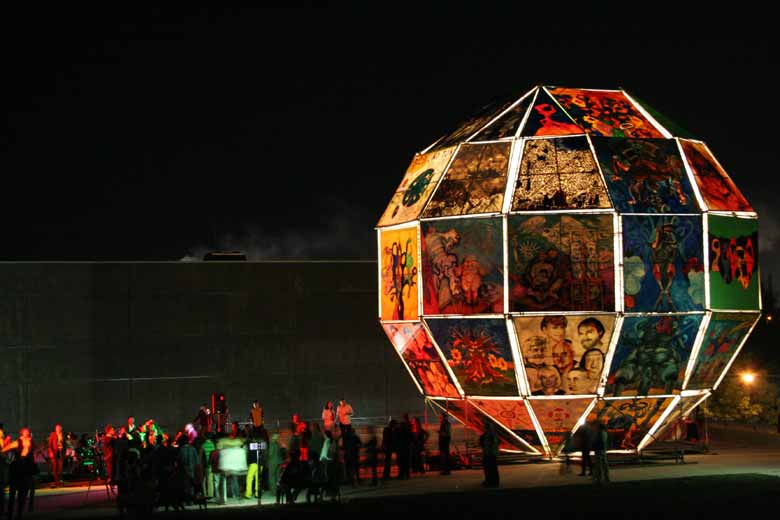 With its shifting agenda, GMH has broadened in recent years. Put forth as an international public health priority, it has joined global policy platforms and has expanded its evidence base, Bemme and Kirmayer describe. The special issue engages in reflection about the evolution and implication of GMH today. The papers aimed to: "(1) trace the field's evolution and current assemblage; 2) discuss the changing contours of the construct of 'mental health'; 3) discuss the social, cultural and historical dimensions of current GMH interventions; and 4) problematize persistent and emergent lines of critical inquiry."
In response to calls to "scale up" mental health treatment in low- and middle-income countries, critical concerns have been raised. The assumption that there exists a "treatment gap" was contested for relying on culturally-specific definitions of suffering, coping, resilience, and other aspects of health. Critics called attention to concerns around the cross-cultural validity of psychiatric evidence, neocolonial impositions of Western ways-of-being, and how pharmaceutical companies could game the GMH movement to expand their market.
The papers featured in this special issue continue to explore the ongoing evolution of the GMH within the context of its colonial legacy and history of structural violence. Other authors address the need for culturally responsive intervention and implementation. As this special issue reflects and attempts to move beyond the polarized debate in GMH, they draw out contemporary challenges around climate injustice as well as narratives of psychological suffering after wars, natural disasters, and female genital cutting.
Authors of the special issue contend that actors driving the GMH movement are not monolithic. Although they include institutions dedicated to developing "scalable, evidence-based care strategies" to address "mental health problems" across the globe, particularly for people identified to live in low-resource settings, they also include an evolving assemblage of institutions, key figures, researchers, counselors, students, and lay health workers across settings.
Therefore, Bemme and Kirmayer argue that although there is a small number of institutions and key figures that serve as visible drivers of the movement, these collaborations have been transforming alongside the movement's evolution and cannot easily be pinpointed. They write:
"Within the virtual and locally grounded contact zones of GMH practice, the distances of geography, nationality, rural-urban divides, and social and professional hierarchies are negotiated, re-arranged, and bridged in ways that do not map easily onto a simple North-South divide."
However, they argue that the field's identity coheres around specific boundary objects and discourses designed to appeal across disciplines. An umbrella language of keywords has been employed to unify disparate actors around a shared goal to resolve the "treatment gap" and problems of limited "access to care" by "scaling up" of mental health interventions. As an effect, the GMH movement has "effectively reformulated what mental health is and who should be responsible for its delivery."
In this way, the strategy of the GMH has been integration, not specificity, write Bemme and Kirmayer. Rather than setting out to promote specific, stand-alone mental health programs, the movement has broadened by making itself relevant to various public policy domains. This strategy is perhaps most demonstrated by the reformulation of mental health as an international development priority, included in the UN's Sustainable Development Goals (SDGs).
Bemme and Kirmayer highlight this shift away from biomedically-focused Global Burden of Disease estimates toward a more dimensional mapping of distress, disorder, and disability within whole populations. Although new conceptual issues arise with this spectrum, a dimension approach subverts the discrete categorization offered by diagnostic paradigms.
"Mental health, here, has been given its broadest meaning yet – a definition so inclusive that everyone at all times has a place on the spectrum of ''mental health'' simultaneously defined in terms of the logics of 'human capital' (economic), 'human rights' (legal), and the 'public good' (welfare), enlisting three distinct conceptual lineages and institutional apparatuses in the care for mental well-being."
Although broader definitions of health make room for cultural responsiveness to local contingencies, this is restricted by the emphasis on adapting already-existing treatments. In addition to this, providing mental health care proves difficult both because adaptation may be unfit to respond to contextual factors and because limited human and material resources demand that interventions are simplified to quick, one-size-fits-all approaches. Such simplification occurs by training lay mental health workers and integrated "one-glance diagnostic master charts (mhGAP), or ultra-short screening tools."
Adaptation and simplification can undermine efforts to include local knowledge, risking epistemic injustice, particularly with the exclusion of traditional and indigenous healing practices. Bemme and Kirmayer write:
"One longstanding area of contention, however, has been the relevance of local knowledge, which may include different and alternate sources of authority, methods, and standards for evidence. This is seen, for example, in the discussions of the relevance of mental health outcome measures, which critical scholars have argued should reflect a 'pluralistic view of knowledge' that recognizes multiple voices and sources of knowledge and avoids the 'epistemic injustice' that occurs when the knowledge of one group is validated while others are denied legitimacy."
In this special issue, authors explore topics related to medical intervention and how specific GMH practices are linked to implicit assumptions about "modern" healing practices. Relatedly, the GMH movement gets positioned as a "project of modernization in psychiatry," a frontier of modernity. There is a legacy of violence associated with psychiatry. Therefore authors in this issue, such as Hickling, argue that decolonizing practice must be at the center of postcolonial mental health approaches.
"Mental health care is complicated by psychiatry's legacy and continuing role as an institution of social control, which historically has been closely linked to the interests of colonial powers and nation-states," the authors note.
Authors in this issue call attention to social determinants of health, or the structural and environmental conditions that are contributing to psychological suffering. They articulate issues such as poverty, disability, and other forms of structural violence. For example, author Ross White discusses environmental justice in the context of rapid urbanization, drought, food insecurity, rising sea-levels, and the effects on mental well-being.
Other authors, such as Medeiros and colleagues and Omigbodun and colleagues, attempt to complicate understandings of trauma, adding layers of nuance. Newnham and colleagues, for example, discuss the need to review current health campaigns in light of findings of cultural meanings and their corresponding, ongoing changes.
Lastly, the thematic issue touches on the incorporation of digital technologies in the GMH movement. In some ways, these technologies are positioned as an expedient solution, a promise to problems of limited resources, and the need to adapt treatments. Digital technologies range from telepsychiatry, educational support, drug adherence apps, online self-help, education for lay workers, mood trackers, and more. This diverse array of technologies is accompanied by various implications that attend to how mental health and recovery become coded on a digital interface. The authors write:
"Due to this diversity of approaches, their epistemological, ethical, or relational effects will also differ as they each re-shape subjectivities and clinical encounters in novel ways. Questions regarding the ethical implications, cultural acceptability, and feasibility of digital technologies in GMH are currently being studied by interventionists, but they also invite broader reflection on the socio-cultural worlds they are part of and helping to create."
In reflecting upon the perspectives compiled in this special issue, Bemme and Kirmayer emphasize epistemic pluralism, interdisciplinarity, self-reflection, and power-sharing to move beyond the divide in GMH and toward collaboration. "GMH today is many things," they write.
"It straddles the specificity of epidemiology, exemplified by the Global Burden of Disease and an abundance of standardized survey instruments, as well as the flexibility of a view on mental health as a spectrum that encompasses well-being and resilience as well as myriad forms of stress and distress. Of course, all disciplinary ways of knowing are partial and situated – blind to some and attuned to other ways of knowing. Opening to the insights offered by other disciplinary perspectives can allow GMH to better understand the contexts that shape its practice."
****
Bemme, D., & Kirmayer, L. J. (2020). Global Mental Health: Interdisciplinary challenges for a field in motion. Transcultural psychiatry, 57(1), 3. (Link)