In response to the social distancing measures in place across the globe, a large team of researchers led by clinical psychologist Maria Elizabeth Loades embarked upon a "rapid" review of studies on the effects of loneliness and social isolation on youth mental health to date. The study, published in the Journal of the American Academy of Child & Adolescent Psychiatry, provides insight into the psychological implications of the global spread of COVID-19. Loades and her co-authors write:
"Loneliness is the painful emotional experience of a discrepancy between actual and desired social contact. Although social isolation is not necessarily synonymous with loneliness, early indications in the COVID-19 context indicate that more than one-third of adolescents report high levels of loneliness, and almost half of 18-24-year olds are lonely during the lockdown."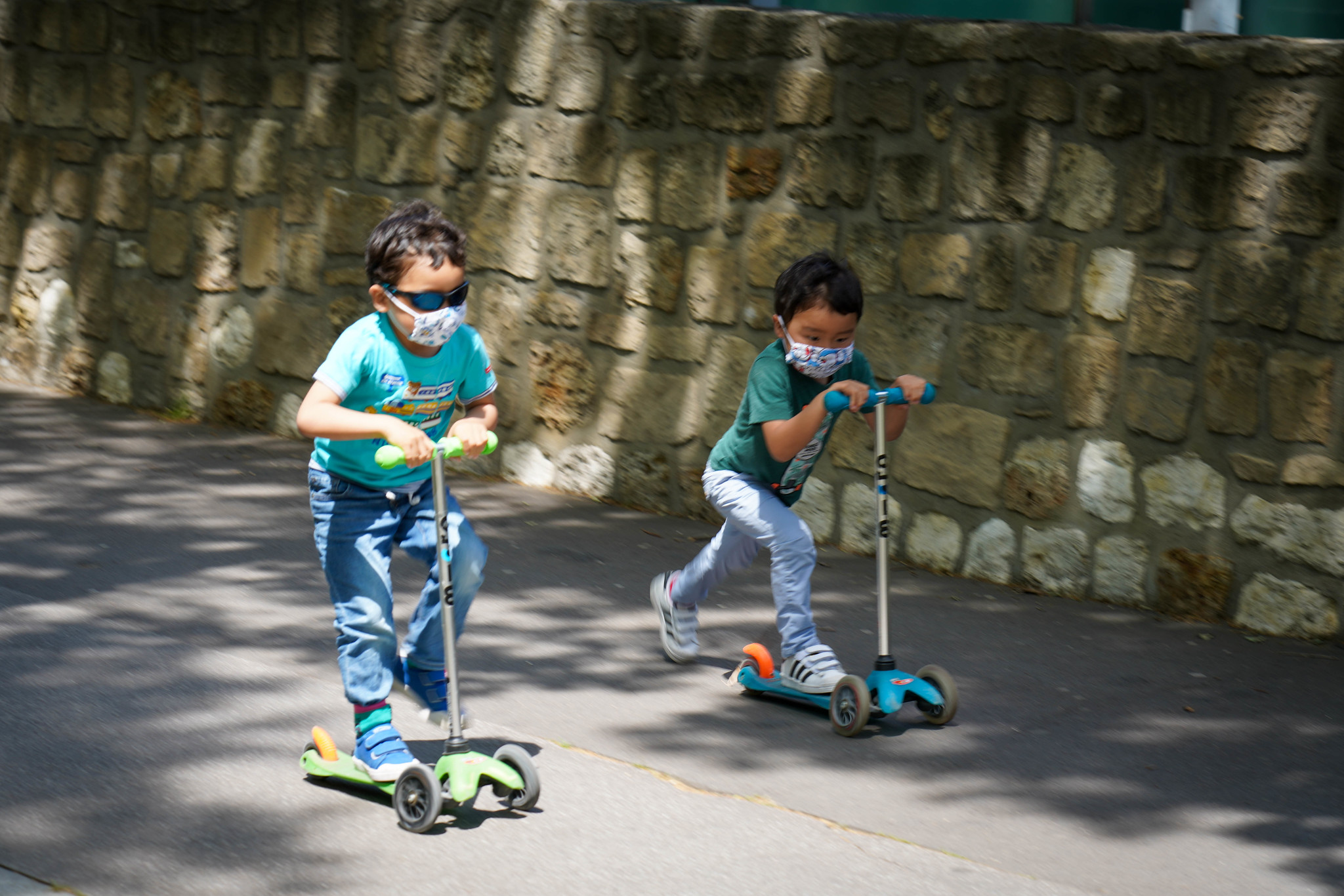 Loneliness, not simply a function of the quantity but also the quality of connections to others, can have a significant effect on a variety of facets of mental health. Youth are uniquely impacted by school closures and reliance on guardians for food and resources in the context of recent COVID-19 containment measures.
Not all studies included in this review were specific to pandemics, but all "reported on the impact of social isolation and loneliness on the mental health of previously healthy children and adolescents." The search generated 63 studies (for a total of 51,576 participants) primarily conducted in the US, China, Europe, and Australia, as well as a small number in India, Malaysia, Korea, Thailand, Israel, Iran, and Russia.
Among the key findings from this rapid review (assembled swiftly based on relevance to the current pandemic) were that prolonged experiences of loneliness could be linked to 'mental health concerns' for up to 9 years post occurrence, a strong association was identified between loneliness and symptoms associated with 'depression.'
They found that gender appeared to moderate mental health implications (i.e., the increased association between depression and loneliness among girls, and an increased association between social anxiety and loneliness among boys). Additionally, of particular relevance to school closures, the length of experienced loneliness appeared to moderate the extremity of future mental health issues.
Recent months have seen calls for immediate research examining the lived experiences of people negotiating uncharted territory amid COVID-19 precautions. International responses to COVID-19, though variable, have resulted in mass experiences of unemployment, food, and housing insecurity, reduced access to community organizations and social supports, and limitations to engagement in the milestones that have historically united communities (e.g., weddings, graduations, births, and deaths). People most financially impacted by COVID-19 are most likely to experience psychological distress.
The deleterious effects of COVID-19 containment measures, in addition to the spread of the disease itself, have disproportionately impacted marginalized populations in the US. Some have raised significant concerns that the available virtual resources for curbing the psychosocial impacts of COVID-19 (e.g., meditation apps and reduction of social media/news consumption) "neglect social realities."
One recent publication in the New England Journal of Medicine highlighted the particular effects of school closures on students' access to nutrition and increases in food insecurity, emphasizing the implications of school closures for the 35 million children who rely on daily school lunch in the US. Home confinement due to school closures and social distancing initiatives can also mean decreased opportunities for physical activity, more screen time, sleep irregularity, and (relevant to Loades and colleagues' investigation) social isolation.
In a national survey of teens in the US conducted in May by 4-H, 61% of respondents indicated that their feelings of loneliness have increased during this pandemic, and 64% believe that the experience of COVID-19 will have long-term impacts on their generation's mental health. School psychologists and other mental health professionals are scrambling to figure out how to promote student psychological wellbeing within distance learning and school reentry.
Loades and team sought to summarize the available research thus far examining the experiences of youth navigating social isolation and related mental health considerations. Over the course of three weeks – expedited due to the time-sensitive nature of the work – they conducted a narrative review of available research on loneliness, social isolation, quarantine, and school closures in relation to mental health challenges with a focus on 'depression' and 'anxiety.' Casting a wide net, they included cross-sectional, observational, retrospective, and case-control studies. They write:
"The purpose of this review was to establish what is known about the relationship between loneliness and mental health problems in healthy children and adolescents and to establish whether disease containment measures including quarantine and social isolation are predictive of future mental health problems."
The articles were reviewed according to four areas of inquiry, including: "(1) the impact of loneliness on mental health in healthy populations (further divided into cross-sectional and longitudinal evidence), (2) pandemic-specific findings, and (3) intervention studies."
Sixty-five publications, representing work from 63 studies, satisfied search criteria. Most articles were observational (61) and cross-sectional (43) in nature. The authors highlight that the lack of control for potential confounding variables in studies identified may have skewed results. Forty-five studies explored the relationship between loneliness/social isolation and depression, while 23 looked at loneliness/social isolation and anxiety. Factors also highlighted in the literature were associations between loneliness/social isolation and suicidal ideation, self-harm, and eating disorder risk behavior.
"This rapid systematic review of 63 studies of 51, 576 participants found a clear association between loneliness and mental health problems in children and adolescents. Loneliness was associated with future mental health problems up to 9 years later. The strongest association was with depression. These findings were consistent across studies of children, adolescents, and young adults."
One of the studies Loades and colleagues found examined youth mental health following enforced quarantine in the context of another pandemic. Its authors found that children who had experienced mandatory isolation were five times more likely to "require mental health service input" after the fact and suffered post-traumatic stress disorder at higher rates.
Loades et al. also describe the emergence of preliminary, unpublished data from China during social isolation due to COVID-19 indicating increases in "behavioral manifestations of anxiety including clinginess, distraction, fear of asking questions about the pandemic, and irritability."
Loneliness is an effect of COVID-19 containment measures with significant consequences for youth in areas such as peer group maintenance and identity development. Even those isolated in small groups in the company of family may be experiencing loneliness in the absence of connections to peers.
A lack of familiar support, increased vulnerability to domestic abuse, and the general nature of confinement are areas of particular risk among those socially isolated but not alone. The authors highlight the possibility that, in some ways, the widespread nature of COVID-19 precautions may serve as protective quality of the current pandemic – something unifying – but much remains to be seen.
"There is limited evidence that indicates specific interventions to prevent loneliness or to reduce its effects on mental health and wellbeing. However, there are well-established practical and psychological strategies that may help promote child and adolescent mental health in the context of involuntary social isolation e.g., during the COVID-19 pandemic," the authors conclude.
"Reducing the impact of enforced physical distancing by maintaining the structure, quality, and quantity of social networks, and helping children and adolescents to experience social rewards, feel part of a group, and know that there are others they can look to for support is likely to be important. Finding ways to give children and adolescents a sense of belonging within the family and to feel that they are part of a wider community should be a priority."
****
Loades, M. E., Chatburn, E., Higson-Sweeney, N., Reynolds, S., Shafran, R., Brigden, A., . . . Crawley, E (2020). Rapid Systematic Review: The Impact of Social Isolation and Loneliness on the Mental Health of Children and Adolescents in the Context of COVID-19. Journal of the American Academy of Child & Adolescent Psychiatry. DOI:10.1016/j.jaac.2020.05.009 (Link)