From Sacredphrenia: "Imagine an unknown 17-year-old woman claiming she heard voices from God and suddenly being launched into the national spotlight, helping our political leaders navigate our deeply troubled times.
Even during a year as 'WTF is happening?' as 2020, it sounds highly implausible. Such a person would more likely be whisked away to a psychiatric institution, diagnosed with 'schizophrenia,' and injected with a slew of mind-altering chemicals.
But this is precisely the story of Joan of Arc, the visionary, French, teenage peasant who in 1429 was granted control of the French army and led the country to victory in a critical phase of the Hundred Years' War with England.
In Saint Joan, a play by George Bernard Shaw, the unbelievable process of this young woman winning over the court of Charles VII is depicted. One by one, she impresses the military and church leaders, convincing them she has been sent by God to drive the English out of France. The forthcoming king admits his jealousy of her ability to receive such divine guidance, asking her, 'Why don't the voices come to me? I am king, not you!'
Joan responds, 'They do come to you, but you do not hear them. You have not sat in the field in the evening listening for them. When the Angelus rings, you cross yourself and have done with it. But if you prayed from your heart and listened to the thrilling of the bells in the air after they stopped ringing, you would hear the voices as well as I do.'"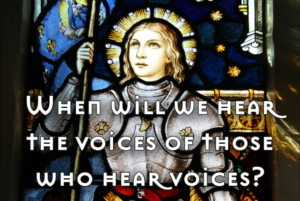 ***
Back to Around the Web