Much has been written about how missing in-person school during the pandemic has damaged kids' academic progress and emotional wellness. That makes sense, at least for those who were already doing okay or even thriving in that setting. But some of what I am reading lately points to in-school dynamics that also seem inherently damaging to young psyches. Namely, the de-facto criminalization and surveillance of students by the very institutions meant to help them thrive:
Legal prosecution for bad behavior. Pro Publica and the Chicago Tribune reported last month that in Illinois, schools have arranged for police to ticket students and bring them before a judge for rule infractions fairly common among teens–skipping class/being late, vaping, fighting, or having contraband items in or on their backpacks. These children are being "thrown into a legal system designed for adults," write lead authors Jodi S. Cohen and Jennifer Smith Richards. Fines can run into the hundreds of dollars and, ironically, kids have to miss school in the process.  These fines were found to have a disparate impact on BIPOC and/or low-income kids and their families. And when the tickets go unpaid, local governments sometimes sic the state on the parents to collect the "debt."
Corporal punishment. MindSite News recently wrote that the practice of "paddling" students as a form of public school "discipline" persists in 19 states (48 allow it at private schools). We're talking beatings serious enough to require a trip to the emergency room, like that inflicted on an eight-year-old Mississippi girl described in the story. Author Laurie Udetsky reported that "Such beatings are disproportionately meted out to Black students…as well as to Latinos."
Online surveillance. In an op-ed last winter, a piece in the Los Angeles Times revealed an effort in California and elsewhere to monitor students' laptops for signs of mental health struggles at school and at home. If a student is flagged, police may be called if an administrator isn't available. All this, often without their or their parents' knowledge or informed consent.
These trends can't help but create an atmosphere of fear, hostility, and distrust among kids while in school. To say nothing of the mental health effects of police presence on campus ("school resource officers"), Florida's "don't say gay" law erasing LGBT youth and their families, and school book bans limiting the history and ideas to which kids can be exposed. We've written here about how to deal with school refusal, but school refusal may make sense if it is hazardous to the child's mental health and safety. (A few hours after I wrote this post, news broke about the mass shooting at a grammar school in Uvalde, Texas, amplifying the sense of risk around attending in-person school.)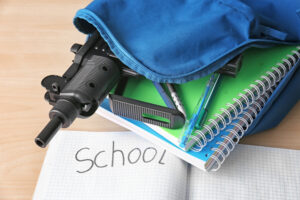 So what can be done? While gun violence is a complex issue, emotionally and academically damaging policies that criminalize and surveil youth are something schools can address right now.
Fortunately for students in Illinois, not long after the Pro Publica/Chicago Tribune article appeared, they published a new story, which begins: " Illinois' top financial official has banned local governments from using a state program to collect debt from students who have been ticketed for truancy, eliminating a burden for families struggling to pay steep fines. A number of school districts around the state, meanwhile, have begun to scale back and reevaluate when to involve law enforcement in student discipline." Power of the press!
Are you noticing these or other kinds of stress- and even trauma-inducing policies or events at your children's school? What about parent- or youth-generated pushback and positive solutions? We'd like to know about them: Write me at [email protected].
***
Mad in America hosts blogs by a diverse group of writers. These posts are designed to serve as a public forum for a discussion—broadly speaking—of psychiatry and its treatments. The opinions expressed are the writers' own.
***
Mad in America has made some changes to the commenting process. You no longer need to login or create an account on our site to comment. The only information needed is your name, email and comment text. Comments made with an account prior to this change will remain visible on the site.