A new article published in SSM-Mental Health, an international, interdisciplinary mental health journal, offers critical perspectives on what it means to "flourish" mentally and what hinders flourishing in the United States. The authors make the case that the word "flourishing" is understood differently by the public than how it is used in academic, philosophical, and media spaces.
They write, "Before bold efforts to promote flourishing can be justified, we first must ask: Whose definitions of flourishing provide the roadmap? What assumptions undergird these definitions? Whose flourishing are they designed to support?"
They add, "Do scholarly definitions of flourishing resonate with everyday, real-world usages of the term, or are any essential dimensions overlooked, or left out? Above all, we must ask: Are prevailing conceptions of flourishing well-suited to the task of confronting the most urgent problems in current health research, policy, and clinical care—or, alternatively, might they risk leading us astray?"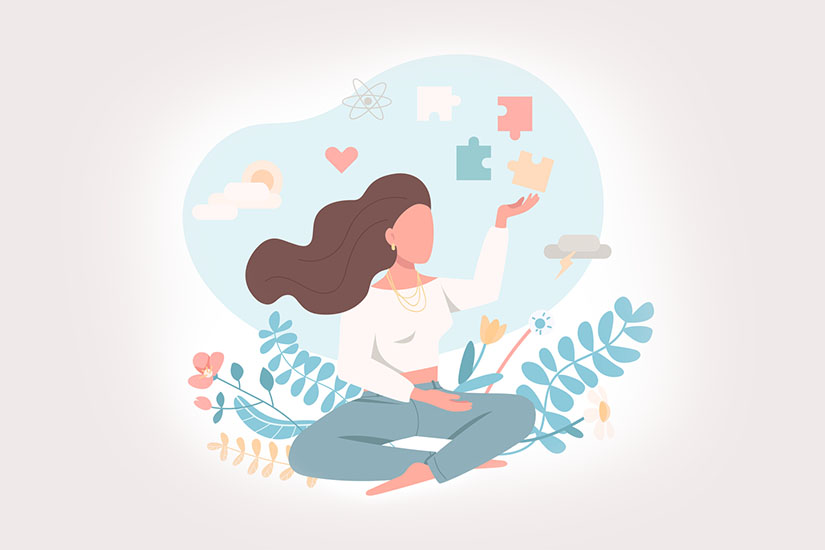 In 2021, an article in The New York Times discussed mental health in a new way—on a spectrum from languishing to flourishing. "Flourishing" represented "the peak of well-being." However, research has shown that when we operationalize words for the sake of meaning-making in mental health, such as resilience, we may be doing more harm than good.
The authors of the current study sought to understand whether The New York Times got flourishing right by conducting an anthropological research project in Cleveland, Ohio. The researchers included Sarah S. Willen, Abigail Fisher Williamson, and William Tootle Jr. from the University of Connecticut, Colleen C. Walsh from Cleveland State University, and Mikayla Hyman, an independent researcher.
First, the team began a critical assessment of the leading conceptions of flourishing in positive psychology and comparing them to the understandings of flourishing in the critical social sciences of health, critical legal theory, bioethics, disability studies, and critical public health. Through this assessment the authors highlight that, of course, "people's capacity to flourish depends heavily on the circumstances in which they live," so "any account that limits itself to the psychological domain will necessarily fall short."
Then the authors support their claim that the concept of flourishing, although an interesting departure from more medicalized understandings of mental wellness, still misses the mark on how everyday individuals understand their own personal wellbeing.
Their mixed-methods study was designed with the aid of Northeastern Ohio's Health Improvement Partnership-Cuyahoga (HIP-Cuyahoga). The researchers interviewed 80 community members from the Cleveland area. They asked participants if they would describe themselves, personally, as flourishing, as well as what they thought people need, in general, to flourish.
Fifty-one percent of participants said that they were flourishing. Fourteen percent leaned toward flourishing, 15% felt mixed, 4% leaned away from flourishing, and 16% of participants responded that they were not flourishing. Wealthy, white, older, educated women were most likely to respond that they were flourishing.
"The differences by race and socioeconomic status were particularly stark," the authors note.
Less than half of the Black interviewees reported flourishing, compared with more than two-thirds of their white counterparts.
"In terms of income, 88% of those with a family income over US$100,000 reported flourishing (14/16), compared with less than half of those with family earnings less than US$30,000 per year (46%; 11/24)."
As for the responses as to what people need in order to flourish, two of the most common mentioned factors were a stable income and the social determinants of health.
The authors end the article with the following summation:
"What is surprising—and what we want to emphasize here—is the persistent, and problematic, inattention to these issues in most research on flourishing. From a population health standpoint, there is no doubt that leading approaches to flourishing play an important role in facilitating comparison across large groups, with significant clinical and policy effects. But what do we learn—and what do we miss—when we draw comparisons in the aggregate using indexes that may miss vital aspects of what real people, in real-world settings, view as necessary to flourish? Whose flourishing are existing indexes designed to measure, improve and advance—and whose might be less well captured, or not captured at all?"
****
Willen, S. S., Williamson, A. F., Walsh, C. C., Hyman, M., & Tootle, W. (2022). Rethinking flourishing: Critical insights and qualitative perspectives from the US Midwest. SSM-mental Health, 2, 100057. (Full text)