Liquid forms of antidepressant drugs are often used for tapering by those wishing to gradually reduce their dosage. GlaxoSmithKline (GSK) has recently announced that it will discontinue production of its branded Seroxat liquid in the UK. Paroxetine is sometimes cited as one of the most difficult antidepressants to withdraw from, possibly because of its short elimination half-life, so the lack of a manufacturer liquid is of concern.
The UK's Pharmaceutical Journal recently wrote about this, quoting a GSK source who said: "GSK has decided to discontinue manufacturing, supply and marketing of paroxetine hydrochloride oral suspension products. We recognise that paroxetine hydrochloride oral suspension is an important medicine for some patients and regret any inconvenience the discontinuation may cause."
The article also quotes Nicola Greenhalgh, lead pharmacist for mental health at North East London NHS Foundation Trust, who said: "In terms of paroxetine … it is not an easy one to withdraw. We are increasingly learning that the old advice of withdrawing over at least four weeks is simply not tolerated by many patients and the advice that discontinuation reactions are normally mild and short-lived is not the case for a significant number of people coming off of antidepressants."
Paul Sams, someone with experience of taking and coming off antidepressants, said, "The idea that this liquid form of Seroxat is no longer going to be available fills me with horror for the people hoping to come off this medication. I think the people who provide the tablet form should be firmly supported to continue making the liquid form of the medication available."
The removal of a manufacturer-produced liquid reduces the options for those wishing to withdraw slowly; some may need to make their own liquid, some may need to turn to compounding pharmacies and some may be able to make use of paroxetine tapering strips.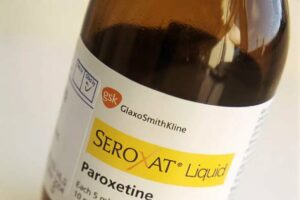 ***
Back to Around the Web