In a new article published in the World Association for Psychosocial Rehabilitation Bulletin, Peter McGovern and his colleagues explore the continued human rights violations of people with a psychosocial disability in mental healthcare systems. They draw particular attention to how practitioners and policymakers can implement existing frameworks to mitigate these violations.
The authors argue that a recovery-centered approach utilizing the World Health Organization's QualityRights initiative can create mental healthcare systems that uphold fundamental human rights as outlined in the United Nations Convention on the Rights of People with Disabilities (CRPD). They write:
"This shift to a new model of understanding places the person and citizen in the center of all decisions about their lives. Furthermore, it empowers the citizen as a person with a right to be included in their community. Mental health services are viewed as an important tool, among many others, in the armory of a person navigating the complexities of a mental health condition or psychosocial disability, as well as an opportunity to recover citizenship. It is for the person to decide which tools are helpful for their recovery journey and when they should be deployed."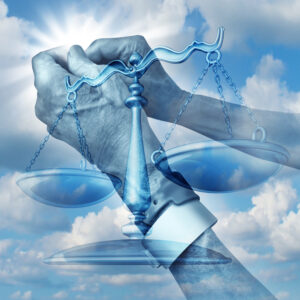 The CRPD was ratified at the U.N. in 2006 and since has been adopted by many nations. The central goal of the CRPD is to protect people with disabilities from discrimination and ensure they enjoy all the freedoms of their non-disabled counterparts. To this end, the CRPD declares that all people with disabilities, including mental health issues, should be allowed to make their own treatment choices and should not be involuntarily confined. This would require a radical reevaluation of mental healthcare systems in many countries and a move away from a medical model towards a social one.
People with mental health diagnoses experience increased instances of prejudice and discrimination, both in their communities and through systematic denial of rights, including but not limited to involuntary confinement and treatment. For example, in the United States, all but ten states still systematically exclude people with psychosocial disabilities from exercising their right to vote.
Stigma and discrimination have been linked to the biomedical model of mental health. Conversely, psychosocial explanations, like those championed by recovery-oriented treatment, have reduced stigma. Research has found that while mental health literacy does not reduce stigma, psychosocial approaches do. Research has also shown that stigma is more associated with labeling than behavior. For example, if a person repeatedly looks out their window and we label that person "strange," they will experience less stigma than if we label them "paranoid."
The public appetite for coercive, human rights violating treatments for people with psychosocial disabilities is linked to both stigmas around mental illness and lack of education. Recovery-oriented services, like the ones championed by the current work, lead to less stigma around mental illness while simultaneously benefiting providers.
The current work begins by laying out the landscape of mental healthcare in Norway. While they have adopted many progressive policies, such as an increase in community-oriented approaches and strengthening user involvement, they retain an allegiance to the problematic biomedical model of mental health and continue the emphasis on hyper-individualization that can often ignore systematic problems. Moreover, while Norway ratified the CRPD in 2013, it has yet to incorporate its principles into law due mainly to the requirement in Norway to coerce people with psychosocial disabilities into various forms of treatment, including involuntary confinement.
In place of the overemphasis on biomedical, highly individualized explanations and the human rights violating treatments of the current paradigm in mental health, the authors offer a recovery perspective informed by the World Health Organization's QualityRights initiative. This kind of treatment emphasizes six different aspects of recovery:
Connectedness: Relationships are central to recovery, and everyone in a community should have access to the same recovery resources as everyone else.
Hope: People must be able to see their situation improving in the future in order for recovery to be possible.
Identity: This approach emphasizes the freedom to reconnect, rebuild, and redefine identity without "internalized oppression and self-stigma."
Meaning in life: Supporting the building (or rebuilding) of meaning in various ways
Empowerment: Giving people control and choice over their recovery and treatment
Risk: Making room for people to take risks and make mistakes
For the authors, these aspects of the recovery model are linked to the concept of "citizenship" in mental healthcare; the rights, responsibilities, roles, resources, and relationships of a functioning member of society. As a marginalized group, there are two basic pathways to "citizenship" for those with psychosocial disabilities. First is the individual effort to access full citizenship. Second is the responsibility of society to open access to "citizenship." In this model, responsibility for "citizenship" lies both with individual efforts and societal scaffolding.
The World Health Organization's QualityRights initiative was designed to improve mental healthcare quality and promote the rights of people with psychosocial disabilities. To this end, the QualityRights initiative revolves around four basic principles: addressing stigma and human rights violations, supporting countries in developing sensible mental health policies, including service user experiences in mental health discussions and debates, and supporting law reform to bring countries more in line with the CRPD. The authors believe this approach can help the public view people with psychosocial disabilities as full citizens and change attitudes towards mental illness while empowering everyone involved in mental health systems to promote human rights. The authors ultimately believe that the key to empowering individual recovery is to correct systematic barriers to full civic participation.
The framework described by the authors calls for a paradigm of support rather than prescription. Recovery is not a one-size-fits-all arrangement but an intricate tapestry of overlapping areas of influence. By recognizing the basic right of each individual to walk their own path of recovery and emphasizing support in that journey, the authors believe this framework could vastly improve the lives of many people across the world while mitigating the abuses and human rights violations that commonly occur in the current mental health system in many nations. They conclude:
"It is imperative that we move away from societies and services that coerce people into complying with treatments or interventions they do not find helpful. Particularly when they may recreate the trauma of violence or control that many of our service users have already been victims of. Freedom, the right to make your own decisions, and taking back control of one's own narrative is therapeutic and should be the cornerstone of all modern and progressive mental health services."
****
McGovern P, Ellingsdalen M, Borg M. (2022). Reclaiming citizenship through rights-based, person-centered, and recovery-oriented mental health services. WAPR BULLETIN. 48 (Link)