A new Viewpoint published in JAMA Psychiatry argues that federal initiatives must be developed to authentically invest in a research workforce with lived experience of mental illness. The authors, David Kimhy at Mt. Sinai, Nev Jones at the University of Pittsburgh, and Lisa Dixon at Columbia University, argue that the current available treatments for "serious mental illness (SMI)" demonstrate only a modest efficacy and that innovation and improvement in outcomes and efficacy may increase if an earnest effort is made to incorporate and invite individuals with lived experience of mental illness into the academic workforce.
For Nev Jones at least, this has a personal element—she was diagnosed with schizophrenia in young adulthood and makes mentoring students with lived experience a key part of her mission at the University of Pittsburgh.
Kimhy, Jones, and Dixon write, "Individuals with lived experiences of psychosis possess unique insights and in-depth understanding of issues related to treatments and recovery, as well as the phenomenology of clinical targets. This knowledge base presents a high potential for innovation in the design of interventions studies and clinical services for individuals with SMI."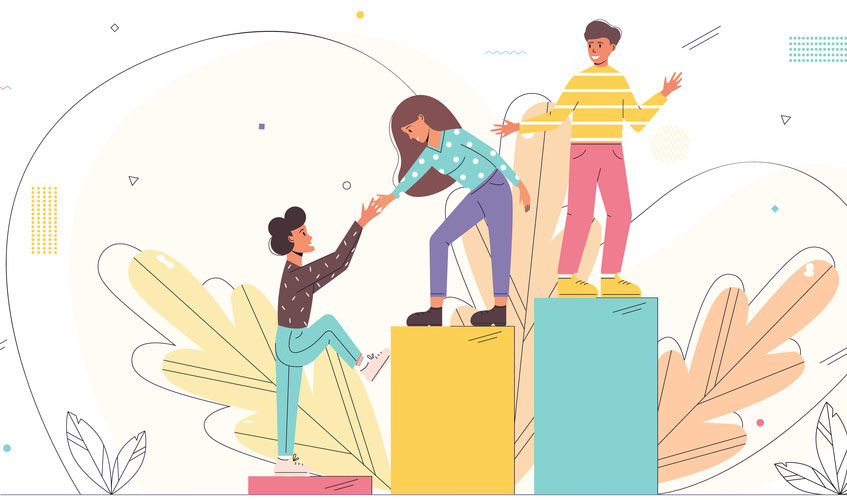 The topic of "inclusion" frequently comes under criticism in social justice movements—inclusion will never be enough. Oppressed, marginalized, and harmed people want to be invited, invested in, welcomed, and desired. "Nothing about us without us" should be common sense by now, but it's not. Academia/mental healthcare in general and the epistemic injustice and violence therein frequently discounts and stigmatizes the lived experience of psychosocially disabled people. Unfortunately, the case must be made over and over again for the inclusion of lived experience in academia.
In their Viewpoint, Kimhy, Jones, and Dixon argue that investing in an academic workforce—researchers, mentors, scholars, and students—with lived experience of SMI/psychosocial disability is the obvious next step in innovating and improving mental healthcare treatment, intervention, and delivery.
They write, "Efforts by the psychiatry research community to address these concerns have focused on incorporating input from stakeholders (e.g., patients with SMI) into the design of clinical trials, often by adding individuals with lived experiences of psychosis to the trials' advisory committees. However, these efforts have been relatively superficial, with such committees often set up long after the studies' design and funding have been finalized, leaving little room for stakeholders to substantially influence the studies' focus and design."
They cite examples like Pat Deegan, PhD, a psychologist with schizophrenia who has made major research contributions to the conceptualization of recovery and shared decision-making, and Kay Jamison, PhD, who frequently shares her experience with depression and mania in her youth and who has innovated treatment and research on bipolar disorder.
"However, the contributions of Deegan and Jamison are the exception to the rule, as there are few individuals with lived experiences in research leadership positions." Kimhy, Jones, and Dixon note.
In 2017, a large anonymous survey with close to 2,000 participants sought to document the experience of mental illness/psychosocial disability among psychology faculty and doctoral students across the USA. Only a single participant (0.05%) identified themselves as having a current psychotic disorder, and only seven total participants disclosed a past diagnosis of psychosis (0.36%). Not a single faculty member disclosed a diagnosis of psychosis in the United States.
The 2017 survey did its best to account for the possibility of stigma and ableism by ensuring anonymity during data collection. But the study would not have been able to identify the participants who have had experiences of SMI but who, despite anonymity, do not wish to disclose their experience with SMI or psychological distress because of self-stigma or internalized ableism.
The university system in the US is already unforgiving for research students, even those without a serious mental illness. But with an SMI it can feel impossible. Indeed, for many, psychiatric diagnoses are given in early adulthood and college years, the years where the foundation for a research career are created.
"Consequently, many individuals with lived experiences face lack of accommodations and support in their attempt to 'catch up' on necessary training," the researchers write. "Furthermore, even if an individual with lived experiences is able to complete their undergraduate education and apply to graduate training, they often have to conceal their mental health history or risk social stigma and discrimination by faculty and programs concerned about investing precious educational training lines in candidates who may seem to be 'too risky.'"
The authors importantly note that this problem is uniquely American. The United Kingdom has a mandate that includes individuals with lived experience for all studies funded by the National Institute of Health Research. Similarly, the Wellcome Trust requires that there is a person with lived experience present in each step of the grant-making process.
Thus, the authors recommend the following:
"To address the marked disparities that available indicators, including our collective personal experiences, suggest exist, we argue that dedicated federal initiatives need to be developed. Such initiatives should aim to "level the playing field" for individuals with lived experiences aspiring to develop research careers."
They add: "The programs would allow individuals with lived experiences to develop a track record of productive research work and become competitive candidates for graduate research training, while also potentially minimizing concerns by graduate research programs about admitting trainees with lived experiences. Finally, public examples of personal (academic) success play a key role in reducing stigma."
****
Kimhy, D., Jones, N., & Dixon, L. (2022). Investing in a research workforce with personal experience of serious mental illness. JAMA Psychiatry. Published online August 3, 2022. doi:10.1001/jamapsychiatry.2022.2026 (Abstract)