This is the first of four interviews spotlighting some of the talented individuals behind the pieces they submitted to Mad in America's "Beyond Labels and Meds: What It Feels Like to Be Me" art exhibition. Each contributor was asked the same questions about themselves, their perspectives, and the inspiration and intention behind their work. This blog series will run each Tuesday for the next month.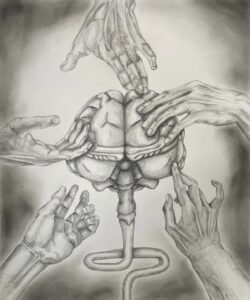 Title: "A Grasp at Knowledge"
Medium: pencil and charcoal (dry pastels)
Artist: HoJin Kwak
Age 14, New Jersey
What do you want the world to know about what it is like being a teen today?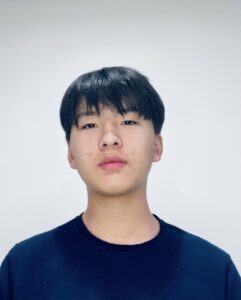 As I get older, life gets harder; school hours get longer, the workload becomes larger, and important extracurriculars pop up left and right. I'm sure my life as an adult will be infinitely harder than it is now. But so far, being a child is much easier than being a teen. Maybe that's why so many teenagers have bad tempers: they've finally realized that it's just all downhill from here.
Please tell us about your drawing. What inspired it? What is its main message? What would you like readers to know about it?
The original idea for my drawing started with the brain. The complexity of its sudden twists and curves fascinates me. The meaning behind my art is that there are so many things around us fighting for influence in our heads that it becomes incredibly hard to find any semblance of inner peace.
What are some of your biggest stressors and how do the arts help you cope with them?
I have to deal with some pretty common stressors for people my age; I worry about other people's opinions of me, my grades, test scores, etc. Art gives my hands something to do so I can be truly carefree. While I'm drawing or painting, I don't have to worry about what is going on around me.
Do you have other art pieces in any medium that we can include with your interview?
Sure. It's called "Hand-Eye Coordination" because I thought it was a funny name. It's done with acrylic paint and does have a little bit of (painted) blood in it.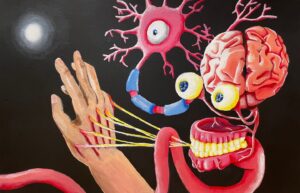 ****
MIA Reports are supported, in part, by a grant from The Thomas Jobe Fund.