I work as a writer. I am trying to find my place in Argentinean society, in South America, because I want to participate in cultural life with equal opportunities and conditions. But it is not easy for me. For example, when journalists interview me, they don't ask about my work, as they would do with other writers, but about the psychiatric diagnoses and treatments I have suffered due to involuntary hospitalizations.
In Argentina, there is quite an advanced legislation on human rights that protects people that are labeled with psychiatric diagnoses. However, society takes its time restoring rights that were violated. In my creative processes, I need access to my voices and visions. Psychiatry described my creative processes as delusions and hallucinations, I was drugged for many years of my life and lost many years that I will not be able to recover — years in which I had to dedicate a lot of time to all kinds of mental health therapies. Finally, I realized that my schizophrenia was not a disorder, but a very complex problem that I could solve by myself. Gradually, I began to identify in which circumstances occurred what medicine referred to as symptoms of a mental disorder.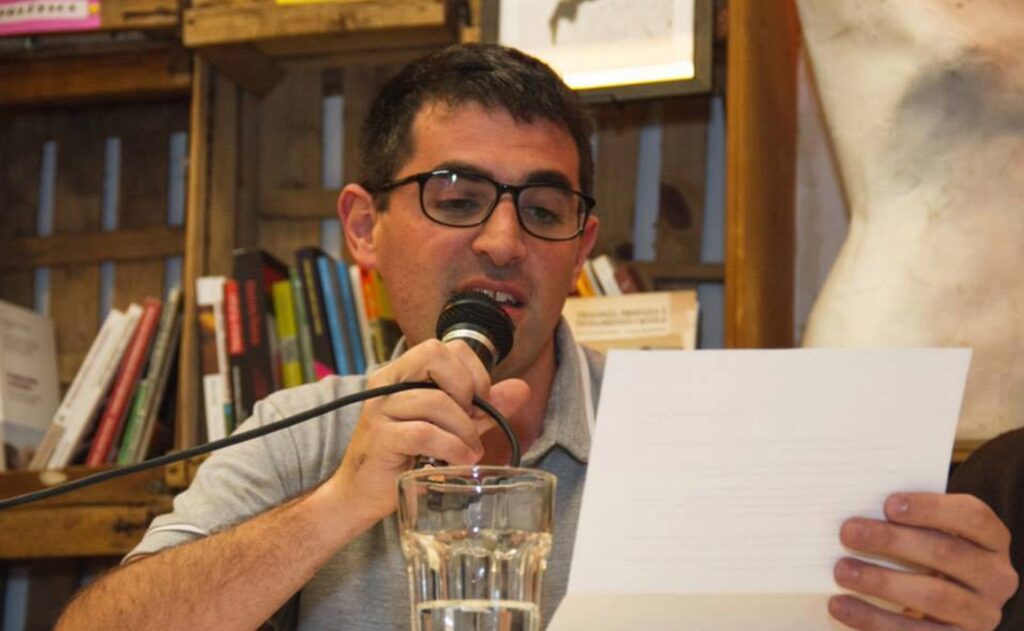 Environments where there is disharmonious noise become expelling places for me. I have to leave a place where there is noise. For example, if I am invited to give a lecture and I have to travel by plane, I have to wear ear protection to protect myself from the sound of the airport loudspeakers and wear dark glasses to avoid flickering tube lights. I try to maintain relationships with other people through my books, workshops or activism, even though I find it very difficult. Although I find it very difficult to relate to other people or to carry on a conversation in a neurotypical way, I learn a lot when readers give me feedback about my books. I always appreciate the intellectual honesty of my readers.
In the 22 years that I underwent mental health treatment, I made a discovery that was eye-opening for me. I already had information about my schizophrenia that therapists did not have access to.
According to the "International Convention on the Rights of Persons with Disability" definition established in 2006, disability arises from the interaction of a person's impairment with social barriers. With this definition, disability necessarily involves an impairment. One might think that a person who hears voices that other people do not hear, is simply a person who hears voices and does not have an impairment, i.e. they lack nothing. But, in my personal experience, during my 22 years of mental health treatment I have not encountered any professional who acknowledges that hearing voices is simply just another characteristic of a person such as having dreams or nightmares.
My discovery came after much writing and reading about the forms that schizophrenia took in my life. At some point, I realized that it was not a mental disorder, but that my schizophrenia was a state that I could enter and leave without exposing myself to the risk of being institutionalized.
This way, I learned something that may seem very simple but was very complex for me: to identify the social barriers that make me very nervous and may lead me to have a psychotic break in places where I am at risk of being institutionalized against my will. I discovered that these situations are situations of disability, in which my difference in the face of social barriers is expressed as a psychotic break. Ultimately, I realized that I needed to create the necessary conditions to access my right to write my books, publish them, present them, and sell them. People with disabilities have fewer opportunities to participate in cultural life because there are social barriers that create accessibility issues.
Social barriers can be physical, cultural, communicative, or environmental. In the case of a writer, for example, psychopharmacological treatment can be a communicative barrier for him to express in his texts what he sees in his visions and what he hears in his voices. I find it much easier to write what my voices dictate and what my visions show now that I am not on medication than when I was on psychiatric drugs as prescribed by my doctor.
So, what social barriers might a disabled writer face? Generally, these are barriers in other people's attitudes that infantilize, victimize, or glorify the process a person goes through when changing psychiatric drugs for hearing protection. Over the years with the support of my crazy friends, I recognized my impairment as a difference. It was thanks to my voices and visions that I understood that my disability is a condition that will cease to exist when people stop considering the ones who hear voices and have visions to be dangerous.
***
Mad in America hosts blogs by a diverse group of writers. These posts are designed to serve as a public forum for a discussion—broadly speaking—of psychiatry and its treatments. The opinions expressed are the writers' own.
***
Mad in America has made some changes to the commenting process. You no longer need to login or create an account on our site to comment. The only information needed is your name, email and comment text. Comments made with an account prior to this change will remain visible on the site.