EDITOR'S CORNER
Greetings to all in the Mad in the Family community. I'm the new editor of this bustling corner of Mad in America, and I'm thrilled to start working with you all.
As I write this, banging away on a laptop at my kitchen table in Albany, New York, I'm filled with admiration and gratitude for everything Miranda Spencer has done with this Family Resources page: Establishing it, nurturing it, filling it with the latest research, stories, podcasts; encouraging dialogue; connecting readers on a wide range of topics affecting parents, children, and families.
These efforts are of critical importance, and not just for those directly affected. Such work is significant for all of us, here and everywhere, who are concerned with the prevailing psychiatric hive-mind that emphasizes diagnosis and disease — and deemphasizes the individuality and diversity of human experience.
Everyone has a story. Everyone has some bendy path that's brought them to MIA, some rambling odyssey pocked with bumps and potholes. At some point on that journey, maybe you — or your child, or another loved one — got stuck or pitched off the road entirely, landing in mud and thorns. But somehow, tapping strengths unknown and unseen by others, you made it out. On your journey toward healing, you made it here.
And perhaps you have something to say about it. Something you want to share, whether with others in similar situations or with the wider readership. Perhaps both. Either way, I'm here to help.
I'm now in the midst of my third year with Mad in America, where I've reported on a variety of topics. But my own story — the one that brought me here — goes back much further, to my father's suicide attempt and talk-therapy hospitalization in 1974; my sister's many, many drugs and hospitalizations, leading to her suicide in 1992; my husband's suicide in 2011; and my life since as a widowed mom of three (now all grown).
To be clear: I'm not a psychiatric survivor myself, and I can't claim to know how it feels to endure such pains. But in an odd way, my losses and life experiences have illustrated the fraught history of psychiatry, showing me what works — and what doesn't — in addressing mental anguish. And the pharma-driven disease model isn't it.
For more than a decade now, Mad in America has worked to shape a different narrative. As you already know if you've spent time on the family page, this section of MIA is filled with family-themed articles, resources, and ways to connect. Among them are online support groups, pieces on the latest research, personal stories and other blog contributions.
Also included here is psychiatric drug info, plus explorations of issues affecting parents, schools, children, and youth. There are interviews, profiles of alternate approaches, stories from around the web, and Mad in the Family podcast episodes. And artwork: Mad in America's "Beyond Labels and Meds" exhibition includes profiles of its extraordinary teen artists, showcased individually on the family page.
All of this builds on a platform for change, providing families with inspiration as well as relevant and necessary information — and giving them a voice. Because voice leads to empowerment.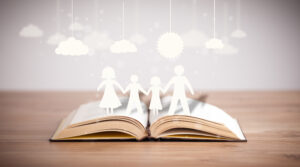 As anyone who has brought a child into the world already knows, loving and steering them into adulthood is no small thing. They're the center of your universe, which is forever changed. You're forever changed. From the moment that baby is born, flailing and howling to be fed, you know you'll do anything to help them thrive.
So if you have something to say, or something you think we should be covering, please feel free to reach out to me at [email protected]. If you want to tell your own story, or your child's, please reach out, too. If you just want to express some thoughts via email, but not for publication? Again, reach out.
I look forward to communicating with readers of our MIA family page, helping you connect with each other, and helping you tell your stories.
Communication, after all, is everything. Change can't happen without listening and learning, then turning that knowledge into action.
I'm here to listen.
***
Mad in America hosts blogs by a diverse group of writers. These posts are designed to serve as a public forum for a discussion—broadly speaking—of psychiatry and its treatments. The opinions expressed are the writers' own.
***
Mad in America has made some changes to the commenting process. You no longer need to login or create an account on our site to comment. The only information needed is your name, email and comment text. Comments made with an account prior to this change will remain visible on the site.