In their highly influential, best-selling book, The Coddling of the American Mind: How Good Intentions and Bad Ideas Are Setting Up a Generation for Failure, Greg Lukianoff and Jonathan Haidt identify lies that they claim underlie America's increasing social and personal dysfunction.  Lukianoff is the president of the Foundation for Individual Rights and Expression (FIRE), which in many ways is replacing the ACLU as a leader in the fight to protect free speech.  Haidt, a professor of social psychology at NYU, is also the best-selling author of The Righteous Mind: Why Good People are Divided by Politics and Religion.
In The Coddling, Lukianoff and Haidt try to identify the causes of the increase in anxiety, suicidality, and general excessive fragility of American college students, especially since 2013.  They conclude that the fragility they identify in iGens (members of the Internet Generation) is due to a number of causes:  Helicopter parenting, a tendency to overreact to risks, and a general philosophy of "safetyism."  They show how the various forms of excessive protectionism don't allow children to develop a sense of their own anti-fragility.  But one cause of the problem that they leave out is the effect of pathologizing our children with psychiatric diagnoses, which in turn leads to the attempt to solve life's problems by administering psychiatric drugs.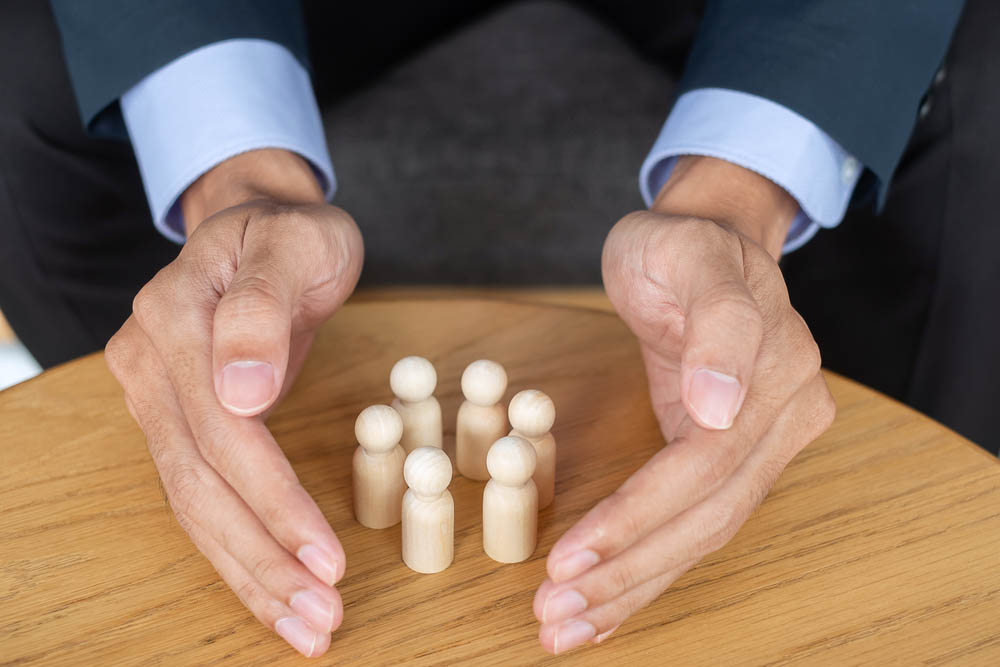 Anti-fragility and safetyism
Anti-fragility is developed through the experience of overcoming problems and obstacles.  Like peanut allergies that are rare in children who ate peanuts when they were young—and thus relatively rare in China where food is often cooked in peanut oil—a child's developing psyche needs to be exposed to challenges in order to develop a sense of their own vigor and competence when facing difficulties.  Studies show that peanut avoidance in the attempt to prevent allergic reactions has led to a dramatic increase in serious peanut allergies.  Just so with the attempt to overprotect children from stress.
Unrealistic safety concerns regarding horrible tragedies such as abduction by child molesters and catastrophic injuries have caused us to make normal, unsupervised childhood play unavailable to the middle and upper-class children who make up the bulk of today's college students.  Terrible tragedies do occur.  But when we have media that focuses on such tragedies in a nation of 330 million people, horrific daily stories make it seem that catastrophe lurks around every corner.  In fact, abduction, violent crimes, and injuries are much rarer today than when I was growing up and all the "free-range" kids on my block had virtually unlimited, unsupervised, free time.  Yet today most people feel that the danger is greater than ever and free-range parenting has led to charges of neglect.
In developing a philosophy that honors strength and passionate living, Friedrich Nietzsche produced the aphorism, "What does not kill me makes me stronger."  Today's central lie that Lukianoff and Haidt identify as causing the new fragility is the obverse of Nietzsche's dictum: "What does not kill me makes me weaker."  As with peanut avoidance, rather than letting the psychological immune system develop a vigorous sense of self through the experience of overcoming challenges, children are protected and coddled.  This is "preparing the road for the child rather than preparing the child for the road."
The authors show how increasing fragility is the cause of cancel culture in which ideas that cause discomfort are seen as dangerous and are increasingly disallowed on college campuses.  While a culture of respect that protects individuals from direct attack and intentional bullying needs to be created and maintained, the authors see the rash of disinvitation of speakers and the violent obstruction by college students of debate over ideas that may be challenging as symptoms of this excessive fragility.
They identify other sources of the increased vulnerability of recent college students.  For example, inordinate hours on screens deprive young people of the innumerable interactions that are needed to develop an understanding of how to navigate through a social world in which conflict and cooperation are always seesawing.  Furthermore, unrealistic presentations of self on the internet leave youngsters feeling inadequate and suffering from chronic FOMO.
Documenting these and other factors, Lukianoff and Haidt provide an insightful analysis of the increase of anxiety, depression, and suicidality on college campuses.  However, they completely ignore another source of fragility that may account for much of the data they present.
Chemical crutches for the incompetent
We no longer live in a world in which distressing feelings are taken to indicate problems that can be solved through better understanding and changes in social relations.  Anxiety and depression are increasingly seen as medical disorders, rather than as challenges to normal living that can be overcome by adaptive changes in understanding and behavior.  Thus, there is a growing epidemic of prescribing psychiatric drugs for young people.
"This isn't a problem you can handle.  This isn't a problem we need to address as a family or community.  This is a biological dysfunction that can be 'fixed' by adjusting your broken biochemistry."
Along with the increasing prevalence of "safetyism," with its message that catastrophic danger is always lying in wait, the medicalized notion that one needs a chemical adjustment in order to cope increases a sense of incompetence and helplessness in the face of increasingly frightening problems.
And the crutches aren't helping!
Yet, the chemical crutches are not improving things.  Despite increasing psychotropic prescriptions, long-term outcomes have been worsening, not getting better.  And most of the "improvement" seen after prescribing antidepressants is not due to the medication.  Rather improvement that can seem to be due to the drugs, apparently has been mostly due to the placebo effect, ordinary life processes operating over the passage of time, and the selective withdrawal from treatment by those who are not helped and may even suffer from side effects.  Yet, we are increasingly medicating more and more young people for depression.
From 2012, when 5% of 12 to 19 years were taking antidepressants to 2019 when 8% of 13 to 19 year-olds were taking antidepressants, there was an approximate 60% increase in antidepressant usage in just seven years.  Today, given the increase in anxiety and depression during Covid, the number of young people taking antidepressants is probably well over 10%.  That's between 3.5 and 4 million young people taking antidepressants.
In the mid-1980s when my oldest sons attended Camp Becket, the longest running YMCA camp in the U.S., there surely were some boys taking prescribed drugs of various kinds.  It was hard to tell how many.  They would go to the infirmary where the nurse would hand out their medications.  In the mid-2000s, in contrast, when my youngest sons attended the same camp, at mealtime there were two long tables, each with dozens of folders and a long line of boys waiting to get their meds.
Given the increase in their usage and the 2% increase in suicidality associated with antidepressants, the data indicates that today antidepressant usage induces suicidality in about 80,000 young people nationwide.
Lukianoff and Haidt noted the upsurge in the number of college students accessing mental health services for depression and anxiety.  They cited an article in Psychology Today, which noted that:
Nationally, 22 percent of collegians now seek therapy or counseling each year, reports Daniel Eisenberg, an economist at the University of Michigan whose Healthy Minds Study annually samples 160,000 students around the country. The number of those in counseling varies from campus to campus depending on its culture—10 percent at some large schools, nearly 50 percent at some small, private ones. The figure has been steadily growing for two decades and shows no signs of slowing. … [O]ne in three students now starts college with a prior diagnosis of mental disorder. Academic or social stress, late-night cram sessions, any disruption of routine in the looser-than-home campus environment can shatter their stability.  … Eisenberg's Healthy Minds Study indicates that 19 percent of all college students regularly take psychotropic meds. … Distress on campus takes a variety of forms, but far and away the leading concern in 2015 is anxiety—54 percent of all college students report feeling overwhelming anxiety, up from 46.4 percent in 2010, according to the latest semiannual survey conducted by the American College Health Association. That wasn't always the case.
And we can be pretty sure that among those young folks seen at college counseling centers, the percentage taking antidepressants is much higher than 10%.
Lukianoff and Haidt's concerns are summarized in three charts they present.  Here they are: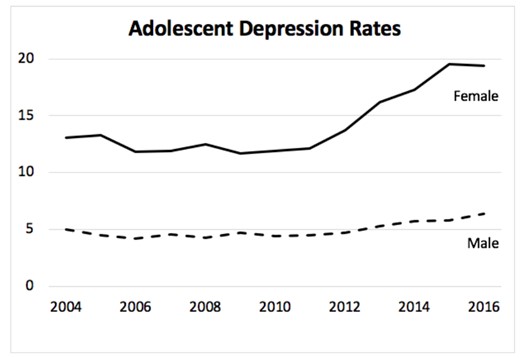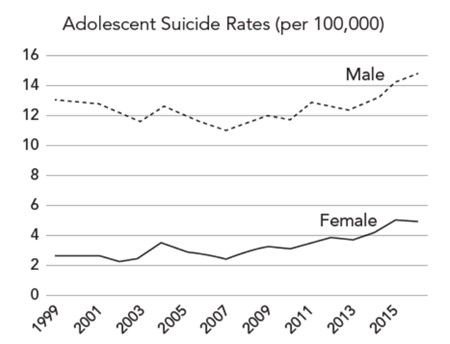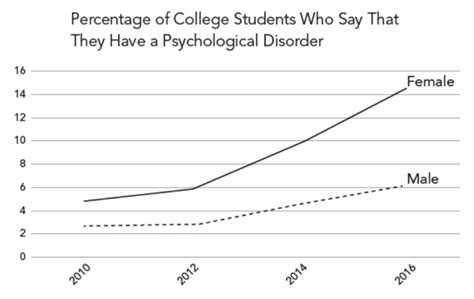 Coddling and medicating:  A synergistic runaway train
The Coddling of the American Mind is a deeply insightful and important book.  Anyone who wishes to understand the cultural dysfunction afflicting America today will find this a worthwhile read.
Yet, it seems pretty clear that the fragility and dysfunction they are trying to explain could be induced by the psychiatric mindset that is conducive to feelings of helplessness, a lack of a sense of agency, and the damage induced by the drugs themselves.  Lukianoff and Haidt are trying to explain depression and increased suicidality during a time period in which the documented 2% increase in suicidality caused by antidepressants could account for much if not most of the negative trend they are trying to explain.
There may be a synergistic interaction between the causes identified by Lukianoff and Haidt and the negative impact of psychotropic medication.  The increased fragility, anxiety, and depression they are trying to explain apparently cause an increase in psychotropic interventions.  And the increase in the use of psychotropic medication could account for the increase in learned helplessness and suicidality, which in turn causes an increase in the reliance on medication, which in turn…
***
Mad in America hosts blogs by a diverse group of writers. These posts are designed to serve as a public forum for a discussion—broadly speaking—of psychiatry and its treatments. The opinions expressed are the writers' own.
***
Mad in America has made some changes to the commenting process. You no longer need to login or create an account on our site to comment. The only information needed is your name, email and comment text. Comments made with an account prior to this change will remain visible on the site.