Psychiatrist Richard A. Friedman's attempt, in his New York Times opinion piece ("Teenagers, Medication and Suicide," August 3, 2015), to minimize the dangers of antidepressant drugs in causing suicidal thoughts and behavior is wrong on the facts. Friedman is wrong, even according to Friedman, when his argument and numbers are examined.  Just consider two of his claims:
"What the public and some in the medical community … perhaps still don't know — is that the risk of antidepressant treatment is minuscule: In the F.D.A. meta-analysis of some 372 clinical trials involving nearly 100,000 subjects, the rate of suicidal thinking and behavior was 4 percent in people taking antidepressants, compared with 2 percent in people taking a placebo."
"One study found that a 1 percent increase in adolescent use of antidepressants was associated with a decrease of 0.23 suicides per 100,000 adolescents per year. (Of course, correlation cannot prove causality; other factors, like reduced rates of alcohol and drug use and more stringent gun safety regulations during this period, may have played a role, too.)"
A moment's reflection makes these statements puzzling, at best.
Antidepressants Cause Suicidal Feeling, Thinking, and Behavior
First, consider his claim that the risk of antidepressant treatment is minuscule.  As Friedman notes, the FDA meta-analysis of clinical trials of nearly 100,000 subjects established the fact that antidepressants double the rate of suicidal thinking and behavior from 2 percent to 4 percent.  This is the unequivocal finding from "gold standard" research, that is clinical studies that use randomized control trials (RCT) to establish causal relationships.  In RCT clinical trials, subjects are randomly assigned to either the drug group or a placebo.  In this way, two groups that differ only on whether or not they received the drug can be compared to evaluate the drug's true effect.
It is based on these RCT studies that the FDA decided to issue black-box warnings that antidepressants increase suicidal feeling, thinking, and behavior in adolescents and young adults.  It is based on the same studies that Friedman makes his claim that there is only a 2 percent increase in suicidality due to antidepressants.  While an increased risk of suicidal thinking and behavior of just 2 percent may seem small, we need to look at what this means in real lives.
In Adolescents
So let's do the math.  12 to 19-year-olds make up just under 11% of the total U.S. population of over 319 million.  Since more than five percent of this group of 34 million young people are taking antidepressants,1 and since Friedman acknowledges a related 2 percent increase in suicidal thinking and behavior, this means that about 34,000 adolescents experience antidepressant induced suicidality.  Is that a minuscule risk?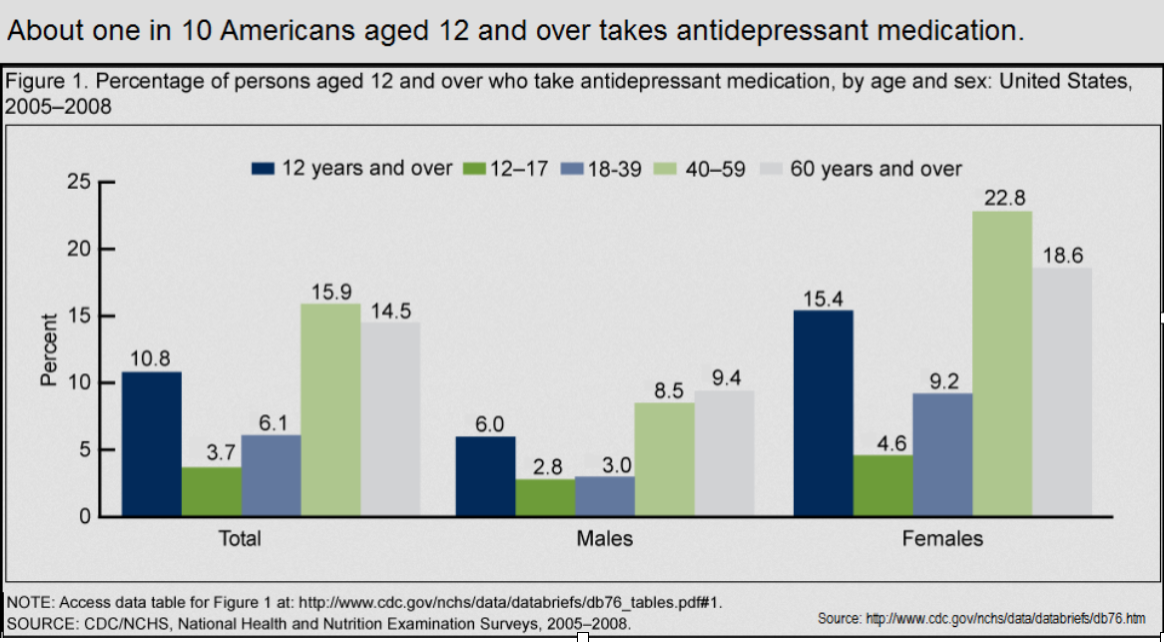 In Adults
And the numbers are much worse for older people who, on average, use antidepressants at well over twice the rate of adolescents.  And though the effect in this older group may not be as marked, these drugs are known to increase suicidality as well as violent acts in some adults without a prior history of inner or outer directed violent behavior.  Since there are 236 million Americans age 20 or older, if over 10% are taking antidepressants, that makes well over 24 million users in the adult group.  At a 2 percent rate of antidepressant caused suicidality, we would have to add an additional 480,000 people to the group afflicted with this "side effect," bringing our total number to over ½ million.  More than half a million people afflicted with suicidal thinking and behavior they wouldn't otherwise experience is simply not a minuscule risk.
Now You See it; Now You Don't
Next, consider the logical sleight of hand Friedman engages in.  Davids Copperfield and Blaine could build entire careers on one magic trick as good as Friedman's.  In case you don't know, one of the techniques of master magicians is misdirection: While you're looking over there, the switch takes place over here.  So let's look at Friedman's masterful legerdemain.
First, he acknowledges the well established fact that antidepressants increase suicidal thinking and behavior.  Then, with a misdirecting flourish that would make any prestidigitator proud, Friedman makes the increased suicidality vanish only to be replaced by a beautiful but scantily clad statistic:  Antidepressants were found in "one study" to be associated with a decrease in suicides.  To his credit, Friedman follows this with an acknowledgment of the disclaimer found in that study:  Correlation may not indicate causality and there were a number of other factors that could have accounted for the finding of decreased suicides.  But by this point, many if not most readers may have been distracted from the fact that Friedman is now suggesting the exact opposite of what he had earlier conceded.
You see you can't have your cake and eat it, too.  Either the robust finding of an increased risk of suicidality associated with antidepressants that has been demonstrated by numerous gold standard, RCT studies is valid; or antidepressants decrease suicidality, as Friedman suggests by citing one correlational finding that he acknowledges doesn't establish causality.  Which is it?  It can't be both.  When we have a finding based on abundant evidence using the gold standard — something that took many years to establish — why would we abandon that finding?  Is there a hidden agenda motivating what appears to be intentional misdirection?
The Dangerous Implications of Biased Pseudo-science
On a deadly serious note, Friedman calls for the removal of the black-box warnings that he laments led to a 31% decrease in the use of antidepressants by adolescents (though he sees some good news in the gradual reversal of this trend).  So, let's do the math again.  As noted above, according to the CDC's National Center for Health Statistics 5% of American teenagers (12- to 19-year-olds) use antidepressants.  This translates into approximately 1.7 million teenage users.  If that number were decreased by 31%, that would mean that 527,000 — over ½ million — teenagers didn't receive these drugs and over ten thousand cases (2% of 527,000) of increased suicidality were prevented by the black-box warnings that Friedman wants to see removed.
But it's a Risk Worth Taking
All medications incur some degree of risk.  There is no free lunch.  If you employ a drug that is powerful enough to have a real impact and improve a situation, its very power also makes it likely that, for some people, there will be a degree of harm.  The risk of harm must then be weighed against the severity of the illness and the drug's potential for ameliorating suffering.  Is the likelihood of benefit worth taking the risk of the potential harm?
Friedman is clearly suggesting that with antidepressants there are benefits that outweigh the risks.  However, in the case of suicidality, the gold standard data indicates there is no overall benefit; on average, there is only harm.  In the groups that received the antidepressants, suicidality was doubled.  If we want to keep suicidal thinking and behavior to an absolute minimum, evidence-based medical practice would not include the routine administration of these drugs to adolescents and young adults.  Again, this is precisely the reason the FDA decided on the black-box warnings in the first place.
Beyond Suicide
But what if we look beyond suicide?  Today, we are bombarded with drug ads.  During each such ad, we hear warning after warning about a slew of side effects.  So it is now commonplace knowledge that we take drugs aimed at alleviating suffering even if there is a risk of harm, including death.  What about the suffering from depression that would be diminished by antidepressants?  We have to take that into the risk-benefit analysis.  Well here's where Friedman's recommendation becomes even more troubling.
"Depression is, on the whole, one of the psychiatric conditions with the best prognosis for eventual recovery, with or without treatment.  Most depressions are self limited," Jonathan Cole [Director of the Psychopharmacology Service Center at NIMH] wrote in 1964. … Indeed, as Dean Schuyler, head of the depression section at the NIMH, explained in a 1974 book … most depressive episodes "will run their course and terminate with virtually complete recovery without specific intervention."2
Is it ethical to give drugs that will induce suicidal thinking and behavior to a group of young people suffering from a self-limited bout of unhappiness?
Furthermore, the evidence strongly indicates that these drugs provide virtually no benefit for those suffering from mild to moderate depression.3,4  When there is a risk of significant harm and no benefit, we should be trying to avoid such prescribing; young folks in this group will get better on their own and antidepressants provide no discernible benefit over placebo.  In any ethical cost-benefit analysis, there is no justification for medicating such youngsters.
What about the severely depressed?  There is some indication that the severely depressed may receive some benefit from antidepressants.  However, the black-box warning that Friedman would have us remove does not prevent the prescription of these drugs to the severely depressed.  The warning is worded precisely to make doctors think twice before automatically responding to signs of unhappiness with a prescription pad.  Curtailing reflexive prescribing for millions of young people and reserving these drugs for only those suffering from severe depression would seem to be ethically necessary.
The New York Times
Finally, I must say I am troubled by the fact that The Times continues to publish opinion pieces based on a perspective heavily promoted by commercial interests without providing critical, alternative viewpoints.  And this despite the fact that the editorial board at The Times is well aware of how commercial interests have come to dominate medicine:
"New evidence keeps emerging that the medical profession has sold its soul in exchange for what can only be described as bribes from the manufacturers of drugs . . . It is long past time for leading medical institutions and professional societies to adopt stronger ground rules to control the noxious influence of industry money on what doctors prescribe for their patients." (The New York Times editorial: "Seducing the Medical Profession," February 2, 2006)
Unfortunately, The Times isn't able to use this awareness to consider publishing opinion pieces that challenge organized psychiatry.
Not only did they publish Friedman's dangerous call for removing the protective black-box warning, for some reason, reader comments on Friedman's piece were not enabled.  Do they recognize the fact that Friedman's view might call forth an outpouring of protest?  Have they been convinced by organized psychiatry and Big Pharma that such an onslaught would come from crazy, psychiatric survivors and conspiracy theorists?
Well General Dwight Eisenhower was certainly no loose cannon or conspiracy theorist.  In his parting words as president, he warned us of the corrupting power of huge economic interests.  Today, the pharmaceutical industry is the third largest in the world (after energy and the military).  When you ally it with medicine and health care, it becomes the largest commercial complex of all.  So to paraphrase President Eisenhower:
We must guard against the acquisition of unwarranted influence, whether sought or unsought, by the [psychopharmaceutical]-industrial complex. The potential for the disastrous rise of misplaced power exists and will persist. We must never let the weight of this combination endanger our liberties or democratic processes. We should take nothing for granted. Only an alert and knowledgeable citizenry can compel the proper meshing of the huge [medical and pharmaceutical] machinery … so that [the general well being may be promoted].5
How can a knowledgeable citizenry do that if one of the few remaining, quality sources of news and information cannot free itself from that very unwarranted influence?
* * * * *
References:
1. "The Medication Generation," by Katherine Sharpe, The Wall Street Journal, June 29, 2012, stated that the "National Center for Health Statistics says that 5% of American 12- to 19-year-olds use antidepressants."  Since antidepressant usage has been increasing since 2012, the number today would be over 5%.
2. Robert Whitaker (2010). Anatomy of an Epidemic: Magic Bullets, Psychiatric Drugs, and the Astonishing Rise of Mental Illness in America, Crown, pp. 152-153.
3. Irving Kirsch (2010). The Emperor's New Drugs: Exploding the Antidepressant Myth, Basic Books.
4. Robert Whitaker and Lisa Cosgrove (2015).  Psychiatry Under The Influence: Institutional Corruption, Social Injury, and Prescriptions for Reform, Palgrave Macmillan.
5. From the final public speech of Dwight D. Eisenhower as President of the United States, delivered in a television broadcast on January 17, 1961. Only the bracketed words have been added.
***
Mad in America hosts blogs by a diverse group of writers. These posts are designed to serve as a public forum for a discussion—broadly speaking—of psychiatry and its treatments. The opinions expressed are the writers' own.
***
Mad in America has made some changes to the commenting process. You no longer need to login or create an account on our site to comment. The only information needed is your name, email and comment text. Comments made with an account prior to this change will remain visible on the site.