From Psyche: "Trauma is not cognitive. It is not a set of thoughts, but a set of instincts. The US psychiatrist Robert Jay Lifton writes in Death in Life: Survivors of Hiroshima (1968) that PTSD occurs when a traumatic event leaves a 'death imprint' or an 'indelible imprint' on the brain. When traumatic memories get stuck in this way, they cannot be rearranged into logical narratives. Instead, they remain trapped in the brain as flashes of an unbearable experience that leak out at the mind's weakest moments. The part of the brain responsible for separating the past from the present – the hippocampus – becomes dysfunctional and the brain re-enters fight, flight or freeze mode every time it is reminded of the experience, even though there is no longer any danger present.
. . . I was referred to a cognitive behavioural therapist – a type of talk therapy that tries to identify the person's unhelpful thought patterns and re-arrange them. I tried CBT for years, but it never helped me, because my conscious thoughts weren't the problem. What was troubling me was much deeper, more unconscious, than that. What was troubling me was hidden from everyone – even me.
Abuse survivors are left, often without realising it, with a sense that there is something toxic or bad about them, something rotten that caused another person to treat them badly. This was never something I thought. It was something I felt; something pre-rational that I knew in my bones to be true. Because these assumptions are unconscious, they play out in every relationship we form without us knowing it. And because of the intense connection between trauma and shame, we find it very hard to identify the feelings that are symptoms of PTSD because they are, so often, unspeakable.
Until I met my therapist, I had never been able to articulate the worst things I believed about myself. I didn't think anyone would be able to tolerate how much I hated myself. So instead of articulating these feelings, I spent years and years dissociating from relationships, avoiding intimacy and sabotaging closeness, imagining I'd be abandoned as soon as the other person found out how rotten I truly was. But while dissociation protects us from feeling the overwhelming emotions connected to the traumatic memory – panic, fear, pain – if it is never processed, it numbs all the other emotions, too: connection, love, joy, safety. It is the naval officer in Lord of the Flies, offering rescue but not compassion. Offering survival, but not living."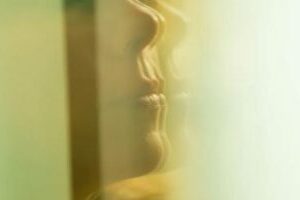 ***
Back to Around the Web