Keris Jan Myrick, a Mad in America blogger, as well as president and CEO of Pasadena-based Project Return Peer Support Network, has been elected president of NAMI by its board of directors. She has been interviewed and designated a "Game Changer" by Canadian Broadcasting Centre's radio show The Current: Changing the Face of Schizophrenia. The New York Times profiled her in 2011, including a video.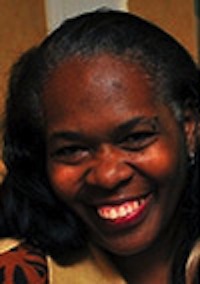 Keris Jan Myrick
"It is very exciting to be elected by the board of directors to serve as the NAMI National Board president. Through our board's commitment to succession planning and leadership development, I feel confident and supported in this new role. It is also an exciting time for NAMI as we strengthen our organization in many ways inclusive of diversification of our funding, increasing our focus on recovery and resiliency in policy, education and supports and building an inclusive organization based on our new Standards of Excellence.
"Our recent NAMI convention "Think, Learn and Live: Wellness, Resiliency and Recovery" is a testament to NAMI's commitment to focus on the whole person approach to living with and overcoming emotional distress. The highlight for me was attending the Hearing Voices Network seminar by Ron Coleman, from Wales, who wowed a room overflowing with NAMI members who embraced his message and the Hearing Voices Network paradigm. It was also wonderful to look out at a crowd that is younger and more diverse! Many of our NAMI members and leaders throughout the country are engaged in really cool things such as traveling to Finland to learn about Open Dialogue!
"This is an opportunity to broaden the discussion about mental health treatment, advocacy and research. I am looking forward to doing what I do best which is to listen, learn and act from all perspectives as well as to bring my lived and leadership experience to continue drive our organization forward."
Related Item:
Wow. Keris Jan Myrick elected president of NAMI (Beyond Meds)