When I first entered a state of altered reality (called psychosis) at the age of 25, I was exhilarated. Then, when I could not return to consensual reality, I was terrified. I have been trying to understand ever since why my mind went to such an extreme state and why I could not return without heavy assistance (medication and hospitalization). I now feel I truly understand my altered state at a much deeper level. I hope this understanding will help others, as it is helping me. I think the more we explore these altered states, the more we will be able to guide people through them without medication or hospitalization.
My Insight (which I guess schizophrenics are capable of after all Dr. Torrey):
Recently, after a trip to Michigan, I awoke wondering where I was. This sometimes happens to me and to other frequent flyers after a trip. It causes me some anxiety. Usually I jump out of bed and start to explore my surroundings. This time, though, instead of jumping up in a slight panic, I decided to keep my eyes closed and started to ask myself a series of questions.
"Where was I yesterday?" I asked myself.
"I was in northern Michigan," I answered.
"Am I still in Michigan?" I wondered.
"No, I seem to be in different place," I answered.
"Had I flown last night?" I inquired of myself.
"Yes, I had been on a very late flight from Michigan to Boston," I responded.
"That's it, I am home in my own bed in Cambridge." With that realization, I opened my eyes and it was true.
An Open Dialogue Interpretation of my Experience:
At that moment I felt I understood why the Open Dialogue description of psychosis makes sense. The Finnish developers of Open Dialogue (Seikkula, et al,2006) describe psychosis as monologue. They say that the healthy state of living is to be engaged in an ongoing dialogue with significant people in your social network. Through stress and trauma, sometimes a person in the social network may feel overwhelmed and as a result retreat into monologue (or we might describe it retreat into one's own world).
In this condition of monologue, one is no longer able to connect, especially on an emotional level with the persons in one's social network. There is only one voice driving your actions. That voice seems to come from outside ones own self and controls one's life.  This description of psychosis so closely conforms to my own experience that I drew a picture of this process of going into psychosis and recovery from it as shown below: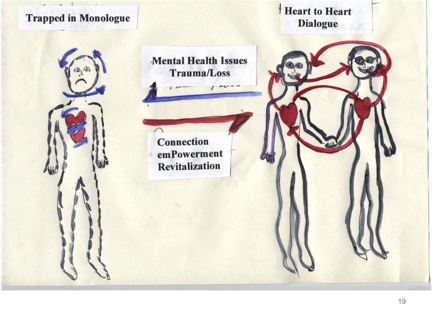 If we look at the two people on the right, we see they are closely connected at both their verbal or cognitive level and nonverbal or heart level. In Open Dialogue terms, we would say they are engaged in dialogue. I call this heart-to-heart dialogue. Though this is drawn as just two people, who may be in love, in reality it is a social network of people similarly engaged. In dialogue, there are many voices contributing to the ongoing process of understanding the world around the network.
Perhaps at some point, the people in the network are subjected to trauma and loss. This stressor can cause one or more of its members to withdraw into their own world, which in Open Dialogue terms is called a state of monologue. The condition of the person in monologue is depicted in the drawing of the person on the left. The arrows circling about their head indicate thoughts that go around and around inside in a repetitive fashion. There is little communication between the person and their heart. In the words of one young man prone to periods of psychosis, the person's heart stopped talking to them.
The young person told me that his heart stopped talking to him when he was isolated. He also reported that was when his heart stopped talking to him, he heard voices. He added that when he was with his friends, his heart talked to him again, and he stopped hearing voices. In other words if someone stays in a state of monologue too long and the monologue is too severe, psychosis can occur and one can hear voices.
EmotionalCPR: a form of emotional dialogue:
During the last 4 years, I and 20 other persons with lived experience of recovery have been developing a method for assisting persons in acute crisis to transition back from a state of monologue to dialogue. We call this approach emotionalCPR or eCPR. This activity involves a person Connecting with another person in a manner which facilitates their experience of emPowerment, and Revitalization.  The person assists the person in monologue to return to dialogue through heart-to-heart resuscitation on an emotional heart level. This is analogous to CardioPulmonaryResusitation or CPR for the physical heart. In the figure above, the elements of eCPR are shown as vital to restoring a person's engagement in dialogue.
Lets return to my morning of disorientation. At an earlier stage in my life, after traveling, I would wake up and experience a temporary disorientation. I would wonder where I was. I would know the place was not the place I was in yesterday. I would become anxious and not be able to think or remember how I got to this different place. I would have to get up and start exploring my surroundings because I would feel very alone in my quest. I would not ask questions of myself because there is no one to answer them. It is only I without a sense of myself. I was on a quest without questions.
This state of mind is technically called a hypnagogic state, which is a state of consciousness between being asleep and awake. I recall being in that state of mind for a prolonged period when I was in psychosis. It was like a waking dream. It was as if my dream world was spilling into my waking world. At first it was thrilling. I felt at one with the world about me. Temporary periods of such waking dreams can be very revealing and may be the states of mind of greatest creativity. They may be the periods of artistic creation and of creation of an integrated self. However, if they are accompanied by panic by oneself and the people around one then those states of mind can result in psychosis.
By this description then psychosis is a monologue state of mind during which it is difficult to return to everyday reality without the assistance of a trusted guide. In that monologue state of mind, there is an I but little capacity to experience a me inside to reflect or answer questions. The best guides for escorting people back from states of being trapped in monologue are peers who have experienced those states of mind and recovered a grip on the life of everyday reality.
Lessons Learned:
What I discovered during my morning of disorientation was another way to avoid psychosis. I discovered that I now have the capacity for inner dialogue, which I did not have when I was in my 20's. Recently, when I was asking myself questions and then answering them I was experiencing my inner dialogue. Instead of my quest for understanding reality by only exploring my external world, I could carry out my quest through questions within my internal world. In psychology this is called the development of an observing ego or sense of self, which is greater than ones immediate experience.
Emotions play, I believe a vital role in the growth and the exercise of this self. In addition to the inner verbal dialogue, I also went through an inner emotional dialogue. In fact, the whole new line of dialogue was activated by my fear. Instead of running from my fear, causing it to grow to panic, however, I allowed myself to experience it.  I then considered the fear an important signal that I needed to examine the situation more carefully. I think strong emotions help call our attention to undisclosed parts of our self. Then by experiencing the emotion, it is possible to understand where it came from and think differently about its cause. This sequence allows for the building up of a sense of self which at a future time will make it easier to engage in the self soothing dialogue essential to avoiding of repeated psychosis.
Ways Our Present Psychiatric System Interferes with Our Recovery and Development
Unfortunately, this whole learning experience is interfered with by our present psychiatric system. The mental health system presently regards the expression of almost any strong emotion as a symptom of some type of mental illness. Extreme fear, is labeled paranoia. Heavy sadness becomes depression.  Temporary confusion becomes psychosis. Anger is mania. This pathological redefinition of emotions as symptoms is just an exaggerated form of our industrial, northern culture, which demands that everyone keep a stiff upper lip. It is a culture of dead men walking. When a person experiences emotions, which are uncomfortable for their social network, they are medicated. There is growing evidence, however, that early and prolonged medication actually interferes with recovery (Whitaker, 2010).
Parallels between Early Treatment of Polio and Present Day Treatment of Psychosis
Our treatment of psychosis is similar to the story of the treatments for polio, prior to polio vaccines in1952. The usual practice with polio victims was to immobilize the person's limbs or whole body for months. This was followed by use of heavy braces, because the patient could not use their limbs without the braces. Then a nurse from the bush of Australia, Sister Elizabeth Kenny, developed an alternative approach. She found that the polio was not itself causing paralysis. Instead, she found that the treatment of immobilization and braces was causing paralysis because the immobilization and braces were causing muscle atrophy. She found that the poliovirus caused temporary muscle spasms, which could be treated with, warm compresses and stretching exercises.
When the patient was attended in this fashion, along with the hope and expectation of the persons treating that they would recover, they indeed did recover. Just like our recovery movement, the traditional medical establishment rejected Sister Kenny. But she came to the US in 1940 and three brave doctors at the Mayo Clinic in Minnesota tried her technique. They proved that it worked and for 10 years they applied it at their clinic with excellent results. Once the polio vaccine was developed in the 1950's her technique was no longer needed. However, the procedures she developed made a positive contribution to rehabilitation of a variety of neuromuscular conditions today.
The analogy between Sister Kenny's approach to polio and the Finnish approach to psychosis is very compelling. Instead of viewing psychosis as a permanent condition, needing lifelong medications, a type of immobilization and brace to the mind, Open Dialogue views psychosis as a temporary condition. In this analogy, psychosis is a type of social spasm between the person and their social network. In Open Dialogue, the treatment is a massaging and stretching of the social network of the person in distress rather than their immobilization by medication and hospitalization. This enables the person affected to once again use their mind without the iatrogenic effects of lifelong diagnosis, medication, and hopelessness.
It appears that the facilitation of outer dialogue through Open Dialogue or eCPR can bring a person in distress out of the position of being trapped in monologue. But there is still the need on the person's part to develop that inner voice and inner dialogue, which enables them to remain, connected dialogically with the people around them. I believe that we develop this inner dialogue by fashioning our self through our emotional connections with significant persons in our life. This, I believe is crucial to developing the resilience needed to avoid future relapses into psychosis. The expression and acceptance of strong emotions seems to be a critical component to this growth of self.
Voice and Dialogue Training May Help Build Resilience to Protect against Being Trapped in Monologue:
I believe this learning can be stimulated through role-plays, which are actually real plays. Such a real play occurred in a recent training or mutual learning I carried out in Michigan. The mutual learning experience is called Voice and Dialogue Training. It involves coaching peers to become facilitators of a process I call Recovery Dialogues. The purpose of the Recovery Dialogues is to help clinicians shift from a traditional monological, medical model culture to a dialogical, recovery-oriented culture.
This shift should ease the tension experienced by peers working in traditional clinical settings. A real-play of a Recovery Dialogue was set up in which two peers played the role of the typical clinicians, one played a drug rep and three peers played the role of peer specialists. The group picked the topic of hope. There were two dialogue-trained facilitators. During the first 20 minutes each person's perspective on hope was stated. Those in the clinician role emphasizing that these are life-long conditions, for which life-long medication and clinical supervision of the person's life were necessary. Maintenance was the best to hope for.
The peer specialists emphasized the importance of hope and self-determination in recovery. Then there was a more concentrated conversation between the person playing the role of a drug rep and peer. The peer said she had come off her medication and was doing well. The drug rep kept repeating that these illnesses are cyclical and that they will need to go on the medication again and again.
At that point the peer started to cry, though she continued to make her point that she wanted to continue off the medication and that she believed in herself. Though tearful, she remained resolute and the drug rep and the other traditionally oriented players visibly were moved. They started to listen in a new way. In the processing of the real play, those playing the traditional roles said they could feel a difference when the peer cried. It swayed their perspective.
To date these types of real plays seem safer among peers than between peers and clinicians.  I have carried out such recovery dialogues at a community mental health center over the last 3 years. Such moments of emotional expression and shifting attitudes happen, though they are harder to achieve. The more we can learn about the process among peers, the easier it will be with others. In the future, I am hopeful they can be carried out for the general population in what we are calling Community Recovery Dialogues.
References:
Seikkula, J., Aaltonen, J., Alakare, B., Haarakangas, K., Keranen,P., and Lehtinen, K. Five-year experience of first-episode psychosis in open-dialogue approach. Psychotherapy Research. 16:214-228 (2006).
Whitaker, R. Anatomy of an Epidemic. Crown Publisher, NY. (2010).
***
Mad in America hosts blogs by a diverse group of writers. These posts are designed to serve as a public forum for a discussion—broadly speaking—of psychiatry and its treatments. The opinions expressed are the writers' own.