When Richard Price was a young man, he experienced extreme states for which he was labeled schizophrenic and forcibly 'treated' with psychiatric medications, ECT, and insulin shock. He suffered from residual effects from this for the rest of his life.  In 1962, Price and Michael Murphy founded the Esalen Institute on the Big Sur coast of Northern California. From its beginning, Esalen worked to create sanctuary for people who, like Price, experienced extreme states. "Esalen was Price's revenge on the mental hospital!" says Murphy.
Both at the institute itself and through the creation of projects like the rigorously designed, NIMH-funded Agnews Project research, Esalen helped to create the contemporary model of madness sanctuary. Agnews, which yet stands as the largest randomly-assigned, double-blind study on first episode psychosis, showed a 70 percent lower re-hospitalization rate advantage from providing a med-free environment for people in initial extreme states; a result which provided impetus and support for John Weir Perry's med-free sanctuary Diabasis House, and the creation of the I-Ward sanctuary that I served at and wrote about here on MIA in "Remembering a Medication-Free Madness Sanctuary".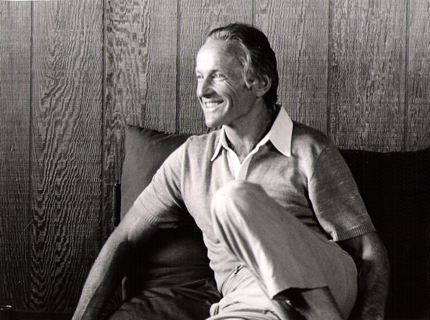 Dick Price also wanted Esalen to be the kind of outside-the-box think tank that could fundamentally re-vision the experience of madness away from the medical model vision. Price realized the applied practice of the medical model belief system was the cause of the greatest trauma in his life.  Price said about his own experience that "The so-called 'psychosis' was an attempt towards spontaneous healing, and it was a movement towards health, not a movement towards disease." He believed his experience of madness was not pathological but was full of meaning and was transformative, even perhaps touched with mystical power.  He saw Esalen as a refuge for people in extreme states, "A space where it's possible to live through experience rather than having it blotted out, a place where there aren't the same negative self-definitions of someone going through this type of experience."
In addition to Price's commitment that Esalen provide refuge for those in extreme states, Esalen's broader liberating influence on world culture would prove to be enormous, as pioneers in philosophy and psychology made it the birthplace and epicenter of the human potential movement. (Sascha Dubrul has written a great article here on MIA about the lasting relevance of the human potential movement for current activism.)  The  young and gifted Price and Murphy attracted figures like Alduous Huxley, Alan Watts, and Abraham Maslow, who helped put Esalen on the map with week-long and even month-long gatherings for re-visioning madness. Ongoing symposia with names like "The Value of Psychotic Experience" went on for the whole summer of 1968!  Gregory Bateson, Murphy and Price, Alan Watts, RD Laing, Erik Erikson, Fritz Perls, John Weir Perry, Claudio Naranjo, Virginia Satir, Julian Silverman, Alan Ginsberg, Michael Harner, Joan Halifax, Stan Groff, and many others all contributed to a growing understanding of extreme states that continues to evolve, as it certainly always must.  They saw a neglected possibility for humankind, rooted in a philosophy that has always served to bring a dimension of the sacred and numinous into view.
That ancient but always emerging mythic vision serves as a counterweight to the objectifying, pathologizing and materialistic world view that I believe makes the tragically narrow vision of psychiatry possible.  Esalen's role in altering the views and approaches to madness, or extreme states, continues to this day.
Last month, following in the tradition of passionately focused Esalen conferences, I organized a week-long invitation-only gathering there; "Alternative Views and Approaches to Psychosis."  This conference was preceded in 2011 and 2012 by a workshop and then a conference on alternative approaches to extreme states that began a revival of this aspect of Price's work, one that had been dormant at Esalen since his death in 1985, when he was struck by a boulder while tending to the Esalen grounds following a flood.
This year, the Esalen conference was attended by 40 people involved in one way or another in the mental health revolution that is daily chronicled here on Madinamerica.  People with lived experience brought their invaluable perspective to a gathering that included peer counselors, psychiatrists, therapists, authors, film makers, researchers, mental health services administrators and family members. A great many of the 40 people who gathered felt a sense of urgency to come up with collaborative, strategic ways to unite against the ever-growing human rights abuses of forced treatment. Those human rights abuses are being justified more and more in the name of protecting society from the suspected danger of people who have been given a psychiatric label. That public demonizing of those of us with lived experience of extreme states is being fueled by wide-scale fear mongering and draconian laws that threaten all who experience extreme states.
A number of us at the Esalen gathering committed to work together to fight human rights oppression on many fronts, via media, public education, legal campaigns, and expanding on existing – and developing new – humane, alternative supports for those in extreme states.
Dick Price was a psychiatric survivor whose compassion still touches us now. I know I wouldn't be writing here on MIA if not for him, because the I-Ward medication free extreme state sanctuary I went to work at in 1980 would never have existed without the Agnews research Price made happen. John Perry's Diabasis House – that I did my doctoral research on – never would have existed either.
So, thank you Richard Price, for fatefully touching my life, but so much more for helping so many people in extreme states receive the love you were denied in your hour of need, and escape the soul-shrinking diminishment of self-worth, and the hopelessness that a psychiatric diagnosis can inflict. Esalen lives on as an example of what can happen – for individuals and for society at large – when we respond to the extremes that sometimes come with human life not with fear and control but with receptivity and encouragement. There's no knowing – ahead of time, at least – how much accrues to each of us and to society at large when we learn to listen to the voices – weak, tenuous, or frightening as they may sometimes be – of people who are struggling with the process of coming-to-be in a world that often silences or eliminates them before they have a chance.  Dick Price's voice was silenced early but lives on in the place in which he came to live and die; a memory and evidence of what can happen when the best of mind, body, spirit and community are given a chance to come together.
***
Mad in America hosts blogs by a diverse group of writers. These posts are designed to serve as a public forum for a discussion—broadly speaking—of psychiatry and its treatments. The opinions expressed are the writers' own.
***
Mad in America has made some changes to the commenting process. You no longer need to login or create an account on our site to comment. The only information needed is your name, email and comment text. Comments made with an account prior to this change will remain visible on the site.