In the last 30 years, acupuncture and Chinese medicine have become increasingly popular as a modality for helping people not only with health concerns but also with emotional distress and addictions issues.  Acupuncture has been especially helpful for people who are detoxing from drugs and alcohol as well as those who have experienced a high degree of trauma, such as returning military veterans.  One of the most innovative and wide spread ways of helping this population is through something known as the five needle protocol, or the NADA protocol.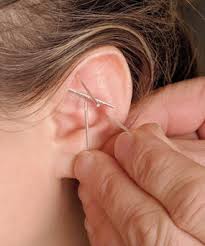 Five needle protocol involves placing acupuncture needles in five points inside both ears.  Often people are treated in groups and sit comfortably in chairs and allow the needles to rest for 30-45 minutes.  For many people the effect of incredible calm and relaxation is immediate.  People suffering from symptoms of anxiety, restlessness and psychomotor agitation often feel a release and relief from the intensity of their symptoms.
Because of this powerful effect, 5NP has been adopted as an integrative treatment tool in many locations throughout the country including detox and outpatient mental health centers, hospitals and prisons.  The National Acupuncture Detoxification Association is the prime group that promotes this protocol throughout the country.  Though trained acupuncturists often provide this service, NADA promotes non-acupuncturists to become Acu-Detox Specialists to help support people in their community.
Here in Portland, Oregon, one of the main places to go for mental health and detoxification services if you are poor or uninsured is Central City Concern.  This incredible clinic not only offers counseling, but 5 needle protocol as well as Qi Gong classes.  When I last visited I was amazed to see a well lit room filled with plants staffed by people offering ear acupuncture to a group of homeless people dealing with addiction issues.  In the corner a young woman was playing a harp to add to the soothing atmosphere.
The innovation and adoption of 5NP as a treatment strategy for those detoxing and in emotional distress came out of the work of a man named Dr. Michael Smith.  After developing this treatment tool in the 70s, he went on to help start NADA in 1985 and it continues to grow and this treatment model has been adopted by many states throughout the country.
The five points in the ear refer to specific acupuncture points that have different effects.  These include the "kidney point", which helps to reduce fear, the liver point, to help with intense anger as well as for detoxification, the lung point, which helps allow deeper breathing and to release grief, the Shen Men, or "Spirit Gate" and the autonomic point, which helps being calm and relaxation.
Traditional Chinese Medicine views each person as unique and requiring holistic care for both the mind and body.  Practitioners often prescribe diet and lifestyle changes, encourage sacred movement such as qi gong, and offer massage and acupuncture, including the 5NP.
There has been quite a bit of research that validates the efficacy of the 5NP treatment approach.   Much of the research has shown tremendous results in a wide variety of settings.  This protocol is being implemented in over 130 prisons in Europe.  It has been implemented in Indian reservations, a number of psychiatric hospitals and the Yale medical school has established a NADA training program for residents.  The VA supports the use of 5NP for people diagnosed with the label PTSD.  To view more about this research, please look here.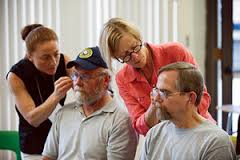 On a personal note as someone married to an acupuncturist, I have had the chance to get "the ear treatment" when I have felt anxious, unsettled and emotionally intense.  In every treatment I had the sensation of feeling profoundly more relaxed and calm, like a weight had been lifted from me.  It is one of the first line tools I use to help myself when I am feeling overwhelmed.
I believe this protocol can be very helpful for people who are in the process of tapering off of psychiatric drugs.  Many of the symptoms of tapering include profound anxiety, waves of depression, anger, agitation as well as insomnia.  It can also be very helpful to anyone prone to big mood swings and emotional distress.  One of the strong benefits of this protocol is that it is done in groups and therefore can be much cheaper to access than a regular one on one treatment.   Group acupuncture can also be helpful for creating a strong bond between people without the pressure of asking them to explore deep and sometimes uncomfortable emotions.
As a therapist who promotes mindfulness, it can be challenging to encourage people to start a regular practice of meditation.  One of the best ways to help them get started is to introduce them to acupuncture. Instead of the pressure to include meditative practice into a busy lifestyle, acupuncture helps people to gain the benefit of deeper relaxation and increased somatic awareness that often happens while meditating.   Though the NADA protocol should not be seen as a panacea, it has become an increasingly important adjunct tool to help improve emotional health and well being.
***
Mad in America hosts blogs by a diverse group of writers. These posts are designed to serve as a public forum for a discussion—broadly speaking—of psychiatry and its treatments. The opinions expressed are the writers' own.
***
Mad in America has made some changes to the commenting process. You no longer need to login or create an account on our site to comment. The only information needed is your name, email and comment text. Comments made with an account prior to this change will remain visible on the site.