Last year I visited the United States on a Winston Churchill Travelling Fellowship to explore 'alternative routes to mental health recovery' and to visit a range of peer-led, alternatives to the medical model, with the aim of using the knowledge gained to help develop alternatives in the UK. During my 2 month stay, I visited a range of organisations in the US – including the Western Massachusetts Recovery Learning Community, the Icarus Project, Parachute NYC, Soteria Alaska, the National Empowerment Center and the Wellness Co-op – and  I am extremely grateful to all those I met for the time they spent with me. Looking back, all the organisations and services I visited came about because groups of people in the US decided they wanted something different to conventional mental health services, and then decided to work to make that dream a reality. My trip enabled me to see that developing and receiving funding for alternatives to conventional mental health services is not easy – but it is possible.
One of the key questions I had was 'how do we turn an idea for an alternative to conventional mental health services into reality'? From the visits and conversations I had in the US, it seems that there are several steps:
Bring together a group of people who want to develop an alternative to conventional mental health services and have regular meetings.
The group should develop a vision – focusing on what is wanted, not what isn't. For example, rather than saying  'a non-medical model crisis house (respite) as an alternative to admission to hospital' say 'a crisis house (respite) where people experiencing extreme distress, confusion or altered states can stay and receive emotional support'.
For funding reasons the group of people should be in the same geographical area (in England this could be the Clinical Commissioning Group areas, if state funding is desired).
The group should be open to all who share the vision.
Be prepared for conflict and power issues in the group, and have means of sensitively handling this (such as Intentional Peer Support).
Be prepared that it may take years to develop a new alternative to conventional mental health services and there are likely to be setbacks and disappointments on the way.
Be prepared that some compromises may have to be made in order to get the end goal.
Develop a proposal for the crisis house, or other alternative mental health service, in advance, rather than waiting for grants to be announced.
Remember it is possible to cause change!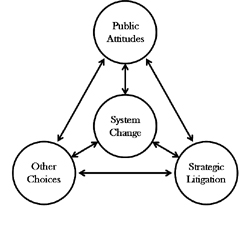 Since returning home, I have been working with others in South West England to put these steps into action. In April we organised an event, 'Choices in Approaches – creating a local alternative to conventional mental health services,' which was well attended. From this event, several action groups were formed – one focused on developing a local crisis house (respite); others about Soteria approaches and Open Dialogue; and another action group, inspired by Jim Gottstein's Transformation Triangle, focused on changing public attitudes around mental health. As part of this, several public events are being organised. The first of these is a public screening of the film 'Beyond the Medical Model,' created by the Western Massachusetts Recovery Leaning Community, and the second is a public talk by Mad in America Foreign Correspondent Rufus May. More information about all of these activities can be found here. If anyone wishes to help with, or be involved in the work going on in South West England (either in person or virtually) please get in touch.
Further reading
For more information see the full report of my Travelling Fellowship to the US and the blog of my trip.