As the British Psychological Society prepares to launch its report in the USA, two of its authors reflect on the widespread debate it is provoking. 
Those of you who read the New York Times may have seen its coverage of the British Psychological Society's recent report, 'Understanding Psychosis and Schizophrenia: Why people sometimes hear voices, believe things that others find strange, or appear out of touch with reality, and what can help.'  The report has been widely welcomed and many have seen it as a marker of how our understanding of these experiences is changing.  It was written by a group of eminent clinical psychologists drawn from eight UK universities and the UK National Health Service, together with people who have themselves experienced psychosis.  It provides an accessible overview of the implications of psychological research for the way in which we understand these experiences.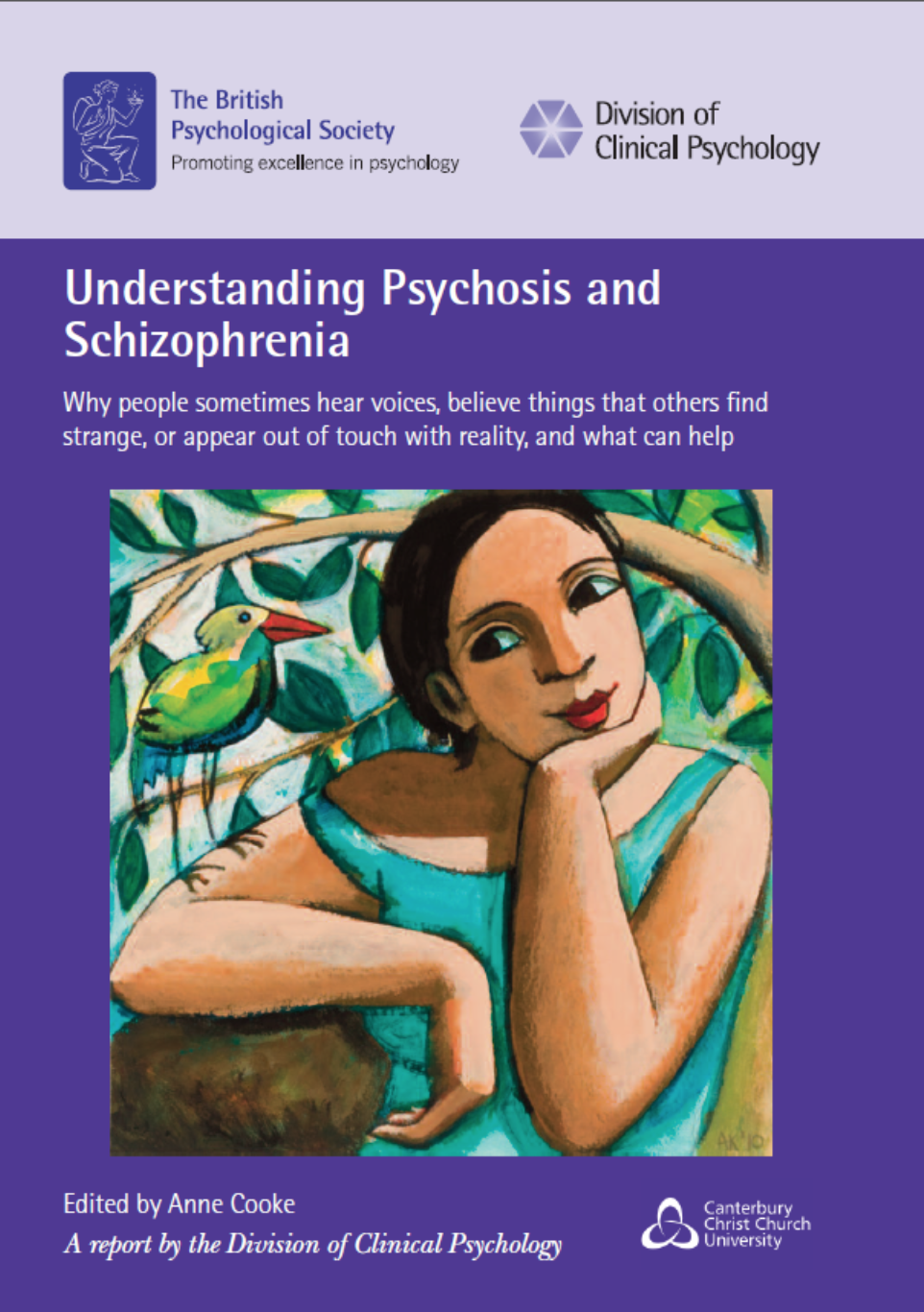 Many have suggested that its conclusions have profound implications both for the way we understand 'mental illness' and for the future of mental health services.  Those welcoming the report from the London launch platform included the President of the UK Royal College of General Practitioners, a senior representative of the Royal College of Psychiatrists, and the National Clinical Director for Mental Health Services (the UK Government's Chief Psychiatrist) together with the Shadow Government Minister for Mental Health. Its publication received widespread coverage in the UK media, including on the main national news program.
The report has received an overwhelmingly positive response from people who have themselves experienced psychosis or used mental health services: see, for instance, journalist Clare Allan's piece in the national Guardian newspaper or Nicky Hayward's in-depth review on the UK Royal College of Psychiatrists' website.  These responses have been profoundly moving for those of us who have spent the last two years working all hours to try and produce a document that would be truly helpful.
The report has not been without its critics. Some of you may have seen the somewhat intense response by Dr Jeffrey Lieberman, complete with white coat, who accused the report authors of 'challenging the veracity of diagnoses and giving people … license to doubt that they may have an illness.'  Some commentators have seen such responses as a sign that the report's normalizing message might be a threat to those whose work has been based on the idea of brain diseases requiring aggressive pharmacological treatment.  In a similar vein, some other US psychiatrists, for example Allen Frances, have suggested that the report does not address 'real' schizophrenia.
Some criticisms are well taken.  For example, people have pointed out, and we have acknowledged, that the report paid insufficient attention to the specific issues faced by people from black and minority ethnic groups.  People from these groups experience discrimination not only within society but within services, and are overrepresented at the 'sharp end' of psychiatry: more likely to be diagnosed with schizophrenia, more likely to experience compulsion and forced medication, less likely to be offered talking therapy. As we move forward, it is vital that these issues are acknowledged and addressed.
Others have suggested that the report 'ignores a hundred years of psychoanalytic thought.' Some criticisms have been more technical, for example those of our handling of the issue of comparisons between psychological therapies on the one hand and medication on the other. These have been addressed in traditional academic outlets.  Some have painted the report as an attempt by psychologists to 'sell their wares.'  Whilst of course every statement by a professional body contributes to public awareness of what the profession has to offer, our primary motivation was very different, as we have explained elsewhere.  The report is at pains to acknowledge that 'often the most important source of help and support is our network of relationships: friends, family and community.'  Indeed, self-help and community based approaches are covered first, psychological therapy only later.  And far from claiming that psychologists – or indeed any 'experts' – have all the answers or know what is best for people, the report suggests that 'people themselves are the best judges of whether a particular therapy or therapist is helping them.'  It advocates humility on the part of professionals, suggesting that the common idea that our job is to tell people what they need should be replaced with a different 'guiding idea':
Mental health is a contested area. The experiences that are sometimes called mental illness, schizophrenia or psychosis are very real. They can cause extreme distress and offering help and support is a vital public service. We know something about the kinds of things that can contribute to these experiences or cause them to be distressing. However, the causes of a particular individual's difficulties are always complex. Our knowledge of what might have contributed, and what might help, is always tentative. Professionals need to respect and work with people's own ideas about what has contributed to their problems. Some people find it helpful to think of their problems as an illness but others do not. Professionals should not promote any one view, or suggest that any one form of help such as medication or psychological therapy is useful for everyone. Instead we need to support people in whatever way they personally find most helpful, and to acknowledge that some people will receive support partly or wholly from outside the mental health system (p.103).
So there's ongoing debate. And, to carry that debate forwards, we (Editor Anne Cooke and co-author Peter Kinderman) are coming to New York this month to launch the report in America.  The official launch is at 9am on Saturday 21st March as part of the ISPS conference being held at the Cooper Union in Manhattan.  Three other report authors will also be present: Caroline Cupitt, Tony Morrison and John Read.  We are also discussing the report at a public meeting organized by the Icarus Project on Monday 23rd.
New York City is famously not only the city that never sleeps, but also a furnace for debate and radical thinking.  Our report has certainly stimulated debate, and we hope to continue the conversation with as many people as possible during our four days in the Big Apple.