There is a seemingly limitless supply of words and phrases that are used in dubious ways within the 'mental health' field (including, perhaps, 'mental health' itself). These terms are employed in a variety of ways that serve to justify lack of direction, perpetuate discrimination and dangerously oversimplify or confuse the complexities of being human.   Some will forever maintain that the 'language conversation' is overdone and tiresome; that it diverts us from the real issues at hand. However, there's no getting around the fact that how we speak tends to reveal a great deal about our underlying beliefs and assumptions – some of which may elude even our own awareness. To deny this seems to be a critical misstep, particularly when (as so many of us who've been diagnosed have been told) there is little evidence of 'sickness' that appears to be as powerful as denial itself!
The typical vocabulary of 'mental health' offers an over-abundance of choices to pick on following the lead in above, but my pet peeve of the moment is 'big tent,' so that's where I'll land for now. Arguing for a 'big tent' approach to various conferences and other events within this 'movement' and the mental health system at large has seemed increasingly commonplace. For some, I believe the motivation lies largely with wanting to be regarded as agreeable and the undeniable fact that a 'big tent' approach can aid in avoiding conflict. However, for others, it's clearly less about avoidance and more about a mix of strategy and/or apathy.
I've personally heard multiple people defend their efforts with the 'big tent' frame in the last year. Most of them have literally said (or written) the words 'big tent.' Others have instead quipped, "What works for us won't necessarily work for you," or the ever chipper "diversity is a good thing!" Unfortunately, there is an elephant under this 'big tent' with us, and he's dressed up in his flashiest circus costume so as not to be missed.
Said elephant whispers (as elephants needn't yell) reminders that these words don't come out of nowhere. They inevitably rise up when someone 'under the tent' has taken offense or expressed concern about dilution of values, purpose and/or vision. More importantly, these words come when someone else wants to write them off. Yes, in the vast majority of instances, the 'big tent' frame is either a big, fat brush off or the latest, greatest way of excusing a complete lack of clarity in vision. Or both. Usually both.
At its very worst, the 'big tent' claim is asking those of us who have historically been discriminated against – who have experienced oppression, abuse and real loss of liberty – to sit quietly next to those who would further disparage us. (This happens often out of ignorance rather than intent, but ignorance and intent make for muddy and often inseparable partners.) Of course, requesting that we sit side by side with people who are referring to us as dangerous or broken, or treating us like little pets doing cute tricks is one hell of a big 'ask.' And yet, more often than not, people don't seem to see it that way.
Few seem to notice, for example, the wispy threads of oppression that entwine us when someone refers to a whole group of people as 'the mentally ill,' or reduces a real live person to an acronym like 'SMI.' They don't sense the erasure of our very humanity that happens when our experiences are blindly and uniformly boiled down to diagnoses, no matter how much some of us are screaming about trauma or other ways of making meaning of our own lives. It all floats by unnoticed – barely heard. It's unremarkable for being such a pedestrian part of our linguistic landscape.
Just once, I'd like to share my story at a conference (any conference) and have it truly be heard.  I'd like to share how much I was hurt by psychiatric diagnosis and a 'mental illness' perspective, and how I regard my experience as being largely rooted in trauma, and have people not revert immediately back to referring to everyone as 'mentally ill.'  Just once.  It hasn't happened yet.
Requests for adjustments to language are likely to be greeted (at first) by some degree of puzzlement mixed in with a smattering of 'thank yous' for "bringing that up." ("That sort of awareness raising is just why we invited you here!") But should you continue to protest when the language goes on unfettered (as if you never spoke up at all, no matter how thankful they said they were), you'll eventually get shouted down or dismissed as the 'language police.'
They may try to avoid calling on you. Whispers and eyerolls would not be uncommon at this juncture. The exasperation will start to show plain on some faces (even under strained smiles), and you're likely to start feeling more and more like a child to be mollified until they can get back to ignoring you. ("Actually, we just wanted to feel good about our efforts to raise awareness. We didn't actually want to change. Could you please hush up now so we can get back to our real business?") Because, after all, what they really wanted was to feel progressive, not uncomfortable.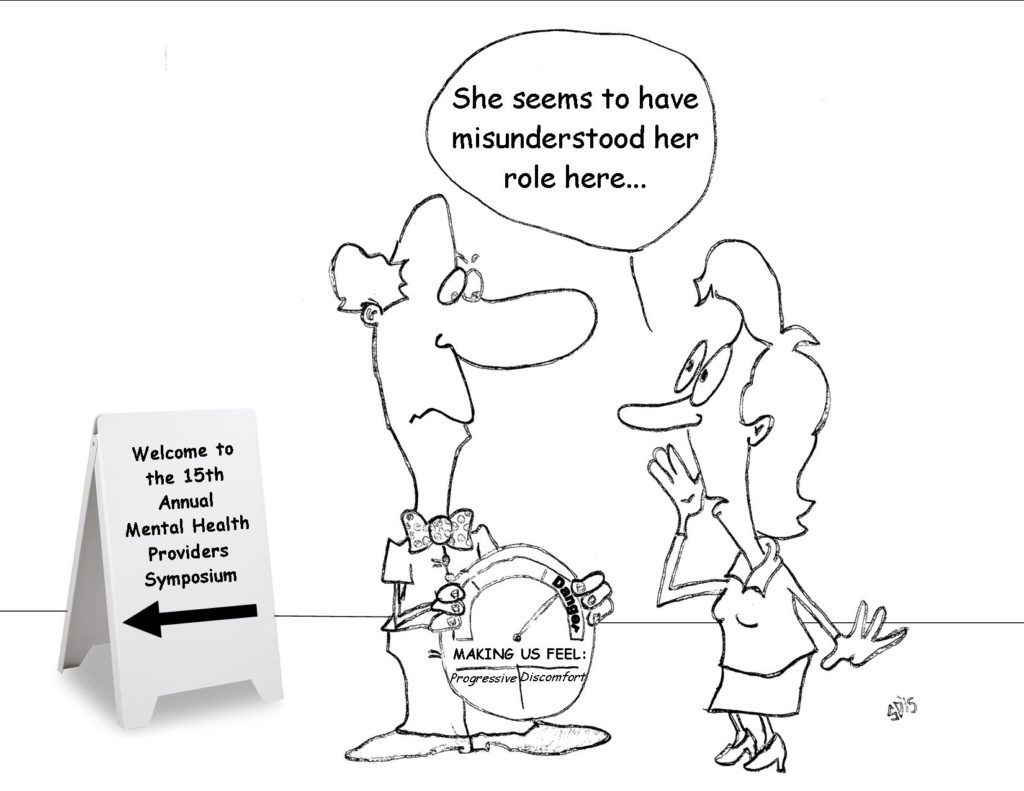 Why is this phenomenon so often invisible to most? Would it be easier to see if people of color were asked to sit in a room next to others who were spouting off racial slurs as if it were a part of normal and polite discourse? Would we, in today's age, consider this an acceptable expectation? Would it be seen as justifiable variance based on cultural differences or a 'big tent' full of diverse perspectives?
Certainly, our nation is still deep in the throws of oppression and discrimination related to the color of one's skin. However, I find this comparison nonetheless useful as most people – regardless of their background or personal beliefs – at least seem to get that language where race is concerned is an issue and there are certain expectations in professional conversation. The same can not be said for the world of psychiatric diagnosis at this time.
Indeed, few seem to acknowledge what they're asking when they trot out person after to person to share their (so-called) 'recovery' stories at various events, often reducing them to pure entertainment, 'cuteness,' or 'feel good' moments rather than evidence for genuine ideological shifts. These individuals want to be congratulated for involving people with "lived experience," even though – so often – they still see those people as the exceptions to the rule. ("How inspirational! Too bad the people I work with are so much lower functioning.") Little care is given to how vulnerable it can leave someone to lay out the darkest parts of their lives in a room full of strangers who themselves are frequently reluctant to even share the name of the town in which they reside.
(Note: I am not now asking you to congratulate people for being 'so brave.' In fact, if you are someone who has done this in the past, please stop. I'll come back to this point in a subsequent blog soon to be written.)
Nor is the tautological trap of it all particularly acknowledged. You know… the (sometimes unspoken) one that totally belies any genuine belief in people's overall healing potential. It generally goes something like this: "You must have been misdiagnosed!" or "You can't possibly have been that bad, if you look this good now!"  Underneath that, of course, resides the belief that 'no one who has been that bad is ever likely to look too good.' (This has the funny effect of pushing many of us into telling stories where we reveal even more of our darkest moments in an effort to prove, "No, no, no! Please understand:  We really were that bad!  Don't dismiss our stories!")
How often are these same people asked to stick around for policy discussions, or give honest input on system approaches? How much room are they generally given to make providers uncomfortable with their feedback (particularly as compared to the amount of discomfort with which they themselves are expected to sit)?  And what about when those who've been oppressed join the oppressors (perhaps because it's the only visible path to power for themselves)? I've heard the 'big tent' excuse just as much from people who have personally experienced the mental health system from the 'service recipient' end as I have from anyone else.
Is there a place for 'big tent' attitudes? Sure. When there's one very concrete aim (fighting for or against certain legislation, for example), then getting lots of people who otherwise don't have a whole lot in common and shoving them under the canvas to work together can be great. (To be clear, concepts such as 'recovery' and 'alternatives' that are just as likely to be supremely vacuous as they are to be meaningful do NOT count as a 'concrete' aim.) Moderately-sized tents can also be useful when a very intentional effort toward mutual exploration and/or sharing and shifting of ideologies is the goal. However, great care must go in to the balance of attendees and facilitation of activities so that the usual power dynamics do not reign.
But, looking to gain solidarity, clarify ideas, brainstorm next steps? Fighting for more systemic change? Still needing to figure out what it means to have 'integrity' around your goals and vision? Don't have the capacity, energy or understanding to hold your own 'center,' and demand respectful moderation? Looking to create a safe and respectful space for all those you are inviting in? Then keep that tent small! (And, to be clear, 'small,' doesn't so much mean numbers of people as it does the care taken to be transparent and intentional about ideologies, priorities, and aims.)
Hey, for what it's worth, I will still be out there attending conferences that are hard to be at for how people will speak about (and for) me or the groups to which I am tied within those contexts. I'll still be out there sharing my story, too, because I do see the value in doing so even though I also see all the downsides and misguided parts of the picture.
But, please don't try to tell me that the spaces where I see a pervasive lack of respectful language, attitudes and vision are justifiable because of some sort of 'big tent.' It's flatly disrespectful. It leaves you glossing over abuses in the worst sort of way and places you squarely in the position of oppressor, unwitting or otherwise. It paints me as 'the problem' when I won't just play along. It doesn't do either of us – or any sort of movement aimed at progress – any good at all.
***
Mad in America hosts blogs by a diverse group of writers. These posts are designed to serve as a public forum for a discussion—broadly speaking—of psychiatry and its treatments. The opinions expressed are the writers' own.
***
Mad in America has made some changes to the commenting process. You no longer need to login or create an account on our site to comment. The only information needed is your name, email and comment text. Comments made with an account prior to this change will remain visible on the site.