"Without health, life is not life; it is only a state
of languor and suffering — an image of death"

— The Buddha
In Boston a meeting of the Massachusetts Neuroscience Consortium has just come to a close. The most recent member of the consortium; Sunovian (a Japanese drug company) has generated a great deal of excitement and has projected increased revenues over the next year. As they leave the meeting, the high-level Sunovian reps are conferring enthusiastically about success with the new investigational drug Dasotraline; an antidepressant with triple reuptake properties.  Phase 3 trials are in progress for adult ADHD and testing with youngsters is well underway for the child studies (see links below for studies, and charts for trials).
Although adult studies are being done the Consortium members know that the real target for this new drug is the pediatric population; the children ages 6-17 with ADHD, Schizophrenia and early onset Bipolar symptom. There is more news from Sunovian; the  phase 1 trial with Latuda on 6-17 year-olds has been completed.  Sunovian is the heavy hitter in this game, as the multiple studies show (see below) and their multiple testing sites are expanding world-wide.
The other reps who attended the Consortium meeting, from Pfizer, Johnson & Johnson, Merck, Abbott, & Biogen will profit from Sunovian's aggressive moves in the drug development world and they are pleased with the four new innovation centers in London, Shanghai, California and Boston that are poised to coordinate the efforts. It is collaboration, collusion, and competition. Business in triple time due to threats of funding cuts and new legislation that aims at financial transparencey for drug companies.
Time magazine, with its bold new article that expresses outrage at ADHD mass medication, has apparently not been read by the Consortium reps or the members of TransCelerate. The article — in a loud, compelling voice — talks about the addiction to stimulant medication, and misdiagnosing behaviors as ADHD. The Consortium members are not listening.
It is difficult to track down the centers that are doing the actual trials since the consortia have partnered with hospitals, universities and medical centers world-wide in order to accelerate the process of completing clinical trials. Thus far NYU, Cincinnati Children's Hospital in Ohio, and Ohio State University have come up in the study literature. The studies themselves are easier to locate on-line, as the links below demonstrate, and as they advertise abundantly for recruits for their research.
We know that NYU, for example, is actively looking for children for the Autism and Temper Outburst Study, and the MRI research on 18-month-old infants (see their ad below). We also know that Cincinnati Children's hospital is conducting research on 5- to 7-year-olds with Autism, 7- to 10-year-olds with AHDH, and 10- to 17-year-olds who meet this criterion; "Does Your Child or Teen Have a Condition that Makes Them Upset or Agitated?"
These studies appear to be identifying expected childish behaviors as dysfunctional and requiring evaluation and medication. They are, however, part of the repertoire of behaviors that emerge during a child's developmental course.
Critical Ages and the Superhighway:
From Empathy to Memory, Through Reasoning to Maturation 
The  information above is critical in fully appreciating the implications of research studies on infants at critical stages of development, and the speed with which clinical trials are being conducted today. It is interesting and alarming that drug companies have focused on the 18 month to 5 year age range, and the adolescent period, as these are landmark brain-development periods in the child's brain and emotional/cognitive development.
At the age of 18 months, a child is growing rapidly and excitedly exploring the world around him on his own two feet (with mother close by). He or she can babble a few words and he loves to throw things on the floor and pour his milk out on his tray. He's beginning to solve problems. His brain is developing rapidly and critical connections are forming that will enable him to solve the big life problems that he will encounter later on. Perhaps more importantly than this he is beginning to test separation from his caretaker and, he is starting to recognize that he is a distinct individual. One of the key developments at around 18 months is the emergence of empathy.
When an infant is securely bonded to a caretaker and is the recipient of love and support he or she recognizes the feelings of other people and experiences these feelings within himself or herself.  The onset of empathy is the true beginning of human connectedness and of the emotion that underlies healthy human relationships. For children in this sensitive and wonderful age range a traumatic event such as separation from a loved one or abuse will leave lasting scars. Events that would not appear to be devastatingly traumatic to the adult; such as loud arguing, hospitalization of the child or parent,  a new and scary environment may be the kinds of experiences that interrupt or even damage the delicate developments that are going on within his brain.
The 3-year-old child is experiencing another landmark in brain development; this is the onset of auto-biographical memory a critical emergence as it enables  him to remember himself in past situations. It is the recollection of personally experienced past events and It forms the basis and framework for our emotions about people, situations and ourselves
At the age of 5 or 6 years the child is undergoing another growth spurt physically and in the brain domain. Relationships come into play here and kids are learning how to reason, to calculate and to express themselves. There is an overproduction of synaptic connections at this time that will be pruned back during the adolescent period. For the 5 and 6 year old, these connections enable the youngster to test out different solutions to life problems.
The adolescent years are a critical phase during which extensive maturation is going on within the domain of the prefrontal cortex. This area is responsible for working memory, organization, planning and regulating mood. This area is in growth mode and there is "pruning" of under used connections that is occurring throughout the brain. This rapid production balanced by discrete elimination of synaptic material is critical for all later brain development.
What are the Diagnoses Being Tested and What are the Drugs?
The disorders that the drug companies are zealously targeting in very young children are; ADHD, Autism-spectrum disorder, Temper Outburst Study, Early Onset Bipolar Disorder, Schizophrenia and Depression.  These diagnoses elicit fear in the hearts and minds of parents. These diagnoses will ignite that fear and the search for treatment or a "cure" will begin.
The testing itself involves medication and MRI studies (on the 18-month-olds) The drugs are Risperdal, Depakote , Ritalin, Latuda, the new drug Dasotraline, and one that is "not approved by the US Food and Drug Administration." This last study is for children ages 10-17 and is entitled "Does your Child or Teen Have a Condition that Makes them Upset or Agitated? Are they on an antipsychotic Medication? "
The reader can investigate side effects for the above medications; they are too numerous to list. These medications have unknown long-term effects on the body and brain and this is especially significant in light of the age of the population and their vulnerability to disruptive life events. For the 18-month-olds we need to remember that the MRI involves sedation, placement in a tunnel-like machine, and no food or water for a specified period of time.
In an article on the CNBC website, "Is There a Cure for Pharma's Innovation Problem?" the urgency and threats to big pharma are summarized as a lack of subjects for research since trials have shifted from animal to human studies for "ethical" reasons, the new transparency regulations, the expense of doing the research and the fact that the FDA is overwhelmed with paperwork for the studies.
The article continues with the comment from the president of TransCelerate that the collaborative efforts of the drug companies are part of a solution to these problems. This writer begs to differ with this view given the test subjects, along with the medications they are being prescribed, and the rush to drug development that is occurring. TransCelerate has a loud voice, and media attention that will only be countered if many individuals who have the best interest of youngsters at heart speak louder than the companies do
To frame all of these research studies in a scientific context is a difficult task since the jury is still out on the question of whether symptoms of "psychiatric" disorders are to be found in an unbalanced brain, in the chemicals that fuel brain processes, or in something entirely different. A recent article reported in the U.C Davis Journal states that research is uncovering an immune system link to autism.  Similarly, a 2012 New York Times article explored the link between autism and the immune system.  If this is the case — or part of the case in regards to autism, as the articles points out — the mother's immune system may be a domain for further research before and during pregnancy.
Perhaps this is a light at the end of the tunnel. Is this a shift of attention away from the brain and towards other systems (including life itself) that contribute to the emotional suffering of young and old alike?
In the words of our esteemed colleague Dr. Michael Cornwall;
"The safety of our children is a sacred obligation we strive to preserve. Anything or anyone that harms them becomes the object of our distrust and potential wrath. I want to raise the possibility that psychiatry, for all its accomplished champions like Thomas Insel of the NIMH, may have forgotten the elemental fear people feel for the safety of their children. If psychiatry becomes perceived as a consistently increasing threat to our children, then are its days as a monolithic social institution numbered?"
* * * * *
Below is information for those who wish to investigate the studies and research in more detail:
Cincinnati, Ohio Children's Hospital
NYU Child Study Center in New York
Ohio State University clinical trials information
Massachusetts Life Sciences Center page; request for research proposals for the Massachusetts Neuroscience Consortium
Massachusetts Consortium information
Pediatric ADHD information and Sunovian use of  Dasotraline
General information on Sunovian
Sunovian chart: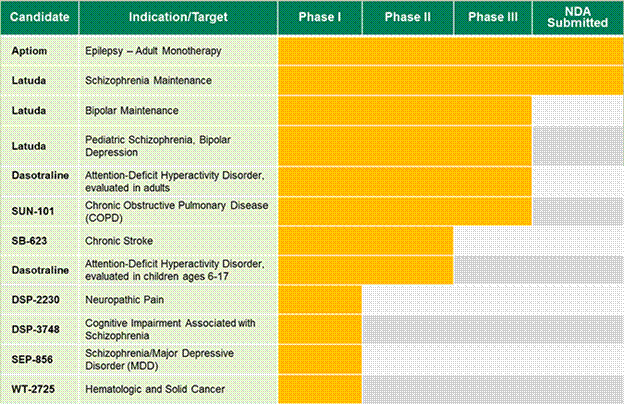 ***
Mad in America hosts blogs by a diverse group of writers. These posts are designed to serve as a public forum for a discussion—broadly speaking—of psychiatry and its treatments. The opinions expressed are the writers' own.
***
Mad in America has made some changes to the commenting process. You no longer need to login or create an account on our site to comment. The only information needed is your name, email and comment text. Comments made with an account prior to this change will remain visible on the site.