How did modern systems of psychiatric diagnosis come into being? I will tell you, because it came to me in a dream. There were these men, hanging from hooks, looking down into a pit of unwashed humanity. Above them was a golden globe, containing the ideal person, someone mentally healthy, sane, and normal in every way. The men on hooks, having only vaguely examined the ideal man floating above, looked down on all that lay beneath. They scowled. They laughed. They were appalled.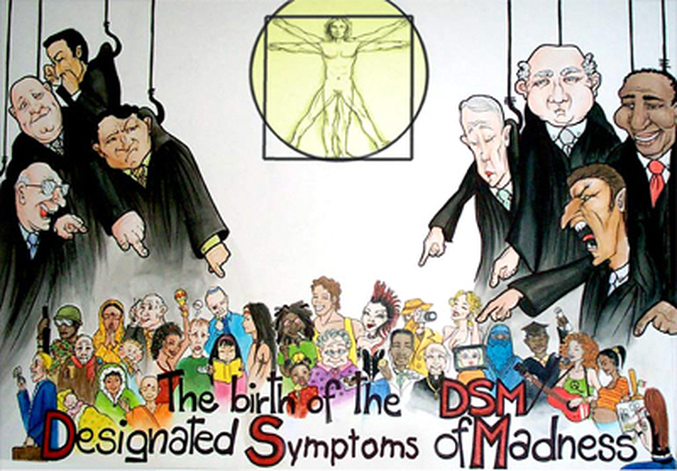 You see, the people below deviated in all sorts of ways from the ideal man floating in the golden globe. In fact the pit contained a virtual sea of departures from the radiant ideal in the sky. The men on hooks noted down these departures and created a list: there turned out to be hundreds of ways the human beings in the pit fell short of the perfection inside the globe.
Then the men on hooks noticed something and began to tremble with excitement. There were groupings, clusters of co-occurring deviations. Collections of individual people shared in common not just one but a set of the same departures from the golden ideal.
For example, the men saw that a number of the pit-persons were walking and talking very slowly. This is not normal, they thought, because a person ought to speak more quickly and move more rapidly. They should not move too fast, mind you, because that would be a deviation in the other direction. God did not tell them human beings should move at a particular clip; they just decided that this was so. Then it was seen that the slow moving ones very often were saying bad things about themselves, like: "I am worthless," "I hate myself," "No one loves me," "I am trash."
The hanging, suspended men conferred among themselves and agreed such negative self-descriptions were not normal and certainly did not occur in the thinking and speaking of the ideal being in the globe. He, according to them, thought well of himself, although not too well. This again they just arbitrarily decided. Then still another feature of the slow moving, self-hating humans under observation jumped into view: a great many of them were thinking about killing themselves! Closely connected with these thoughts, every last one of them was expressing an attitude of despair about their futures and they were making no constructive plans for themselves, except perhaps for suicide.
So the suspended men were witnessing, in a subset of the unwashed, the correlated presence of the following features: a slowing of action and thought, feelings of worthlessness, despair about the future, and suicidality. The men on hooks decided to give a name to the people showing these features: they called them 'depressives' and they named their state 'depression.' The words 'melancholia' and 'dysthymia' also came up in their mid-air discussions.
Later on that same day, the men gazing down noted a parallel clustering that involved a different set of deviations from transcendent perfection. They saw that the structure of the thinking and reasoning of some of the pit-men and pit-women was unusual and hard to follow. Conclusions seemed to be drawn that did not follow from premises, and thoughts radiated off into all manner of tangents and strange associations instead of proceeding along linear, comprehensible pathways.
The glowing entity in the globe, by contrast, reasoned in tight little Aristotelian syllogisms that were transparently intelligible. Many of the illogical people, dispersed in the masses below also turned out to have odd expressions on their faces that did not seem to fit with what they were perceiving and thinking about. People in the midst of tragedy were laughing, and people having success were crying. The golden man above, as the men imagined him, was very different: his emotions coordinated perfectly and appropriately with all that he was thinking and perceiving.
His affects and his cognitions showed no slippage at all! Then they spotted still another feature often correlating with the illogic and the disjunction between thought and feeling: these same pit-persons, in many instances anyway, had beliefs and experiences that seemed unconnected to the real, almost as if they had been swept into a private reality of their own imagining. They were hearing voices no one else could perceive, seeing and otherwise sensing things that were not there, and believing all manner of absurd things that were not true.
The radiant being in the globe had clear, sharp perceptions of the objective world. His contact with reality was flawless. A final feature, often salient in these same poor individuals under the sweeping gaze of the men on high, was that what feelings they did show alternated between all positive and all negative, with no shades of grey in between. It was as if this group among the unwashed did not know of the possibility of mixed emotions: everything was black and white. So our suspended examiners gave a name to this cluster: illogic, inappropriate affect, lostness in a private reality, and splitting apart of positive and negative feelings. That name was schizophrenia.
Other collections of correlated deviations from the magnificent standard of the globe-man were noted and named: psychopathy, hypomania, obsessiveness, hysteria, narcissism, bipolarity, multilplicity, and a vast range of others. But then, something ominous began to take place: a process of making the abstract concretely real, of objectifying what is really just a name that has been placed on some things that appear to go together. The men on hooks were swinging back and forth more and more rapidly, trembling, perspiring, surveying and classifying, and they believed they saw something beyond mere correlations.
Their labels for the groupings of co-occurring deviations turned, in their minds, into objective conditions existing inside the poor pit-people. They were transformed into mental diseases, emotional illnesses, psychological disorders. The men on hooks imagined they had stumbled upon conditions actually existing inside people, and the various departures from the golden ideal now turned into 'symptoms,' seen to emanate from these internal conditions.
The genesis of the diagnostic system was now complete. Any individual person, whatever his troubled state in the particular world he or she inhabited, was now to be examined in relation to the clusters of deviations from the golden ideal. In other words, people became instances of diagnostic categories. In this way the unique experience of the individual was erased and the stage was set for a psychiatry of mental illnesses. There is no scientific foundation for our diagnostic systems: they are the brainchildren of men suspended on hooks.
***
Mad in America hosts blogs by a diverse group of writers. These posts are designed to serve as a public forum for a discussion—broadly speaking—of psychiatry and its treatments. The opinions expressed are the writers' own.
***
Mad in America has made some changes to the commenting process. You no longer need to login or create an account on our site to comment. The only information needed is your name, email and comment text. Comments made with an account prior to this change will remain visible on the site.