Integration of physical and "mental health" care has been a popular topic in psychiatric circles in recent years.  During his term as President of the APA, the very eminent psychiatrist Jeffrey Lieberman, MD, made frequent references to this matter in his posts on Psychiatric News (the APA's online newspaper).
For instance, on December 6, 2013, Dr. Lieberman, with co-author Richard Summers, MD, wrote:
"The momentum for patient-centered care, the medical home, and integration of behavioral health with primary care creates a new role for psychiatrists." [Emphasis added]
Paul Summergrad, MD, continued the theme during his presidential term:
"There is now a critical mass of evidence demonstrating the value of integrating general medical care with psychiatric care, providing higher-quality care to larger numbers of patients, and lowering health care costs. Psychiatry is already undergoing rapid shifts in practice, including new ways of working with our primary care colleagues." [Emphasis added]  September 26, 2014
"In advocacy, the work group's recommended strategic plan underscored the importance of integrating psychiatry in the evolving health care delivery system, advocacy for the central role of psychiatry in all care settings, and parity implementation and enforcement." [Emphasis added]  March 13, 2015
And the present President, Renée Binder, MD, has picked up this particular baton with enthusiasm:
"Telepsychiatry is only one of many avenues that will improve access to care. Integrating mental health care in the primary care setting is another avenue, and telepsychiatry can be part of the integrated care model. For example, through the advent of telepsychiatry, a primary care physician may be able to arrange for a patient (while still in his or her office) to be interviewed by a psychiatrist who is geographically distant." [Emphasis added] September 24, 2015
. . . . . . . . . . . . . . . .
I've never been entirely clear about the nature of this proposed integration of psychiatry with primary care, though from what I've gathered, it sounds like there will be a psychiatrist, or other mental health worker, attached to primary care practices, either in the flesh or via computer screens.  What has always been crystal clear, however, is that the proposal would entail a huge expansion of the psychiatric net, a diligent ferreting out, so to speak, of those "mentally ill people" young and old, who are "not being served," and lots of additional jobs for psychiatrists.  I envisage people who go to their GP's being "ambushed" and encouraged to take a free screening test for depression, intermittent explosive disorder, or whatever.  They will be given the "dire news" that they have incurable chemical imbalances in their brains.  Then they will be given the "good news" that there are "safe, effective medications" that, if taken for life, can keep these "imbalances" corrected and keep the dreadful "diseases" in remission.
And lest my fears be considered groundless, here are some quotes from SAMSHA-HRSA's Guide to Behavioral Health Integration:  Both SAMHSA (Substance Abuse and Mental Health Resources Administration), and HRSA (Health Resources and Services Administration), are branches of the federal Department of Health and Human Services)
"Integrated care begins with screening all patients for other health (including behavioral health) conditions in addition to the presenting problem.  Similar to hypertension, behavioral health conditions can be 'silent killers' in that the patient may not lead with this problem, but these conditions can drive and complicate other health concerns.  If not proactively addressed, mental illness can quietly undermine efforts to improve health status.  Routine screening leads to an organized collection of data."
"Preventative services with an A or B rating from the U.S. Preventive Services Task Force are covered and available at no cost to the individual.  For behavioral health, that includes screening for alcohol misuse and depression by primary care providers." [Emphasis added]
"Organizations offering integrated care need to be sure that behavioral health is fully embedded into the practice…"
"A common barrier to integrated care is a lack of knowledge and comfort with prescribing psychiatric medications.  Many primary care physicians have gained foundational prescribing competence, yet PCPs are reluctant to proceed without input from a psychiatrist as more people turn to their PCPs for psychiatric medication."
So, with a little prodding from psychiatrists, these "reluctant" PCPs will be enabled and encouraged to write more prescriptions for psychiatric drugs.
. . . . . 
I've never been aware of any definite timetable for this momentous breakthrough, but a few days ago I received an email from the Colorado Department of Regulatory Agencies on the subject:  SIM Funding Opportunity to Integrate Physical and Behavioral Healthcare.  Here are some quotes:
"We are sending this e-mail to let you know about an exciting funding opportunity for primary care practices interested in providing access to integrated physical and behavioral health care services in coordinated systems. This is a key initiative in Governor Hickenlooper's efforts to make Colorado the healthiest state."
and
"Under the State Innovation Model (SIM), Colorado will receive up to $65 million from the federal Center for Medicare and Medicaid Innovation to implement and test its State Health Innovation Plan over a four year period, February 2015 through January 2019."
I clicked on the SIM link, and here's what comes up: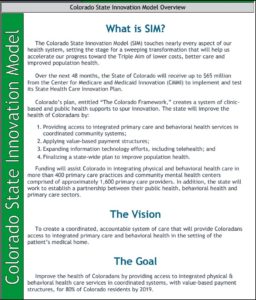 There's also another document titled What Is SIM?  In this document, which is two pages long, the phrase "integrated primary care and behavioral health services", or some variation on those words, occurs seven times.  Here are some quotes:
"Our vision is bold. Central to transforming the Colorado health system is the integration of behavioral health and primary care, a necessary step in our accelerated achievement of the Triple Aim. Our integration efforts will be supported by an improved public health infrastructure. In turn, behavioral health integration will improve population health by addressing behavioral factors that often impede the management of chronic health problems, especially obesity, smoking and diabetes. Improving access to behavioral health services and programs for most Coloradans is the cornerstone of the Colorado transformation effort."
Note the final sentence:  more psychiatric service is the "cornerstone" of the state's transformation effort.  More spurious "diagnoses"; more disempowerment; and more drugs!
"Our vision is attainable, particularly because we are building on important work that is already underway. And Coloradans know how to work together to accomplish big projects. Today, stakeholders throughout the state and from the full spectrum of the health community are on board to collaborate on our SIM proposal. Key partners include eight leading commercial payers and primary care providers covering the majority of the state population."
Wow!  All the stakeholders are "on board" in the divvying up of $65M.  What a surprise!
"There is urgency in our work. While we have a strong, collaborative foundation, health costs continue to rise, patients receive fragmented care and key population metrics must be improved. SIM will allow Colorado to strengthen our efforts in primary and behavioral care and broaden our reach to most Coloradans."
Note the phrase:  "broaden our reach."  And the irony:  we'll address rising health costs by pumping another $65M worth of psychiatric services into the system!
"The overarching goal of Colorado SIM is to improve the health of Coloradans by providing access to integrated primary care and behavioral health services in coordinated community systems, with value-based payment structures, for 80 percent of state residents by 2019. There is strong evidence that treating physical health, mental health and substance use disorders together will help us take aim at the ever-increasing burden of chronic disease. Our plan, called The Colorado Framework, creates a system of supports, both clinic-based and through expanded public health efforts, to spur integration."
Note the truly beautiful obfuscation:  "There is strong evidence that treating physical health, mental health, and substance use disorders together…"  will what?  Lead to better outcomes? improve people's lives? help people get off the disability rolls?  No.  None of these.  The $65M worth of integration will help the state of Colorado take aim at the increasing "burden of chronic disease".  With all this money and all this integration, they're going to be able to take aim at the burden of chronic disease.  And there's strong evidence for this!
. . . . . 
Discussion
Although I've focused on Colorado in this article,  similar moves are, or soon will be, underway in other states.
If pharma-psychiatry succeeds in expanding its web of destructiveness in this way, it will be a tragedy of enormous proportions.  More and more people will be "diagnosed" with psychiatry's so-called illnesses; and drugging rates, already high, will soar to heights as yet unimagined.
This is not the practice of medicine.  This is pharma-funded drug-pushing.
***
Mad in America hosts blogs by a diverse group of writers. These posts are designed to serve as a public forum for a discussion—broadly speaking—of psychiatry and its treatments. The opinions expressed are the writers' own.
***
Mad in America has made some changes to the commenting process. You no longer need to login or create an account on our site to comment. The only information needed is your name, email and comment text. Comments made with an account prior to this change will remain visible on the site.