The mission statement for the Western Mass Recovery Learning Community's (RLC) peer respite (Afiya) is:
"To provide a safe space in which each person can find the balance and support needed to turn what is so often referred to as 'crisis' into a learning and growth opportunity."
Although I sometimes question our choice to use the word 'safe' (given how impossible an absolute version of 'safe' is to achieve and how saddled with distasteful meaning such a term can be within the mental health system), I'm not sure that statement could otherwise be any more straight forward and meaningful. Yet, so often, It's unclear what meaning people are truly making of it.
In fact, I've been a part of the RLC since before it was funded at all, and in that time, I've seen a whole host of phrases surface that we use throughout our community (and beyond), and that I'm not sure people truly understand. From "making meaning" to "voices are real" to "people are the experts on themselves"… People nod and even smile, but don't really get it. The biggest trouble is that they think they do.
So, in the spirit of moving more people to the 'get it' end of the spectrum, here's a little starter chart (that perhaps people can add to in the comments section):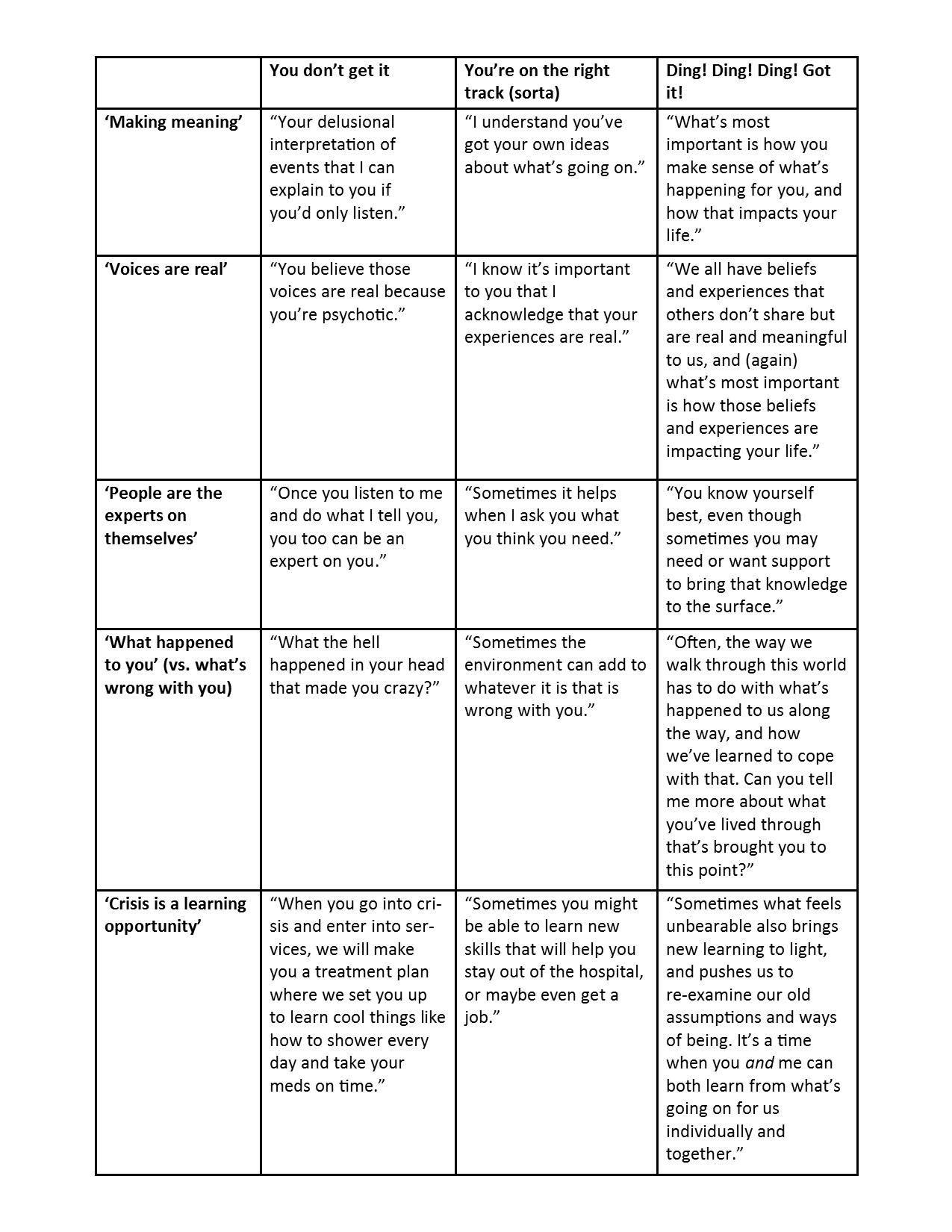 It's funny, though, that some of these concepts are so hard for people to take in…Funny because they apply so readily to any and every life. As best as I can tell, the disconnect comes from the fact that we've all been taught to think about people who've been given psychiatric diagnoses or who are acting 'crazy' or who are hospitalized because they've been deemed 'out of control' as other. When those parts of ourselves get so big and colorful as to lead to some such grand intervention, we seem to intentionally blind ourselves to their much more readily relatable roots – the points at which we could see ourselves reflected back.
In fact, for some, I think that process of 'othering' is something of a survival skill because letting in the idea that 'us' is 'them' feels too dangerous. The idea that any of us is capable of getting to such an extreme place is too frightening to bear.
So people become the 'sick ones', the 'mentally ill', the group of people for whom we may be able to feel some sympathy, but who are certainly nothing at all like ourselves.
And, as such, people get angry when asked to relate the realness of their religious deity (that they cannot see or hear) to the realness of another person's voices or unusual beliefs that are equally as intangible. They set clear demarcations for just how far those who have been psychiatrically labeled can be trusted to be experts on themselves, and they impose strict limitations as to what risks might justifiably be taken (most that they themselves would never accept). They value their own lifelong learning capacity, but create or misuse words (such as the ever-beloved-by-the-Treatment-Advocacy-Center-set 'anosognosia') to describe their own lack of faith in another's capacity to do the same.
Of course, so much of this is less about learning than unlearning. To learn what these words and phrases truly mean… to be able to wield them in any sort of useful manner… means breaking down untold numbers of misguided assumptions and things we 'know' to be true and, more than anything, fear. And unlearning is painful. It's something our minds fight against, even to our own detriment (or that of those around us). Our brains tend to feel around for that one little speck in all that lies before us that re-enforces what we believe, even when all that surrounds it offers up evidence that screams for change.
And, so instead of unlearning and growing, we get articles like the latest New York Times editorial, "How to Help Save the Mentally Ill from Themselves", and other such blatantly pro-Murphy Bill pieces interested in pushing more of the same. No matter what. Including good sense. Though, perhaps that's better than when people adopt our words and phrases as if they do understand. It's easier to understand your enemy when they're not pretending to be your ally.
I've been reminded many times recently how 'crisis' really does lead to (un)learning, and how it can, in fact, unite groups around common causes, bringing new relationships and illumination all around. I've seen that happen individually for people I know, and also for my community as a whole.
(Shameless plug ahead) In fact, I've seen it up close and personal in the Greenfield, Massachusetts part of our RLC community as of late. Unfortunately, the threat of loss of a substantial portion of the RLC's budget in that area rode in on the heels of a statewide threat of a similar nature that had only just been conquered. In the face of this crisis, we've all been forced to sharpen our understanding of what our community means to us and others and to learn how to make use of words in a way that conveys that adequately to others. We've developed new connections and worked on repairing old hurts. We've learned from one another and each taken turns stepping forward, some of which is represented by this article (Saving a Real Life Saver) by Lance Smith and this short film put together by Evan Goodchild:

We're still working through our budget 'crisis', but we're a stronger community for going through the process together. We're also not waiting for state or federal funds to save us (though we are working on that too and wouldn't turn them down if they do come along!), and we're on our way (albeit in fits and starts) to making up the difference. (Check out our fundraiser below if you are curious or want to help! All brands of support are appreciated!)

I hope that this (the coming together and learning from one another) is also what's happening to a national community of people who know that the Murphy Bill (H.R. 2646) is not the way to go. If those who are pushing it up the legislative hill truly understood what was meant by 'crisis' is (un)learning, they'd probably switch sides. It's up to us to help them figure it out… or at least to help enough others to do so that the hill becomes insurmountable.
***
Mad in America hosts blogs by a diverse group of writers. These posts are designed to serve as a public forum for a discussion—broadly speaking—of psychiatry and its treatments. The opinions expressed are the writers' own.
***
Mad in America has made some changes to the commenting process. You no longer need to login or create an account on our site to comment. The only information needed is your name, email and comment text. Comments made with an account prior to this change will remain visible on the site.