After undergoing a nine-week cognitive behavioral therapy (CBT) treatment for social anxiety, patients show changes to both the physical structure of their brain and its activity, according to a new study published in Translational Psychiatry. The amygdala is most closely associated with the experience of fear and this study found that patients receiving CBT with reduced social anxiety had significant changes to this section of the brain.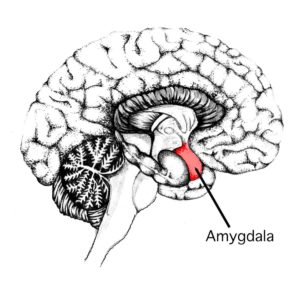 This study is unique in that it attempts to look at both structural changes to the brain and changes in brain activity. The active group in the randomized control trial included twenty-six individual treated for nine-week with CBT. Structural changes were assessed through changes in grey matter volume and functional changes were investigated by examining changes in brain activity (via fMRI) while participants respond to sentences that are self-critical or critical of others. (See BOLD-fMRI for more details on this method)
"Using a multimodal neuroimaging RCT design, we demonstrate interrelated structural plasticity and altered neural responsivity, within the amygdala, after CBT for social anxiety," they write. "Both GM volume and neural responsivity in the bilateral amygdala diminished after effective treatment."
In addition, the data analysis indicated that decreases in social anxiety resulting from treatment were mirrored by reductions in both the volume of the amygdala and its measured response to self-referential criticism.
In conclusion, the researchers summarized their results:
"We demonstrate compelling evidence that CBT for a common anxiety disorder simultaneously changes the physical structure and neurofunctional response of the amygdala. While our results support that amygdala neuroplasticity is directly related to improved social anxiety symptoms with CBT, these results should be replicated and further tested in other anxiety disorders and with other anxiolytic treatments."
*
Månsson, K. N., Salami, A., Frick, A., Carlbring, P., Andersson, G., Furmark, T., & Boraxbekk, C. J. (2015). Neuroplasticity in Response to Cognitive Behavior Therapy for Social Anxiety Disorder. In 7th Swedish Congress on internet interventions (SWEsrii), 6-7 November 2015, Stockholm, Sweden. (pp. 13-13). Linköping University Press. (Full Text)