The news media frequently write stories that connect mental health issues with violence, according to a new study published this month in Health Affairs. After analyzing a sample of 400 news stories about 'mental illness' written between 1995 and 2014, researchers found that the increasing emphasis on violence and mass shootings were "highly disproportionate to actual rates of violence" among those with mental health issues. This gap between what gets represented in the news and what occurs, in reality, may fuel stigma and decrease support for recovery-oriented mental health treatments and policies.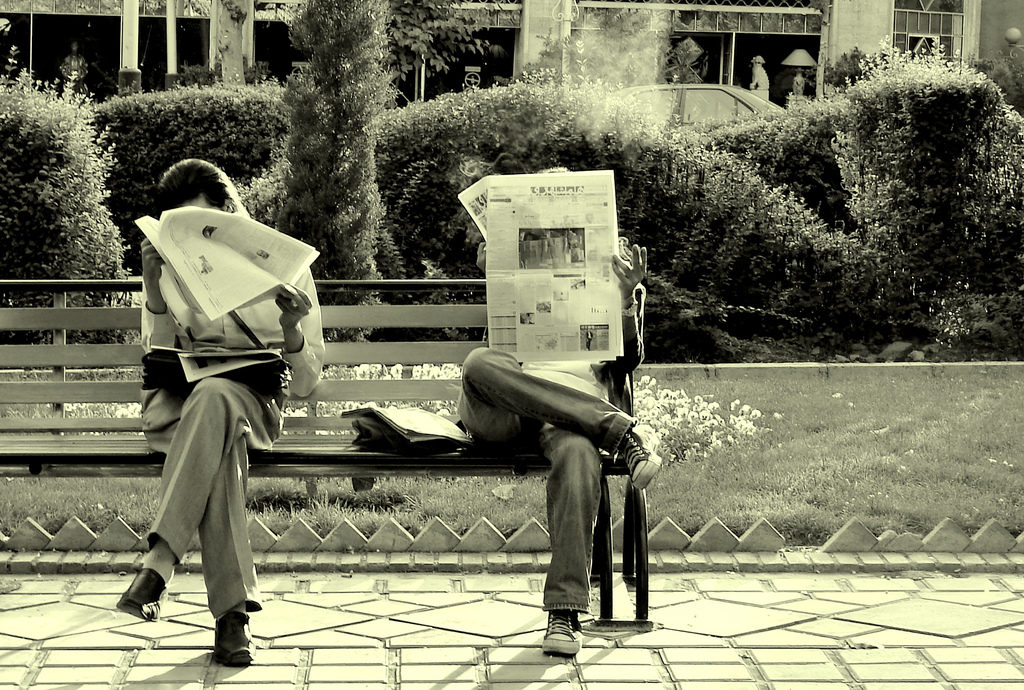 "Emphasis on interpersonal violence in news coverage of 'mental illness' is concerning given that most people with 'mental illnesses' are never violent, and only about 4 percent of interpersonal violence in the United States is attributable to 'mental illness,'" the researchers write.
"News coverage linking interpersonal violence to 'mental illness' has been shown to exacerbate already high levels of social stigma toward those with 'mental illnesses.' This emphasis on violence instead of other 'mental illness'–related topics might contribute to a societal focus on enacting public safety–oriented policies, such as mandatory treatment and firearm restrictions, at the expense of public health–oriented policies designed to foster recovery."
There has been an increase in awareness and discussion of mental health issues in the United States over the last few decades. Unfortunately, much of that debate has been generated following high-profile acts of violence and mass shootings. Other narratives are often similarly negative, with many stories talking about mental health in connection with rising suicide rates, PTSD in military personnel, and high levels of untreated mental health issues in the US prison system.
One way of taking a closer look at the trends in a national discussion is through an assessment of coverage in the major news media with the understanding that the news often functions to simultaneously reflect and shape the views of the public. One way the news media can actively shape public discourse in through what is referred to as "issue framing." Many media critics often focus on the ability of the news to cover some stories and ignore others (known as agenda-setting), but the way the media highlight certain aspects of an issue once it is covered can also affect public opinion and suggest particular types of policy solutions.
While previous research has documented a connection between news coverage of mental health issues, an interpersonal violence frame, and social stigma, including studies of the news in Canada, the UK, New Zealand, and Spain, no prior US studies have looked at news coverage of mental health issues over time. To fill in this gap in the research, the study authors examined a random sample of 400 US news stories about mental health in major print and television news sources from 1995-2014.
After coding all of the news stories, the researchers found that the most frequent depiction of a person with a mental health issue was of somebody committing a violent act. This depiction accounted for 28% of all depictions while only 7% of news stories included a person who had successful treatment or recovery.
Over the entire twenty-year period of the study, almost a quarter of all of the news stories studied mentioned a particular public policy issue. Of these, 19% included policies to support community services, 7% called for an expansion of inpatient treatment facilities, and 9% supported mandatory treatment policies. Stories that mentioned violent acts in connection with mental health issues were significantly more likely than others to include policy suggestions, potentially signaling that a majority of policy discussions of mental health occur within the context of fear and concerns about safety.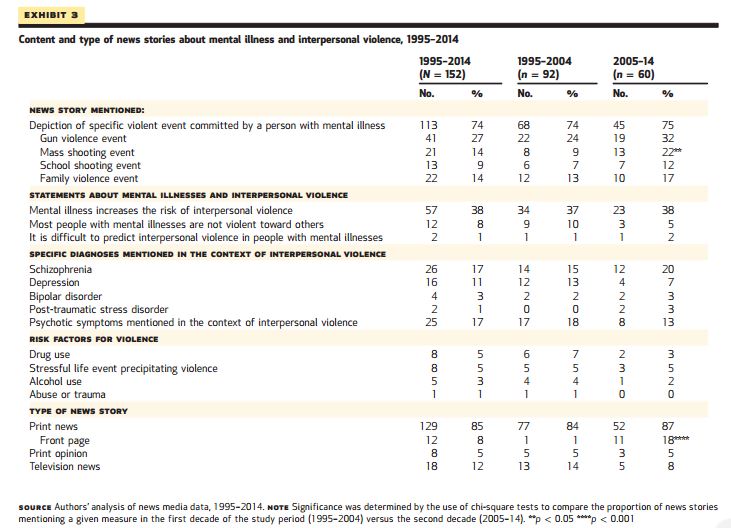 The researchers noticed an overall decline in the number of articles covering mental health issues over the period. They attributed this decline to the downsizing of newspapers that has disproportionately reduced the amount of science reporting. The way mental health problems are covered has not shown a significant change in twenty years, however. More than half of all news stories continue to mention some type of violence in connection with mental health issues.
"Overall, the most frequently mentioned topics pertained to interpersonal violence, suicide, and treatment of mental illness. Policies to improve or expand treatment were also the most frequently mentioned category of mental health policies, although such policies were mentioned in only 14 percent of stories. Criminal justice involvement was the most frequently mentioned consequence of mental illness, and when the news media portrayed a specific individual with mental illness, that individual was most frequently depicted as having committed an act of interpersonal violence."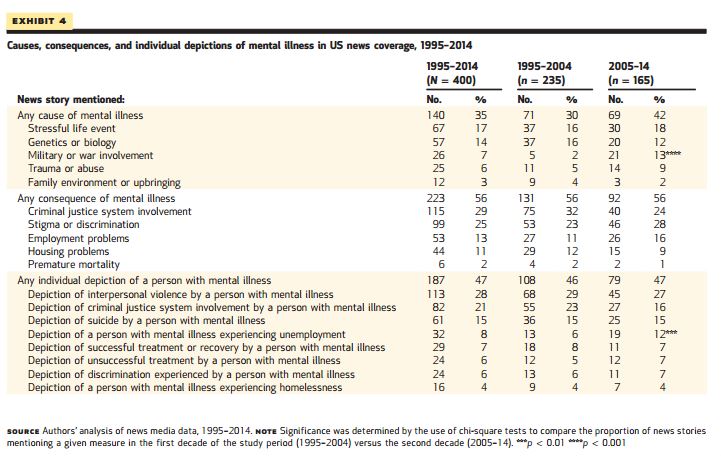 The emphasis on violence in news coverage is out of step with actual mental health research. Suicide appears to be much more directly related to mental health issues than violence, for example, yet news stories are much more likely to mention violence than suicide. The high percentage of coverage including violence is completely out of step with research on violence and mental health issues as well. The researchers suggest that this may result from policy makers arguing for mental helath policy changes after mass shootings "in an attempt to shift public attention and political momentum away from strengthening US gun laws," even if the research shows that mental health treatment "will not meaningfully address gun violence in America."
"Coverage has continued to emphasize interpersonal violence in a way that is highly disproportionate to actual rates of such violence among the US population with mental illness," the researchers conclude.
"Initiatives to educate reporters and the opinion leaders they use as sources regarding the relationship between mental illness and interpersonal violence are needed, as are efforts to increase news media depictions of successful treatment for and recovery from mental illness, which have the potential to reduce harmful social stigma toward this population."
****
McGinty, E.E., Kennedy-Hendricks, A., Choksy, S. and Barry, C.L., 2016. Trends In News Media Coverage Of Mental Illness In The United States: 1995–2014. Health Affairs, 35(6), pp.1121-1129. (Abstract)