Google is my friend when it comes to hearing voices and pretty much any other topic. As I've written more and more articles requiring some degree of research, I've relied on said friend with increasing frequency. Sometimes my purpose is to find (credible) references for specific information. Other times, however, it's simply to get a sense of the trends.
While I know that one's Google results can be affected by geography and a whole host of other factors, the insight offered by what rises up to the first page results (as well as the 'searches related to' section at the bottom) can be fascinating. And telling. In my recent NAMI article "Back to Basics: What's Wrong with NAMI," I noted that unless you already know what you're looking for and tailor your search terms in that direction, nothing critical or contrary pops up. Searching on 'hearing voices' is a different story.
When I search on +"hearing voices movement" via Google, I'm pleased to say that lots of good stuff surfaces on page one. Hearing Voices USA. The English Hearing Voices Network. Intervoice. A somewhat questionable but could-be-worse Wikipedia piece, written by someone(s) who clearly doesn't totally 'get it' but at least they're trying. (And the 'trying' is new, so I'll take it. For now.)
The results are mostly similar if I back my search down to the somewhat less leading +"hearing voices." But, either way, among all the good that surfaces, so does Susan Inman's "What you're not hearing about the Hearing Voices movement" in which she misrepresents our work and beliefs in her signature fear mongering, substance-lacking sort of way. When I repeat this search on Bing, same deal. There are also all the 'Schizophrenia treatment' links (particularly on Yahoo search for whatever that's worth). Yet, gone seem the days when anything but a strictly medical perspective is able to be found.
This is a victory. It's not the sort of crowd-controlling, 'no bad gets through' victory that NAMI has found, but it's big. Even bigger for the fact that this is not a movement that seeks to erase all criticisms, or promote a singular perspective. And perhaps this is what the Susan Inmans and Dj Jaffes of the world have such a hard time tolerating.
I've spent years thinking that maybe if I speak precisely enough, that people will hear me when I say I'm not so much wholly against all pieces of the medical model as I am a proponent of truly weighing all the options and evidence and personal knowledge of one's self.  I keep thinking that if I find just the right way to explain — just the right comparison or analogy — that people will understand what I mean when I say that I believe there are people who've benefited from some element of all perspectives, but that how we package and push and claim certainty when it's not ours to claim is the problem.
But here's what I've learned over time: The medical model relies on painting itself as the only perspective. Not just the only perspective worth considering, but (often) the only perspective, period. Thus, if one of the fundamental parts of the medical model is that it is the only model, I guess it follows that challenging that (even within the context of a perspective that says you still get to come to the party, you're just no longer the only party guest) is apparently about the same as saying it doesn't exist. Like, if magic doesn't exist, then maybe Santa Claus can't either? There's no apparent room for thinking that maybe Santa Claus could still exist… just in a very different way than we'd previously thought.
No, when a model skews so strongly toward all-or-nothing thinking (hey, isn't that a 'symptom' in some camps?), suggestion of nuance or difference is basically the same as complete denial. To the most devout among us, it can amount to blasphemy worthy of diagnosis all on its own.
Yet that's where the Hearing Voices Movement lives — in that not so black and white space. This is a movement that represents an alliance between individuals who hear voices, see visions, or have other unusual (or extraordinary) experiences, family, friends and providers. Its origins lead back to the collaborative efforts of a psychiatrist (Marius Romme), a professor (Sandra Escher), and a voice hearer (Patsy Hage). Some of its most fundamental beliefs include:
No assumption of illness (but no prohibition against an individual believing that for themselves)
Freedom to interpret one's own experiences in any way (including or excluding the medical model)
Acceptance that voices are real (but without defining in any unilateral sort of way what might be causing those very real experiences)
Acceptance that the goal doesn't have to be to get rid of the voices (but that it can be if an individual decides that's what's most desirable)
Understanding that voice hearing doesn't have to be a bad or negative experience (even if it is for certain people some or all of the time)
There's a basic acceptance that people hear voices for all sorts of different reasons, just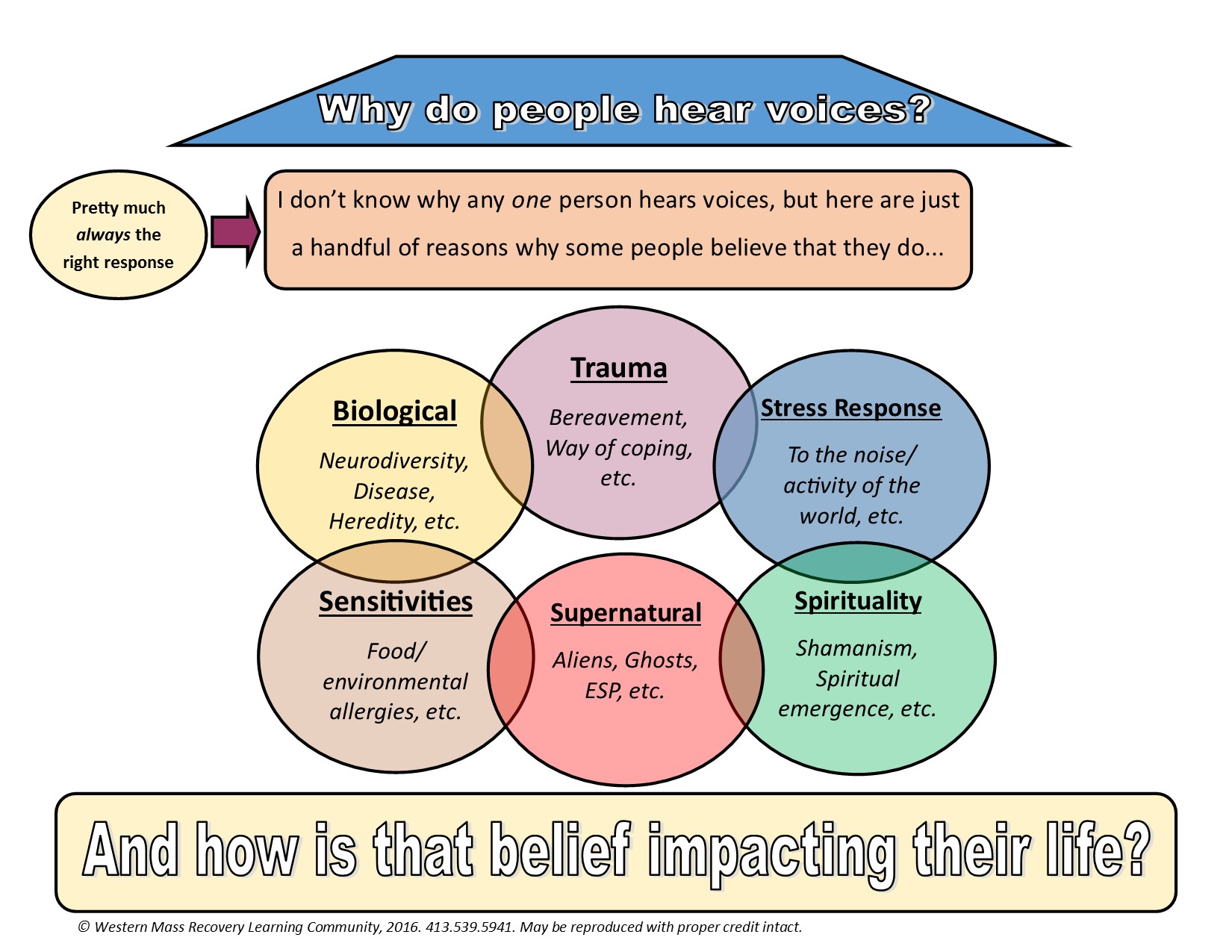 some of which are represented in this handout I made for a former blog, "Why do people hear voices?" This lack of decisiveness isn't tethered enough to a single spot to suit some medical model disciples. For them, the medical model is like a weighted blanket that makes them feel held, and they get lost in the inherent roominess of the Hearing Voices approach. So they start flinging accusations. But for many of us, it's precisely that space and flexibility that has led us back to having trust in ourselves and the belief that our lives can be something other than consumed by all this.
There are something like 100 Hearing Voices groups now peppered across the United States. This pales in comparison to England which has far more groups spread across a far smaller expanse of land. But we're headed in the right direction.
In the last year, hundreds of people have been newly exposed to the approach in states like California, Texas, Maine and Georgia. The Hearing Voices Research and Development Fund, administered through the Foundation for Excellence in Mental Health Care by Jacqui Dillon and Gail Hornstein (with training provided through the Western Mass Recovery Learning Community) has begun a collection of surveys that aim to demonstrate not just that Hearing Voices groups are useful, but how and why. (If you're someone who has attended groups, you can fill a survey out here now by clicking here!)
And most notably, the World Hearing Voices Congress, an international conference entering its 9th year, will be landing in Boston, Massachusetts in August as organized by Hearing Voices USA. It will be the Congress's first time on USA soil, having been held in France, Spain, Australia, Wales, and other European locales prior to that.
The Congress will be a two-day event (August 17 and 18) featuring six keynotes: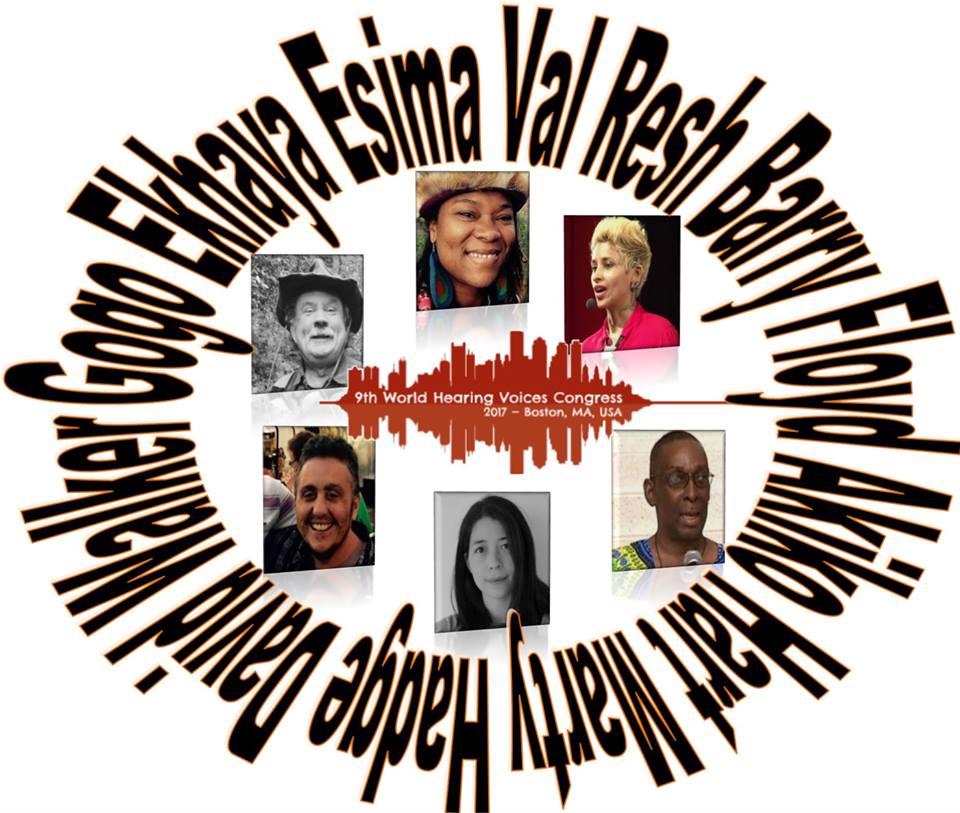 Gogo Ekhaya Esima (California, USA) also recently featured in the documentary Crazywise
Barry Floyd (New York City, USA)
Akiko Hart (England)
Val Resh (India) also recently featured in the documentary A Drop of Sunshine
Marty Hadge (Massachusetts, USA)
David Walker (Washington, USA)
Click here for more details on each keynote!
In the aforementioned spirit of collaboration, opening remarks will be offered by psychiatrist and long-time Intervoice Board member, Dirk Corstens. More than 40 workshops presented by individuals from over seven different countries will cover topics like:
Hearing voices and young people
Hearing voices groups in forensic settings
Writing, music, and other creative pursuits
Family journeys toward healing and wholeness
Hearing voices research
Gender and sexuality
People of color in the hearing voices movement
Open Dialogue
Withdrawing from psychiatric drugs
And more!
The Congress will also feature two US premieres:
Intervoice Day will directly precede the Congress on August 16, and is a free event facilitated by Intervoice that includes updates on the progress of Hearing Voices Networks across the world. (For more on the difference between Intervoice day and the rest of the Congress, click here.)
The Hearing Voices movement is up against a lot in this culture where there's so little tolerance for uncertainty and exploration. This movement, this event, and so many people's lives depend on all of us to carry this perspective forward.
I hope you'll consider joining us in August as a part of that effort.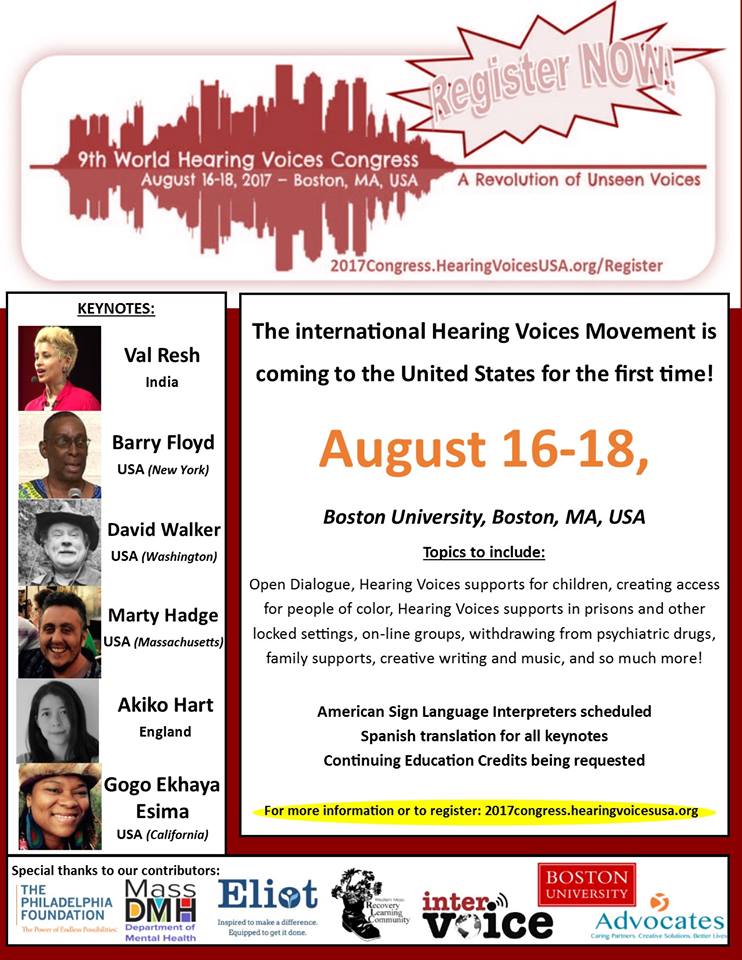 Click here to register, or here for a flyer to share!
***
Mad in America hosts blogs by a diverse group of writers. These posts are designed to serve as a public forum for a discussion—broadly speaking—of psychiatry and its treatments. The opinions expressed are the writers' own.
***
Mad in America has made some changes to the commenting process. You no longer need to login or create an account on our site to comment. The only information needed is your name, email and comment text. Comments made with an account prior to this change will remain visible on the site.