When I first started writing for Mad in America, I initiated a series called "False Arguments," that I said would be a 'three-part story.' I wrote the first two parts almost right away.
The original 'False Arguments: A 3 Part Story' was authored in January of 2013 and spoke to the strange and misguided ways in which we approach language and labels for people seen as being 'in' the mental health system. I followed that up in April of the same year with, 'False Arguments, Part 2: Anti Anti-Stigma.' Then I got stuck. There was so much to write about, and none of it quite fit in with the 'false arguments' premise… So, I let it go. I figured the 'right fit' would eventually come to me. And so it has.
To re-cap from that original blog, here's what I meant by 'false arguments':
In my experience, the world of 'mental health' is absolutely overloaded with what I like to call 'false arguments.'  Literally every day, people are engaged in debates without ever questioning the premises upon which those debates are founded.  It's akin to my husband approaching me and inquiring, "Hey, should we fill our one-year-old daughter's sippy cup with Pepsi or Coca Cola today?" followed by us arguing out the various virtues of the dueling soft drinks without ever bothering to wonder why on earth we'd even offer soda to our sweetly innocent and unsuspecting toddler in the first place.  In other words, sometimes the biggest problems can be found not in the best arguments of opposing sides, but in the assumptions of the questions themselves.
What would happen if we simply started asking 'Why?' more often?  WHY do we believe what we believe?  WHAT would happen if we dug beneath the most typical arguments and looked for a different starting point?   HOW did we get to this point, and is it the right one?  And of course, WHO was it that led us here and how precisely did they come by that power?
And so that brings me to False Arguments, Part 3: Why do people hear voices? (And why do we need to know?)
I am a part of an organization (the Western Massachusetts Recovery Learning Community) that offers an increasing amount of Hearing Voices training throughout the United States. These trainings are  based on the philosophy and approach of the Hearing Voices Movement and perhaps best outlined here on the Intervoice (international Hearing Voices) website. Inevitably, during the course of such trainings, the conversation eventually finds its way to 'but why do people hear voices?' That question tends to rise up with the greatest urgency after we've offered challenges to medicalized perspectives. (As in, "Wait, you just rocked my world. Everyone I know has always said this is all an illness, and they've said so with such certainty. So, If not disease, then what?!")
Most often, this question does not come from people who hear voices themselves. It comes from people in provider roles, and – with the greatest frequency – from parents. As a parent myself, I understand the desperation to make things 'okay' for one's child (especially when they're very much not). I can empathize (pretty deeply) with the sense of fight and search for answers that can grip a parent in the most difficult moments. I get it.
That need to know comes from a genuine place. It comes from the (sometimes desperate) belief that 'knowing' is the gateway to 'helping', and the need to believe that there is (has to be!) an answer. In some instances (particularly when trauma perspectives are being discussed), it may even come from a desire to be absolved of blame one's self, which is also real and understandable. But, what if it's the wrong question entirely? What if focusing in on 'why' (at least in the most objective sense) actually pulls us further and further away from the 'helping' that we most aimed to seek?
In truth, the Hearing Voices trainers with whom I work do talk a great deal about 'why.' They share their own stories and how they've come to make meaning, and they also offer examples of ways others have made sense of their experiences. They acknowledge (though de-emphasize) conventional medical perspectives, as well as a trauma framework, but they don't stop there. They also discuss spirituality and a number of other nuanced ways that someone may come to explain such phenomenon.
However, they do all this from the angle of supporting someone to find their own meaning, which bears little to no resemblance to traditional manners of searching for globalized truth. In fact, really the only answer to 'Why do I hear voices,' – at least from a point-of-view that's rooted in the Hearing Voices movement – should be 'I don't know'. And, not in a dismissive manner… but in a collaborative one. As in: "I don't know, but here's how some people make sense of it…" or, "I don't know, but what thoughts do you have about it?"
Admittedly, not knowing is scary, and many people won't like that answer. Being told 'the truth' by someone who pretends to know it, can undoubtedly provide some degree of relief (even if only temporary). But, to offer any one answer as if it is 'the' answer inevitably limits someone's options, and may steer them away from what will ultimately work for them. (It may even steer them toward something that will cause great harm.) Most importantly, it simply isn't honest.
In trying to strike a balance and offer some examples of ways people do make meaning, our trainers (and anyone else who should engage in such a dialogue) also tend to come up against another barrier: People hear alternative frameworks as 'symptoms' or insubstantial side notes, and thus sometimes feel they haven't been offered any alternative frameworks at all. More often than not, no matter what we say, people seem to translate our words into something along the lines of:
"It's a disease or it's…. something else… but we're not telling you what because we don't know and all we're really trying to say is it's probably not a straight-up disease. You figure it out from there. See ya!"
OR:
"It's a disease or it's trauma. It has to be one or the other, and since no one has identified any real associated disease, then it's probably trauma. What, you say you haven't experienced any trauma? Had a pretty happy, healthy childhood? Oops, sorry! Better start digging 'till you remember some forgotten traumatic memory or something!"
OR (my personal favorite):
"Hey, we don't know what's going on, but not because there isn't an answer. It's just that we don't know it because we're not 'professionals.' So, please, next time you do a training, be sure to bring in a psychiatrist, ask them all the wrong questions, and go back to being comforted by what you already 'knew': It's all a disease."
The reality is that those who claim 'proof' and specific, concrete 'knowledge' will generally be listened to over anyone claiming that the best (and truest) answer is no clear answer at all. (This is especially true in cultures where a comparatively small handful of years of academic study are valued far more than decades of personal experience.) And, so we do seek to strike a balance; We aim to offer concrete examples, while still emphasizing the importance of a stance that ultimately says, "I don't know the truth for you." And when someone does share the truth they've come to for themselves (as Jacqui Dillon stated in 'Beyond the Medical Model'), we emphasize the importance of exploring what actual impact that truth has on that person's life rather than evaluating the truth they've come to as it relates to our own belief systems.
To that end, we've created a handout to help concretize the tricky balance of all those ideas, and have shared it at the end of this blog for your perusal.
And for anyone contemplating Hearing Voices training, a few additional notes:
If you want to start a Hearing Voices group or have a Hearing Voices event of some sort, and aren't sure if you have or want to invest the budget needed to bring someone in from the outside to help you out along the way, Hearing Voices USA offers a great tool to help you evaluate how much outside support is needed. You can find that HERE. (The Hearing Voices Movement certainly isn't set-up like, for example, Welness Recovery Action Planning and so no certification is required for someone to be 'allowed to' facilitate a group or offer a workshop, but the risk of getting it wrong or failing to hold to the integrity of the approach without that sort of support is pretty high, unless you're fairly well prepared.)
And if you do want to bring someone in, visit our Hearing Voices page for information. We are also working with the Hearing Voices Research & Development Fund (through the Foundation for Excellence as administered by Jacqui Dillon and Gail Hornstein) to provide free trainings, and you can learn more about that HERE. You can also contact us directly at:
General inquiries: [email protected]
Caroline White, Lead Trainer & Training Coordinator: [email protected]
Lisa Forestell, Lead Trainer: [email protected]
Marty Hadge, Lead Trainer: [email protected]
Caroline also facilitates a nationally accessible monthly phone-in support group for existing and/or aspiring facilitators. (If you want to learn more about that call or join in, e-mail Caroline for details.)
Also of note: Although the Hearing Voices Movement offers support and resources under an expansive umbrella to anyone who hears voices, sees visions, or has had a variety of other unusual experiences, we are intentional about ensuring that all of our lead trainers have their own substantial hearing voices experiences that they've successfully integrated into full lives. For any 'Hearing Voices group' facilitator trainings, we are also intentional about assigning only those lead trainers who have extensive Hearing Voices facilitation experience, as well.
This is all done to ensure the highest quality trainings. However, and perhaps more importantly, it is done in recognition of the principles of social justice, including acknowledgement that this movement should be led by people whose voices have historically been silenced, and the importance of people who hear voices getting to speak for themselves.
—————–Hand Out – Page 1 ——————–
FOR A PDF COPY OF THIS HANDOUT CLICK HERE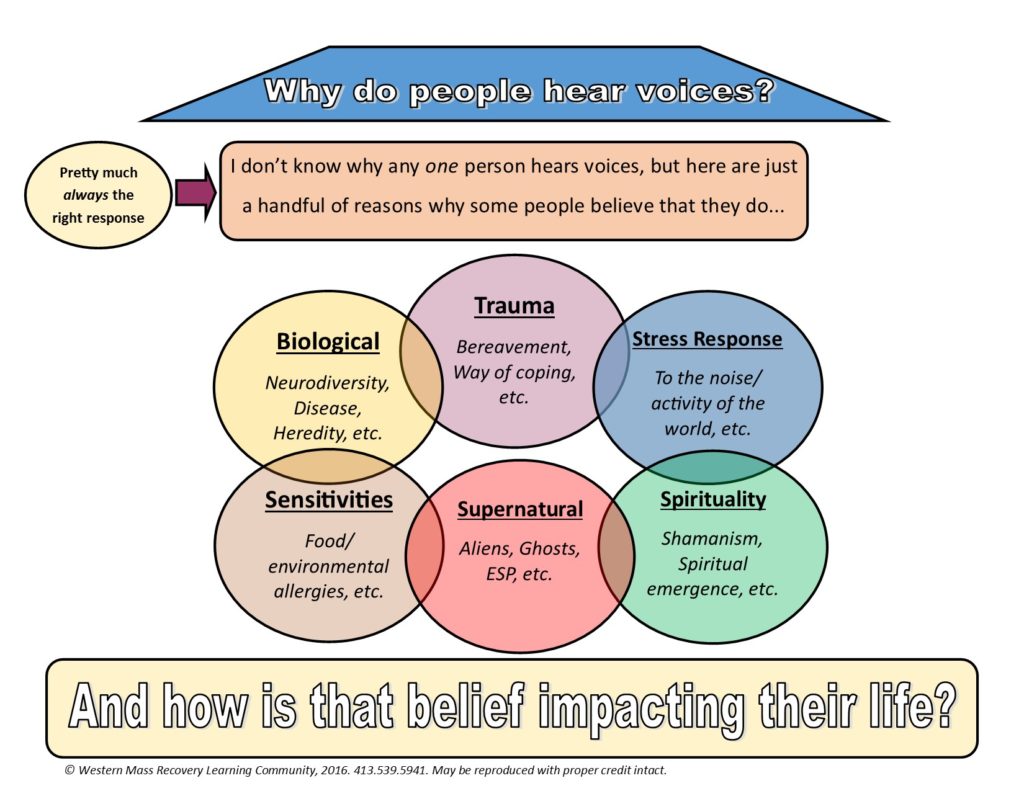 —————–Hand Out – Pages 2 & 3 ——————–
Anyone is capable of hearing voices given the right set of circumstances (fever, isolation, lack of sleep, etc.). But the 'why' often isn't so clear, and  the Hearing Voices approach suggests that the right answer to this question is always going to be 'I don't know.' This is because:
There is no real way (no definitive test, etc.) of knowing the root cause for any one person
Although there is typically a most commonly believed/accepted reason, what that reason is can shift over time or between cultures. This goes further to suggest that reasons are based more on belief systems than on any one 'right' answer.
Input from hundreds of thousands of voice hearers across the world suggests the importance of supporting people to make meaning of their own experience far over and beyond having an external meaning pushed on them.
Just a handful of perspectives that people may use when making meaning of voices include:
Biological: The most commonly accepted explanation for voice hearing in most Westernized cultures is medical or biologic in nature. However, even a biological perspective does not necessarily mean 'disease' (though that is the most common interpretation). Biological explanations can also include heredity that isn't disease-based (i.e., saying that there is a hereditary link between family members who hear voices is not the same as saying there is a hereditary link of illness, as voice hearing doesn't need to be regarded as sickness or 'bad'). It can also include physical injury, or 'neurodiversity' which simply speaks to brains that are differently wired without the assumption that one is inherently better than the other. (Perhaps there could even be an evolutionary quality to voice hearing where it has been deemed a positive or negative trait based on environment.) Unfortunately, the only biological perspective that is widely discussed and promoted is one based in a disease model, and it's important to remember that—in spite of being the most popular explanation– no biological link has been objectively or scientifically proven (i.e., no definitive genetic link or disease process has been identified).
Sensitivities: In some instances, this may be a nuance of a 'biological' perspective in that its possible that some people's biological make-up may lead them to be more sensitive to certain elements. Others may develop these sensitivities based on environment. Regardless, for some,    sensitivities to things like lack of sleep, food or chemicals (etc.) in the environment, or to drugs (both prescribed and otherwise) may lead to the experience of voice hearing.
Trauma: Trauma is generally defined by the individual (no one else can really say what trauma is or is not for someone else) and can be understood to be anything that leads that person to believe that the world is an unsafe place that is unable to meet their most basic needs (at least without substantial adaptation on their part). It may be the result of one big event or a series of smaller events or conditions (like racism or poverty) that have cumulative impact . One of the most common alternative explanations to a biological perspective is one based in trauma. In fact, research based on the Adverse Childhood Experiences (ACE) study suggests that people with an ACE score of 7 or higher have a 700% greater chance of hearing voices.  Many who experience voice hearing as a result of trauma also interpret the voice hearing experience as a way of coping or as an adaptation that helps them survive in the world in some way. For example, some may come to learn that even a scary voice is simply meant as a warning about an environment that may be dangerous for them (or at least is believed to be dangerous based on past trauma experiences).
Stress Response: Closely related to a trauma perspective is a 'stress response' perspective. Similarly, a 'stress response' may come about when someone finds the world or an event overwhelming, even if they wouldn't define it as 'trauma' per se. For example, some people find living in the chaotic environment of a big city (with all its noise, movement, and rush) to be overwhelming at a sensory level. If they're not able to move and live in an environment that allows them to feel more at ease, they may develop voices (or any other number of stress responses) as a result. Again, for some, they may see this as a way of coping (at least initially), rather than necessarily as 'maladaptive'.
Spirituality: The founders of the Hearing Voices movement developed some of their earliest understanding of this concept when comparing religious and medical interpretations of voice hearing. Specifically, Patsy Hage (a voice hearer and founder of the HV perspective)  asked Marius Romme (her doctor and one of two co-founders) why his religion's acceptance that some may hear the voice of their god was any more valid than the voices she herself heard.. This led Marius to re-consider his assumptions about Patsy's experience (and the experience of voice hearers in      general). In fact, many religions and spiritual frameworks include histories of people hearing voices of ancestors, deities, and so on. Within that   context, many see this experience as a gift, or process of emergence or the finding of one's true self that can be a meaningful process if someone is supported to integrate that experience into this world in a way that allows them to continue to walk through it. There is also a perspective called 'spiritual emergency' that is gaining traction in the world, and speaks to the challenges sometimes faced when one is going through that process.
Supernatural: This perspective is sometimes closely related to a spiritual perspective, as (for some) supernatural experiences may be connected to their spiritual beliefs. Regardless, this perspective may include when someone hears the voice of deceased relatives or friends, or any number of other experiences including, for example, when someone believes their voices are the result of an alien transmission or the voice of some other  supernatural being. This perspective is the one most likely to be disregarded as a 'symptom' of illness rather than a legitimate way to understand the voice hearing experience. However, for many people, this is a powerful way of making meaning that has positive impact on their life. For those of us who have difficulty accepting frameworks that seem to 'weird' or difficult to understand based on our own beliefs, it may be most important to keep reminding ourselves that it is, in fact, the impact someone's beliefs has on their lives that is most important.
And how is that belief impacting that person's life?  Coming to an understanding (whether based on conventional wisdom or something that seems very foreign from it) can be an important and healing process, and will often require supporters to let go of their own pre-conceived notions. Questions that may be useful in this process include: Is the person invested in this way of thinking? Did they come to this conclusion or has it been pushed on them? Does this belief have any negative consequences, and if so, what does that look like? What about positive impacts? Does the    person want to explore other ways of making meaning of their voices or other unusual experiences? It's also important to note that how someone explains their voices is very different than what they do or don't wish to do about them.
FOR A PDF COPY OF THIS HANDOUT CLICK HERE
***
Mad in America hosts blogs by a diverse group of writers. These posts are designed to serve as a public forum for a discussion—broadly speaking—of psychiatry and its treatments. The opinions expressed are the writers' own.
***
Mad in America has made some changes to the commenting process. You no longer need to login or create an account on our site to comment. The only information needed is your name, email and comment text. Comments made with an account prior to this change will remain visible on the site.