Dedicated to 'Mental Health Awareness' Month and all those things of which we truly need to be 'aware'…
Recently I wrote an article about Autism Speaks ('Smash the Blue Lights: Autism Speaks is a Danger to Self and Others') that referenced the National Alliance on Mental Illness (NAMI). In doing so, I presumed a fair amount of knowledge on the part of most readers regarding the many problems with said organization. However, what I very quickly came to realize is that the knowledge that I've come to know so well isn't as shared as I'd thought. In fact, more than one commenter reflected on what is (and isn't) understood about everyone's favorite 'mental illness' advocacy organization.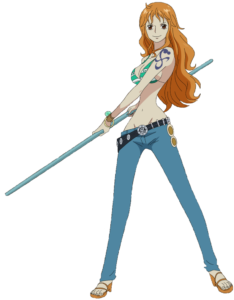 One person said, "I was not aware of the 'dangers of NAMI'. I'll have to read about that … The idea that NAMI is harmful is a new one to me." I appreciated this person's openness to learning, but then another commenter pointed out that it's pretty tough to even find critical information about this particular giant. As that commenter noted, doing a Google search on Autism Speaks automatically pops up the alternate search phrase of 'autism speaks criticism'. On the other hand, the only alternate results that pop up on the first page of a NAMI search (that aren't something generally positive about NAMI) are focused on some animated character with the unfortunate name of 'Nami' from a game called 'League of Legends'. (As it turns out, this Nami character reportedly loves money even more than she seems to enjoy low-rise pants. Coincidence?)
It seems one mostly needs to already know what they're looking for in order to find what I think of as some of the most established criticisms of this particular organization. And even with knowledge and intent, it can require some fairly persistent and advanced Googling efforts to unearth all there is to be found.
That is a problem, and all that follows is my best effort toward being a part of the solution.
NAMI & Pharma Sitting in a Tree
In case you haven't heard, NAMI takes pharmaceutical money. A lot of it. And there's a ton on the Internet about it (if you know where to look).
In 2009, the New York Times published an article called 'Drug Makers Are Advocacy Group's Biggest Donors'.  Earlier that same year, Senator Charles E. Grassley sent inquiries out to a number of so-called 'disease and advocacy' organizations — NAMI just one among them — requesting the disclosure of any ties to drug and device makers. Previously (and subsequently), NAMI had done its best to keep such fundraising details relatively private, but they did respond to this ask.
In fact, Grassley's inquiry (and the resultant New York Times exposé) led us to learn that NAMI received about three quarters of their donated dollars from the pharmaceutical industry. Three quarters. (That's about 23 million between 2006 and 2008.) Now, it's worth noting that this wasn't the first time this sort of information had been released. In fact, ten years prior, Mother Jones had obtained similar details and included them in an article titled 'An influential mental health nonprofit finds its 'grassroots' watered by pharmaceutical millions.' But apparently Mother Jones wasn't mainstream enough — nor the 11.72 million from 18 drugs firms between 1996 and mid-1999 quite shocking enough — to elicit the sort of move to action that the Times piece did.
Since 2009, NAMI has claimed transparency by sharing the name of donors who contribute more than $5000 on their website, perhaps hoping the public would be thankful for at least that much and just move on. (Never mind that the manner in which they do this is largely inscrutable.) Peter Earley (among others) was also quick to jump to NAMI's defense, publishing an article titled 'NAMI and Drug Makers' $$$' in 2010. He claimed that the organization was surely not in any pharmaceutical pocket, and wrote about NAMI's new 'strict policy' related to receiving drug company money. He even included a link to the policy, and to a detailed report on what NAMI had received in the last quarter and how it had spent those funds. Unfortunately, all those links are dead at this point, and if such policies and reports still exist, they're certainly not easy to locate.
What you can still find (and quite readily, I might add) are annual reports. Take the 2015 NAMI annual report for example. It's been six years since Michael Fitzpatrick, NAMI's Executive Director at the time, was quoted in the above-named New York Times article as saying, "Everyone I talk to wants to have more balanced fund-raising," and all we have to judge their progress by are six pages of mostly tiny-font scrawls detailing their 'major donors'. While they claim openness and honesty, we're left with data that requires quite a bit of insider knowledge and/or patience to fully analyze.
Sure, when browsing their corporate sponsors list, most will recognize names like 'Eli Lilly' or 'Pfizer' as large scale pharmaceutical companies.  But what about Teva (known better to most as a popular shoe brand), Lundbeck, Corcept Therapeutics and Actelion? Yes, those are pharmaceuticals, too. All told, of the 35 'Corporate Sponsors' listed, 22 are pharmaceutical companies. Among the remaining contributors on the list are seven behavioral health and hospital management companies, one group specializing in genetic testing to match up individuals with the 'best' drug match (shiver), two schools (one of them expressly for psychiatrists and pharmacists), a billing company (dedicated to psychiatrists, psychologists and the like), and one beauty products corporation. Between the pharmaceutical lot, they are responsible for Klonopin, Adderal, Prozac, Zyprexa, Abilify, Effexor, and Thorazine (to name just a few). One of them (Allegran) is responsible for recent efforts to market Botox (yes, that Botox) for depression.
And all we know is that they donated some amount more than $5000. That could mean $5001, or it could (to take just one example) mean the equivalent of the 1.1 million that Eli Lilly gave to NAMI in 1999 alone.
Then we get to the individual donor names. How is one to analyze that? Who, for example, is to know (without some intentional digging) that the second donor listed — Robert Abel — appears to have direct ties to Pfizer? I suspect if one had the time to do the research, they'd find much the same among at least a handful of other donors and their spouses. Meanwhile, scroll down to the 'Workplace and Matching Gifts' section, and even more pharmaceutical names surface.
The Romance Continues
But if you thought that was all there was to uncover in this particular love story, you'd be missing some of the very best parts. It would be like watching the Princess Bride, but stopping before Wesley reunites with Princess Buttercup after yelling that identity-revealing "as you wish" whilst he rolls down a hill. Or missing out on the "I'm flying!" scene during which Leonardo Dicaprio embraces Kate Winslet as she stands at the helm of the Titanic. (This, of course, before the ship starts to sink.)
So, in case you didn't know, there are many other ways for money to exchange hands beyond direct donations. And they don't require such pesky things as public listings of who's contributed what to whom. For example, a while back, another former NAMI president, James McNulty, reportedly received thousands from Pfizer and other drug makers for his participation in various events. Consider this excerpt of allegations found in a whistleblower lawsuit (per former Pfizer drug rep, Mark Westlock) as reported by CBS News in 2009:
During the time he was president of NAMI, James McNulty received thousands of dollars for regularly speaking on behalf of Pfizer and other drug makers at various company sponsored events. In an arrangement ethicists say is highly irregular, McNulty would process the "grants" through NAMI Rhode Island. In order to reduce paperwork, according to McNulty, the drug maker would then give NAMI Rhode Island a check and NAMI Rhode Island would in turn give McNulty a check. At no time did McNulty disclose to the audiences at his various speaking engagements, or to NAMI's membership, that he was being paid to speak by drug makers.
But these are merely allegations, right?  Well, in case you're interested, this turned out to be a part of the largest criminal and civil health care fraud action ever brought by the United States Department of Justice, and resulted in a $2.3 Billion dollar settlement, with $102 million divided between the various informants involved (Westlock just one among them).
But that's not all. Remember that Mother Jones article I mentioned earlier? Well, there was more than just donation data mentioned in that one, too. In fact, one of the ways of 'giving' that the article uncovered was by loan of employee. For example, at least for a period in the 90's, Jerry Radke, an executive employed by Eli Lilly, was 'loaned' to NAMI. In other words, he was on Eli Lilly's payroll, but actually reported to and worked at NAMI headquarters, engaging primarily in 'strategic planning'. I can't help but wonder what that looked like.
Oh, and don't forget, if you look at NAMI's annual reports not only are these sorts of 'arrangements' left out, but you're also only seeing donations that go to NAMI National. And, of course, NAMI's full model includes state chapters and affiliates. Hundreds of them. In 2010, Senator Grassley followed up his 2009 inquiry by also asking state-based NAMIs to report on their donations. Turns out they receive pharmaceutical dollars, too. According to research found on Mindfreedom, Inc., California came in first that year with $632,000 in donations recorded.
A Pharmaceutical Nail For Your Drug-Filled Coffin?
Still have your doubts about whether or not pharmaceutical interests are driving NAMI? Well, don't lean solely on me to draw your conclusions. If you're concerned that I (or my various sources) are somehow skewed, then why not go right to the pharmaceutical industry itself?
I love to quote what I'm about to quote, so if you've read some of my earlier articles, you've perhaps seen it referenced before. (In fact, it first appeared in my blog, 'Dear NAMI: My Apologies. I've Been Unfair', where I examined pharmaceutical linkages with Mental Health America and other advocacy organizations, too.) It's my favorite ever Google find.
The article is 'Public Relations: Why Advocacy Beats DTC' by Pharmaceutical Executive Josh Weinstein. It was published in 2004 on Pharmexec.com, an industry website. The article centers on the idea that 'Direct to Consumer' advertising sure is a pain because of such pesky things as the requirement to disclose potential negative effects, but that working with advocacy organizations is "one of the most accomplished means of raising disease awareness and enhancing the industry's image as a deliverer of new and tangible value to patients."
More from Weinstein:
"I have witnessed that the most direct and efficient tool for driving long-term support for brands has been, and continues to be, a well-designed, advocacy-based public education program."
Great. And in case you didn't make the connection on your own, when pharma execs refer to 'advocacy organizations' they are referring to NAMI. (Well, and Mental Health America… And the American Association of Suicidology… And Children and Adults with Attention-Deficit/Hyperactivity Disorder… And… Well, I digress.)
Sheila Rothman, Victoria Raveis, Anne Friedman, and David Rothman also conducted a study of disclosure practices between pharmaceuticals and what they referred to as 'health advocacy organizations' (HAO) in Government, Politics, and Law (April 2011, Volume 101, Number 4). Of note in their review, they reported:
Lilly's grants went primarily to HAOs working in its areas of therapeutic interest and in areas related to its best-selling products. Lilly has acknowledged this type of correlation between its business interests and its grant giving. Its ''Principles for Interacting with Health Care Professional Associations'' state that grantees should be committed to ''market oriented solutions to important health care issues'' and that Lilly expects to ''build long term relationships…based on mutual support.''
This same article cited disappointing realities about the circulating claims of transparency for NAMI and pharmaceutical companies alike:
Only 25% of the HAOs that received Lilly grants acknowledged Lilly's contributions on their Web sites. Only 10% acknowledged Lilly as the sponsor of a grant event. None disclosed the amount of a Lilly grant. Thus, in most cases, neither policymakers nor the public can readily learn about the financial relationship between an HAO and Lilly.
This lack of transparency is disappointing because, either by design or through a convergence of interests, the HAOs in the current study pursued activities that promoted the sale of Lilly products. In the area of neurosciences, Lilly gave NAMI $450000 for its Campaign for the Mind of America. NAMI has advocated that cost should not be a consideration when prescribing for patients. ''For the most severely disabled,'' insisted NAMI, ''effective treatment often means access to the newest medications such as atypical antipsychotic and anti-depressive agents…. Doctors must be allowed to utilize the latest breakthrough in medical science…without bureaucratic restrictions to the access for life-saving medications.'' To the degree that NAMI's campaign succeeded, the market for Lilly's neuroscience drugs expanded.
STILL not convinced? Think Mad in America and all of its authors are somehow too 'anti-psychiatry' (or something) to be trusted? Well, erroneous assumptions aside, perhaps you might be more comfortable considering the words of someone who is decidedly pro-psychiatry in its current form, Mr. DJ Jaffe. Jaffe speaks directly to his own concerns regarding pharmaceutical influence over NAMI in his article, 'Does the National Alliance on Mental Illness represent seriously mentally ill?'  Therein, he cites several examples of influence. Here are just a couple:
When Sandoz (ADR) marketed Clozaril, the first atypical antipsychotic, they tied buying the medicine to buying blood monitoring services from their subsidiary Caremark. This greatly inflated the price and made it harder to get. Everyone—but NAMI—was outraged. Medicare and states were refusing to pay for it. Hospitals wouldn't administer it. Attorney Generals were suing. The Wall St. Journal and NY Times reported on the problem. Yet NAMIs position throughout was "we need more information". Sandoz was a major NAMI funder.
When Eli Lilly the makers of the atypical antipsychotic Olanzapine came out with a 'scholarship program' (educational grant scholarships conditional on taking the drug), the NAMI membership was instantly revolted by what was in essence a bribe to take it (why not lower the price, rather than inflate it to pay for the bribe?). In addition, what would happen if you went off the med? Lose the scholarship? Dr. E. Fuller Torrey brought the concerns to the media's attention in the New York Times, in the same article, NAMI issued supporting communications. Eli Lilly was a NAMI contributer.
Thanks, Jaffe! You gotta know we've fallen pretty far when Torrey and Jaffe seem worth recognizing in a debate about the merits of NAMI.
Not All About the Bank
Everything to this point has been about money, but really, it's about so much more than that. If it were all as simple as 'the bigger NAMI gets, the more effectively they can promote psychiatric drugs, thus the more the pharmaceuticals give them, thus the bigger they get', then the point of interruption might be a bit clearer. But, really, in such a case as this, all that cash means something far greater: power and voice. It means they get seen.
NAMI has the money to make commercials, host high profile events, and launch national campaigns. They have the time and energy to lobby for legislation and lure in corporate partners to sign misguided pledges… because, you know, everyone's doing it, and you'll look like you don't care about the issues if you don't! When the media (or the White House) is looking for an 'expert' on 'mental health', NAMI springs to mind because… well, brand recognition. Money begets voice, and voice begets money. That's just the way the story goes.
All the while, we — who are influenced by real life experiences and the desire to improve lives (rather than fatten pockets) — are stuck standing in the shadows. This is NAMI's legacy. Started by parents huddled around a table in 1979, they've made their business on talking about us without us while advocating to put our lives on (a sometimes eternal) pause.
Dear Everyone, We'd be Heard Even Better If You'd Kindly Just Shut Up. Love, NAMI
NAMI calls for our silence in multiple ways. One is through the use of force. Some argue that 'certain NAMI chapters are better than others', and that's undoubtedly true, but here's some of what NAMI's current CEO (Mary Giliberti) had to say in an article ('NAMI CEO Answers Critics; Defends Actions & Outlines Top Priorities and Achievements') by Pete Earley published in January of this year:
We share your gratitude about the enactment of HR 2646, the Helping Families in Mental Health Crisis Act. … NAMI worked hard and generated hundreds of thousands of petitions, emails, tweets, calls, and letters to members of Congress to make sure the voices of the mental health community were heard.
We were told personally by Hill staffers that the overwhelming numbers of communications from the grassroots had a significant impact on keeping the bill alive and moving it through the lengthy process. Additionally, our staff spent many hours behind the scenes communicating with our state and local affiliates and members, many of whom were receiving misleading information from opponents of the bill.
For anyone not in the know, HR 2646 is more popularly known 'round these parts as the Murphy Bill. It promotes force, violations of privacy, and the virtual elimination of funding for anything not medically driven. Our movement has spent years fighting vehemently against it. We lost that battle just recently when it was snuck underhandedly into the '21st Century Cures' act and passed practically overnight. And NAMI was a huge part of that, using all their muscle to push us aside, and portraying us as little more than purveyors of 'misleading information'. Pesky little flies to be ignored or swatted away, no matter how much we stood to lose.
When I read documents such as this — or recall how NAMI (both local chapters and national) have lauded Representative Tim Murphy for his relentless efforts to push such harmful legislation — I'm reminded that nothing has truly changed with them. And why would it?
We have to remember this: NAMI is a lobbying organization. As detailed in an article, 'Pharmaceutical Industry Agenda Setting in Mental Health Policies' by R. Gosden and Sharon Beder, NAMI (alongside many of their pharma friends) has appeared on the client list of one of the world's largest public relations companies (Nelson Communications Worldwide). And frankly, at this point, they've fashioned themselves into their own PR experts.
We see this play out in their pharmaceutical ties, and we see this in Giliberti's words. They are deeply invested in their identity as the "nation's leading voice on mental health" (as it reads on the 'about us' page of their website). And, as any public relations specialist will tell you, lobbying organizations of this nature do best when their message is crisp and clear.
In other words, NAMI has a lot to lose by muddying their message with other voices or broadened perspectives. It's not just their investment in the medical model, or the normal human resistance to 'change' that's at stake here. It's the fact that their singularity in purpose is precisely what has gotten them so far. Making space for us in a genuine way doesn't necessarily mean just having to learn to share the table, but that the table may crumble and fall if they pull up too many more seats.
So, Don't Talk to Me about the Merits of NAMI
Don't talk to me about the merits of NAMI until they stop telling me my 'mental illness' is just like diabetes, while promoting psychiatric drugs that cause just that (or until they stop blindly calling us 'anti-science' while refusing to look at the facts themselves).
Don't tell me about the NAMI affiliates that are the 'exception to the rule' until NAMI National stops prioritizing forced drugging. (Until that point, it's hard to imagine that the 'good' parts are doing much more than bolstering the profile of the harmful whole.)
Don't point me toward the slight improvements or 'gives' they've made on their website, until they delete their section on 'anosognosia' (a legitimate medical condition related to strokes and the like that has absolutely nothing to do with 'lack of insight' for people with psychiatric diagnoses and serves only as another way to devoice the voiceless, and justify more drugging over individual objection).
And certainly don't suggest I'd do more 'good' trying to change them from the inside, until you show me that they actually want to give up their hoarded power, rather than use my name and work to say "Hey, look, we're not so closed minded" while they continue on their merry way, dragging me along behind them.
Calling All Good Citizens of NAMI
And none of this means that there aren't good people lurking among the NAMI masses. Often there are not only good but desperate people aching for help. These are, after all, NAMI's (and the pharmaceutical companies) favorite prey, sucked in by promise of finding answers (and a complete void of other options).
In fact, it's likely that most people connected to NAMI are decent and well intended. And as with any group where good people can sometimes gather and support one another, help has happened along the way. It's just that they've also been a part of creating (or sustaining) a monster that's taken on a life of its own, and is doing far more harm than good.
And, if you think I'm foolish, or 'too extreme'… If you, after reading all this, find yourself unmoved to even begin questioning NAMI's reason for being, or your involvement (personal or professional) with them… I'd ask you to at least give some thought as to why you're so invested in holding on to your frame.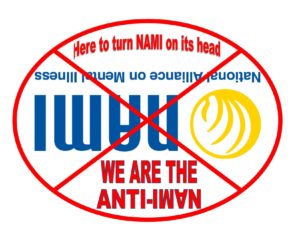 The Autism community has done a much better job than we have at forming groups that aim to turn their nemeses on their heads. At this very moment, I don't feel particularly hopeful about our potential for success at overcoming such lobbying giants (NAMI, MHA, and all the rest), but for today, this is my best step forward.
What step will you take?
***
Mad in America hosts blogs by a diverse group of writers. These posts are designed to serve as a public forum for a discussion—broadly speaking—of psychiatry and its treatments. The opinions expressed are the writers' own.
***
Mad in America has made some changes to the commenting process. You no longer need to login or create an account on our site to comment. The only information needed is your name, email and comment text. Comments made with an account prior to this change will remain visible on the site.